Reality and Realizations
by KariLovesJenna
Tags changkyu dbsk hanchul smut superjunior yoosu yunjae | Report Content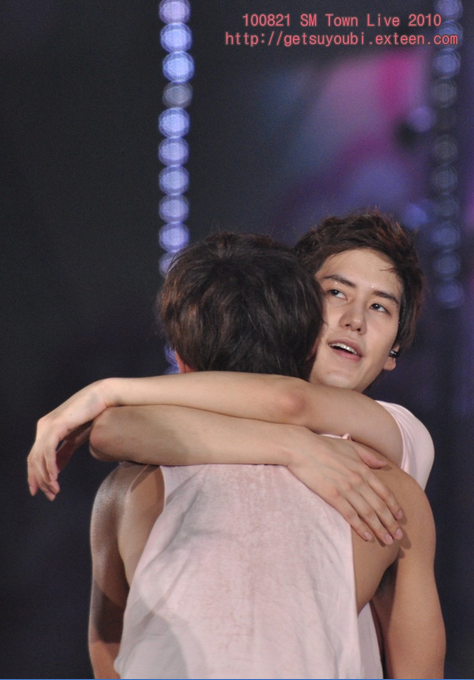 Several minutes later after the initial shock had worn off. Everyone was smiling. Everyone except KY. But he mustered a fake smile. Unfortunatly Jaejoong saw right through it.
Changmin was in another room being tended to after collapsing under the news. Yoosu went with him to keep him sane, and to make sure he didn't cause a hurricane in the middle of the hospital.
"BabyKy why do you look so sad?" Jae asked taking his hand.
"Umma, I am causing Minnie so much pain and trouble and now this? I can't do this to him anymore." KY began to cry telling Jae. Yuhno came over to the other side of him on the bed.
"Yah, don't think that KY, that unconscious boy in there loves you more than food, and we all know that's a lot" Yuhno chuckled trying to make light of the situation.
"it just feels like ever since our confessions, it's been heartache and worry. You don't do that to someone you love." KY wiped his tears.
"BabyKy you listen to me ok. Yunnie and I have had troubles too, but it only makes us stronger together. And you have a life now inside you that is both you and Min, if anything you are stronger now, and will be stronger with Min for this baby. I have no doubt that Min doesn't see you as a burden. He has changed so much since you became his. He smiles so brightly, he works harder, and he is just so happy now. For you to think what you do would break his heart. I know I can not choose for you but you need to see it from another point of view deh?" Jae said soothingly with no demanding at all.
Yuhno remembers the conversation with Changmin about KY and nods along with Jae.
"And you need to remember love is the strongest power of all. With it things become easier, not always in the easiest way, but it is easier to face as a pair." Yuhno smiled.
"But a baby, I am the furthest thing from an Umma, or Appa. And you guys are blowing up right now as are we, can we really do this?" he asked sniffing.
"Are you kidding me KY. We are a family we can do anything. And I am sure your members will stand by your side as well. Even if anyone opposes you just remember you have people that love and care about you." Yuhno smiled and hugged the younger one.
"Omo my PARENTS!" Ky squeaked.
"How the hell do you tell your parents something like this, I mean they are great parents and accept that I am with a man, but a kid now yeesh my dad might need a heart replacement" KY chuckled a little.
"Well we can always have a dinner and break it to them like that with all your friends around you in case things shift badly" Jae suggested.
Yuhno smiled and Ky nodded in agreement. Jae kissed KY cheek softly.
"We are always by your side BabyKy never forget that" he cooed.
"Honeyyyy we are backkkkk" Chun called from the door.
"Aish he is a real tough cookie eh Chun?" Su laughed.
"Where is Minnie?" KY asked worried.
The door opened again with a blushing smiling Changmin holding a teddy bear.
"Ky baby I am so sorry I conked out like that forgive me?" He smiled going over to KY's bedside kissing his forehead. Ky Blushes.
"Nothing to forgive Minnie, I probably would have done that too" he giggled in Changmins embrace.
"Hyungs can I speak to KY alone?" Changmin asked nicely they all smiled and headed out the door.
"YAH BRING ME BACK FOOD!" Changmin laughed as they left.
"KY are you ok is your tummy still hurting you?" Changmin asked touching his stomach lightly.
"Aniyo it's done now, the doctor said I wasn't eating enough and I am slightly dehydrated." He smiled pointing to the IV bag currently in his arm.
"Min, are you mad?" KY asked shyly lowering his gaze.
"Mad? Why would I be mad? KY I can't be mad at all. The man that I love and have loved for thelongest time, is mine, and is carrying our baby? I would say I am the complete opposite of mad. In fact I fainted from happiness did you see that epic face plant?" he laughed holding Ky in his arms.
KY caressed his face checking for marks. He smiled and rested his head on Changmins chest. The sound of his heartbeat was so calming to him.
"Ky?"
"Deh Minnie?"
"Thank you"
"for?"
"Your love, being my best friend and lover, and for this" he said gently resting his hand on KY's tummy.
KY let a tear fall down his cheek. He hated that he doubted Changmin and himself. He vowed he would never do it again. If not for Him or Min, but for the baby.
They sat in silence no words needed to be spoken. Changmin held his hand on KY's tummy. To him it felt beautiful. It felt natural. It felt like he was near complete. His heart sped up a little. KY noticed and looked up at him.
"Ky?"
"deh"
"Marry me!" Changmin said.
KY's eyes widened and he smiled. Changmin cupped his chin and kissed him with all the love he had for him. His hand still locked on KY's Stomach.
"Yes I will marry you Minnie, I want nothing more, but you have to ask me proper!" Ky giggled.
Changmin smiled and kneeled on the cold hospital floor.
"Cho Kyuhyun, you are the love of my life, both past present and future.  The day we met my heart became yours, I know I don't have a big fancy ring but I promise to get you the ring of your dreams.Will you do me the honor and become my wife?" he smiled blushing.
KY giggled and touched his flat stomach.
"What do you say Mini Minnie? Should we say yes?" he said rubbing it softly.
Changmin felt a tear of happiness fall from his eye. He was going to be a father. Nothing he thought could make him this happy and now he was asking KY to marry him. He stayed kneeling because if he got up he would for sure faint again.
"We say YES YES YES" Ky clapped and began to cry tears of Joy. Changmin crawled himself to KY's knees and smiled hugging him gently around the waist. He gently lifted Ky's shirt and placed a small kiss on his flat stomach.
"I don't know if you can hear me yet little one, but I just want you to know Appa loves you very much, and I will do everything in my power to make sure you and Umma are safe and loved. Arraso" he cooed and kissed his stomach again.
"AWEEEEEEEEEEEEEEEEEEEEEEEEEEEEEE" they both heard a huge awe from the four coming in the door.
Changmin blushed and climbed in the bed with KY laying him down and covering him with the blankets.
"Minnie we are all proud of you and as we told KY we stand behind you 100%. Your family, and we love all three of you" Jae cooed.
"Thank you Umma, Appa, ding and dong kekeke. We love you guys too very much, AH wheres the food?" he giggled.
"Aish I called it's coming relax yourself Minfood Appa" Junsu chuckled. Changmin blushed.
KNOCK KNOCK KNOCK
"Heya Doctor Lee. " Changmin bowed.
"Well good morning fainting beauty" Doctor Lee joked and everyone laughed. Even KY.
"Yah, never gonna live that down" Changmin blushed and hid his face in Ky's neck.
"Well Kyuhyun, you and the baby are in good health, I need you to rest for a few days, also please eat more, your feeding two now, and plenty of rest and water arraso?" he smiled.
"Arraso Doctor thank you very much for everything" KY smiled. Changmin on the other hand got up and hugged the doctor.
"Kamsamnida doctor lee" he smiled.
"Not a problem son, take care of those two deh?" he said back.
"Yes sir" Changmin bowed.
"Now Jaejoong how about we run your checkup quick and see how things are healing?" he looked at Jae.
"Deh, I guess so now that everything is ok here." Jae smiled.
"We can do it right here if no one is opposed deh?" he asked.
Everyone nodded and Jae hopped up on the other bed. Yuhno rushed to his side. Jae blushed.
"Hmmm well, this is great, it seems your stitches are ready to come out. Let me grab a set of gloves and the tools I need to remove them and get a quick xray and see what is going on inside arraso?" he asked smiling.
"healed already is that normal doctor?" Yuhno asked concerned.
"Well I admit it is quite fast but it seems Jaejoong healed quite well. So it's nothing alarming he's just a great healer" the doctor said patting Yuhno's back.
He left the room and Jae closed his eyes talking to Yuhno in their special way.
"Yunnie, do you think it has something to do with you know our "new" powers?
"hmm possible maybe we can talk to the guardians later and find out because I know Chun didn't heal your knee this time around"
"Just think baby if your healed you can use your legs now"
"omo I forgot about that, that will be so nice, I wonder how long before I can dance again"
"yah be easy there killer don't rush it I don't want my beautiful wife to be broken again"
Jae thought about running to Yuhno and wrapping his legs around his waist on his own.
"mmmmm baby I like that idea"
"me too Yunnie me too"
Jae opened is eyes followed by Yuhno when the door opened.
"Okay here lets get this knee xrayed, Yuhno please put this vest on and hand this one to the mother to be and slide the curtain please".
"KY put this over your stomach, deh?" Yuhno smiled and Changmin helped Ky.
"Okay ready hold your breath"
CLINK!
"alright let me go outside and get the film and I will be right back".
The doctor rolled the machine out after retrieving the vests. Yuhno kissed Jaejoongs cheek.
"Yah Umma you ok over there?" Changmin called out.
"Deh, BabyMin I am just fine how's our BabyKy?" Jae yelled back.
"Currently sleeping thank god" Changmin giggled.
"Why are the twins quiet?" Yuhno asked worried.
"They too as well are out cold" Changmin laughed.
Yuhno rolled his eyes and slid the curtain (door) open.
"The xray is gone so it's safe now" Yuhno smiled.
Jae looked at Changmin carefully cradling KY who was sleeping, thankfully. He felt a pang in his chest. He wasn't jealous, nor bitter. But he felt deep inside a longing to have that feeling as well. He wanted to give that sort of gift to Yuhno. That child would be astonishlingy beautiful. Jae completely forgot Yuhno could see and hear all he thought.
"Baby, don't worry it will come and besides I have my greatest treasure, YOU!" Yuhno leaned over and whisperd in Jae's ear. Jae blushed and kissed his lips softly.
"Okay Jaejoong this is incredible, your surgery was a success and you have properly healed to a point that I will allow you to walk. But no running and no dancing not just yet.  You healed quite rapidly and we don't want setbacks deh? Now lets get these stitches out!" the doctor said confidently.
"I am soooooooooo not watching I don't need to visit the floor anytime soon" Changmin chuckled softly.
"Wuss" Yuhno giggled and watched the doctor carefully pull the threads from Jae's skin.
"Aish that itches" Jae groaned.
"Ah yes it's a sign of healthy healing, I will put some ointment on it for that" The doctor giggled.
"Kamsamnida" Jae replied.
He finished up and spread a layer of cream on Jae's knee causing jae to sigh in relief of the itching. Yuhno smiled.
"I want to see you right after the holidays to give you a full bill of health deh?" the doctor smiled shaking Jae's hand and Yuhnos.
"I will make sure he's here Doctor Lee thank you for caring for him so well" Yuhno added.
"Be well boys arraso? And Changmin you can take Ky home as well I will send a nurse in with discharge papers and instructions" The doctor said heading out the door.
After both were finished the 6 of them headed back to the hotel. Yoochun called the delivery and had them  reroute the delivery to the hotel. They all headed to Jae and Yuhno's penthouse.
"BabyMin take KY to our room and let him rest deh?"Yuhno smiled thankfully he noticed the maids had been in which meant clean sheets. He giggled.
"Kamsamnida Appa, call me when the food arrives?" he asked.
Yuhno nodded and smiled feeling Jae's slender but muscular arms wrap around him from behind.
"Mmmmm hi baby" he grinned.
"Hiya handsome." Jae cooed in his ear.
"Yah other people here you two" Chun laughed.
"I am going to make some tea for Ky anyone else want a drink?" Jae smiled being able to be the group Umma again.
The three laughed at his happiness .
"Deh, so Soju for Yunnie, and what about you two?" he asked.
"Yah you two are creepy with that power you know" Chun chuckled.
"Same for us JaeJae  Kamsamnid. Do you want some help?" Su asked.
"Sure Su come on" Jae smiled and waved him over they headed into the kitchen.
"Yuhno can I ask you something?" Chun asked quietly.
"Anytime Chun you should know that" Yuhno replied.
"Would you be offended if I asked Su to marry me?" he asked.
"Yah, why would I be offended, I would be excited and happy for you Chun what makes you think I'd be offended?" he asked semi insulted.
"No hyung I mean like because you just asked Jae to marry you, and I am sure Min is not far from it as well I didn't want to impose on your light" he said softly grinning.
"Dude do it, I would love nothing more than to share the so called light with my brothers and my son arraso" Yuhno smiled at the thought of his favorite twins tying the knot finally.
"I am going to get his ring tomorrow, I had one custom made it's so unique so befitting for my SuSu." Chun grinned.
"You know I have an idea, if Min decides to propose to Ky we could have a triple wedding. I think the wives would LOVE IT" Yuhno chuckled.
"That is true they would, and it would be huge but the love in that room would be epic!" Chun said excitedly.
"Ok we are back, heres your Ice cold Soju Yunnie, and Here you go Chun and Su" He smiled handing them their drinks.
SMACK!
"Yah baby what was that for" Yuhno cringed and laughed rubbing his thigh.
"you know what you called us" he smiled and kissed Yuhno's cheek.
"oops!" Yuhno grinned.
"I am going to run this up to the boys I will be right back" he smiled and went up the stairs with drinks for the boys.
He bit his lip when he quietly opened the door. There sleeping peacefully was Changmin and KY snuggled in the bed together. Changmin had his head resting on KY's chest both his hands lovingly placed on Ky's stomach. Ky's hands were gently cradling Changmins head. Jae fought back a tear. He was beyond the moon for them. He set the drinks down quietly and stood in the doorway taking in the sweet sight. Yuhno felt Jae and went upstairs quietly wrapping his arms around Jae.
"Beautiful isn't it Yunnie?" Jae said.
"Not compared to you baby, but yes it is, our boys are truly happy." He smiled kissing Jae's neck softly.
They quietly closed the door and clicked off the lights. Heading back downstairs.
"how's the parents doing up there?" Junsu asked
"Sleeping soundly thankfully" Yuhno smiled.
"Let's watch a movie hyungs" Chun said.
"Good idea Chunnie" Su said snuggling into his side.
"Deh movie it is" Yuhno said pulling out his movie collection.
They all agreed on a drama and during the movie one by one they all fell asleep.  Junsu curled up in Yoochuns lap. Yuhno snoring softly with his head resting on the arm of the couch. Jae was the last to fall asleep he grabbed two blankets and covered Yoosu with one and gently snuggled next to Yuhno who immediatly wrapped his arms around Jae pulling him down laying with him. Jae pulled the covers over them and smiled nuzzling his head into Yuhnos chest. Upstairs the new parents to be were still in the same loving position sleeping away all the stress of the day and basking in the dreams of thier new family.
^ Back to Top