I Promise
by KariLovesJenna
Tags changkyu dbsk hanchul smut superjunior yoosu yunjae | Report Content


Changmin entered the room slowly, he was scared to see what lie around the door. He felt completely helpess when he saw Kyu in the basement. He turned the corner and he saw, something he would never forget.
Kyu was sitting on the bed with his knees hugged tightly to his chest. His face was buried in his kneesas well. Changmin could hear the sobbing though. He cautiously walked over to Kyu fighting back tears of his own. He gently placed a hand on his arm causing him to jump and near scream.
"Nooooo." He screeched
"Ky it's just me your safe. It's Just me."Changmin said the tears now breaking down his cheeks.
"Mi..Minnie…I…Im sorry…"Kyu said hiding his face.
Changmin didn't know if he should, but he wanted to hold the broken boy in his arms and comfort him. And he did just that. He slipped behind him and wrapped his arms around the boy. He whispered in his ear calmly and soothingly
"Ky I am here no one will hurt you ever again. They will never I promise you. Please don't cry." Changmin said this all through his own tears and silent sobbing
Ky wiggled out of his embrace and turned facing him burying his face into Changmins chest. Changmin wrapped his arms around him again a bit tighter this time. Stroking his hair softly cooing soothing words to him.
"Shhhh it's ok it's over now Ky."
KNOCK KNOCK KNOCK
Changmin wiped his tears away and watched the door still latching onto Ky, almost in a protective stance. He relaxed a little seeing it was his doctor.
"Mr. Choi I need to examine you once more, and then you are free to leave. I am sure you have a way home.? " He asked
Changmin nodded and kissed the boys head assuring him he would be right outside the door. He didn't want to make Ky uncomfortable during the exam and wanted to call his hyungs. He slipped outside the doorway in the barren hallway and dialed up Yuhno.
~*~*~CALL~~*~*~*~
(minnie red/yuhno green/Jae purple)
Yuhno Hyung it's Minnie
Hey Minnie how is it going with Kyu? Did You guys make up. Hold on im putting you on speakerphone Jae is here as well.
Hi BabyMin how's everything going. Did you confess?
Is our little boy no longer single?
YAH STOP UMMA JAE your making me all girly blushy.
And to answer your barrage of questions.  Yuhno hyung first. Not good. Yes, ok. Now Umma Jae not well and yes.
Wait BabyMin tell us what's wrong.
Kyu was mugged this morning on his way back from the store. I am at the hospital with him now. He is ok just banged up. 
Did the police find them? Is he really ok? Are you Ok?
No they didn't find anyone. Kyu doesn't have descriptions of the people. Yes he is really ok, like I said banged up.I am…..I am fine.
Shim Changmin your not ok I hear it in your voice. Talk to us we will listen.
Well it's just I felt scared and helpless. I didn't protect him and it hurts in my heart.
Changmin?
Yes Yuhno Hyung?
Listen to me ok. I love you as a son. You are a very worthy person. You are there now with him. Just comfort him with all you can. Show him you love him. We are human we make mistakes. This one was beyond anyones control, and Kyu knows this. Now go be with him.
*sobbing is heard*
Thh..thank you Yuhno Appa I have to go he's awake
Kamsamnida Umma Jae and Appa Yuhno
~*~*~END CALL~*~*~*
Changmin slid down the wall after pocketing his phone. He finally broke down.  He cried feverantly.  He slammed his fists on the ground. He felt so useless.  But he thought about what his hyungs told him and began to calm down. Yuhno said something that made him think.
SHOW HIM I LOVE HIM.
He sniffed the tears back and wiped his face with his sleeve. The doctor then opened the door and came out.
"Doctor how is he really?" he asked still red eyed and tense
"He will be just fine. He will have a scar on his chest where he was hit. But physicaly he will be back to normal. Mentally is another issue though. He has refused to see a therapist. He needs to deal with what has happened. Understand  that it wasn't his doing or fault." He said seriously
"Look son I can see you love that boy in there. If you keep being supportive and loving as you are. I have no doubt in my mind or medical reason. That he will be fully recovered from this with no lasting effects." He said patting his shoulder
"Kamsamnida doctor, and One more thing is he limited on anything? Physical or mental?" Changmin asked.
"Aniyo he will know when he can't do something." He smiled and walked away after Changmin bowed to him respectfully.
Changmin walked back into the room. He was met by Kyu crashing into him his arms clinging to Changmins body.
"Well then that's a great hello." Changmin smiled
"I got scared you didn't come right back in." Kyu said meekly
Changmin lifted his face up from his chest and smiled crookedly at the boy. Gently brushing his finger over his cheek.
"Ky I am right here, I just called the hyungs and spoke to your doctor is all." He said smiling to reassure the boy.
"I am ok to leave I signed the papers and stuff but, my clothes are ruined." He points to his blood stained shirt and ripped jeans.
Changmin yanks off his hoodie and slips it over the smaller boys frame. He reaches into the pouch and pulls out a folded pair of sunglasses and gently puts them on the boys face. He grabs the paperwork and tucks it into his back pocket.
"There now your fabulous." He grinned
Kyuhyun giggled. He immediately reached for Changmins hand.
"Minnie." He said softly
"Deh Ky?"
"I don't want to go back to the Suju rooms. They will interrogate me and I just want to relax." He said
"Heechul and Donghae hyung will not let them, and besides you can't go back" he said firmly
Kyu looked really puzzled as Changmin pulled him in for a hug.
"Do you think I am letting you leave my side? Cause I won't and your coming to my suite with me." He said cutely
"Minnie?"
"Deh"
"Thank you!"
Changmin didn't answer instead he just held the boy tight and kissed his head softly. He lifted his face to meet his and gently kissed his lips. He smiled and took hold of the boys hand lacing their fingers together. They both headed out to the hospital parking lot. Where magically Kyu's car was waiting in the lot with a note from Heechul. Kyu looked shocked Changmin just smiled and helped him into the passengars seat. Before taking the drivers seat and heading to the hotel. Once they reached the hotel he opened the door and helped Kyu out of it. He sweetly pulled the hood up over Kyu's head and held him to his side making their way to the secret entrance in the back. Once safely in they made it to the elevator.
"Ky will you be ok with Umma Jae and Appa Yuhno for a little bit. I don't want to leave you, but I need to get your pain medicines and a few things to make you more comfortable." He asked cautiously
"Deh Minnie, I trust them..and wait did you just call…" Kyu giggled
"Deh He is just that Kyu he is ike my father, and when I spoke to him I called him that. It just happened." He said blushing
"Omo Minnie that is so sweet. And only fitting since Jae hyung is your Umma figure." Kyu smiled Changmin was taken aback at his beautiful smie. He didn't expect to see it so soon, and was glad he caused it.
DING
They reached Jaejoong and Yuhnos door and knocked.
KNOCK KNOCK
"Come in." he heard Jaejoong shout
"Umma Jae, You look well. I need a favor from you and Appa Yuhno." He asked politely
"Of course BabyMin anything." Jaejoong smiled
Kyu stayed hidden behind Changmin ashamed of the previous events and how he looked. He felt Changmin tug gently on his arm to bring him out.
"Ky it's ok I promise."Changmin said softly
"Oh Kyu sweety it's aright come here sit with me." Jaejoong cooed
Kyu looked at Changmin who nodded and made his way over to the couch near Jaejoong. Who was perched in his wheelchair. Jaejoong touched his shoulder ever so gently
"Kyu  sweety you are safe here.  Me and Yunnie will keep you safe I promise to you. Even my crippled ass will." Jaejoong said while pointing to his wheelchair. Causing Kyu to giggle. Changmin gasped.
THAT LAUGH I HAVE NEVER HEARD SOMETHING MORE BEAUTIFUL IN MY LIFE.
"Umma will you stay with Ky till I come back. I need to go pick up a few items, for his comfort." Changmin said making his way to the couch taking Kyus hand into his.
"Say no more. BabyMin go ahead we will keep this sweet boy safe and comfortable until you return." Jaejoong said sweetly.
"Yah where's Appa Yuhno?" Changmin asked not sure why the over protective Yuhno wasn't with Jaejoong he usually stick to him like glue.
"He went to get videos for tonight. Wait that's a great idea. Kyu do you and BabyMin want to Join Yuhno Myself and Yoochun And Junsu for a quiet movie night? Just Us. We will just have snack and be lazy." Jaejoong chirped.
Changmin watched for Kyu's reaction and response. He was sure this would be good for Kyu. And hoped he would accept.
"Deh, I…I'd like that Jaejoong hyung." He said timidly
"Than that settles it. Go ahead and do your errands BabyMin we will be fine. " Jaejoong said hugging Kyu softly.
"Kamsamnida Umma, I really appreciate it." He said
Changmin got up and leaned down touching Kyu's face softly. Then kissing his lips gently. Causing Jaejoong to swell with motherly pride. And causing the two boys to blush.
"I will be back soon Ky, please rest, AND YOU TOO UMMA. Or Yuhno Appa will kick my ass like a football." Changmin said giggling
The three laughed at the idea and Changmin left the suite. He needed to talk to Heechul and Donghae first. On his way down to the lobby he saw Appa Yuhno and smiled rushing to him. Yuhno felt his heart swell, again remembering the moment the two had.
"Yah Minnie, why are you back so soon, is everything ok?" Yuhno asked worried
"Deh Appa everything is fine. Kyu is upstairs with Umma Jae. I hope that it is ok. I need to run a few errands." He said
"Minnie errands? Please tell me your not on a revenge mission? It's not worth it."
"Aniyo Appa I am getting the pain medicines for Kyu and a few of his things from his hotel. He wants to stay here with me." Changmin said
"Good, and of course it's ok, you never need to ask Minnie. Was Jae resting?" He asked fearing the possible answer knowing Jaejoong was a stubborn man.
"Deh he was sitting in his chair comforting Kyu."
"
Aish that man is such a nut. I had him in bed, and he took a risk getting into his chair on is own. And I wasn't even gone long." Yuhno pinched the bridge of his nose and rolled his eyes.
"Well Appa his is Jae, stubborn as ever. And he looked ok didn't appear to be in pain." Changmin tried to calm the worried Yuhno
"Oh and me and Kyu will be joinging the movie night with everyone. I think it will do him some good to be surrounded by people he loves."Changmin said
"Minnie when your with him he is aready just that. We just add more." Yuhno smiled patting his shoulder.
"Deh I guess your right."
"Have you made it official yet"
"Aniyo, I did confess though."
"You should make it official, I think in a sense it will make him feel a part of you fully. And it could help him recover better."
"Deh, Kamsamnida Appa your right."
"Okay I am going to get up to Jae and Kyu, and Minnie be safe please." Yuhno asked
"Always Appa thank you." Changmin said as he scurried off to the secret entrance. He hopped in Kyu's car and went to the Suju Suites. When he arrived he was greeted by Leetuk and Siwon.
"Yah Changmin how goes it, Kyu isn't here, Heechul said he was with you for a few days."  Leetuk said
"Deh he is but he needed a few things, So I offered to grab them."
"Coool, well you know the room and the way, we are headed to the mall see you later dongasaeng."
"Anneyong Hyungs."
Changmin made his way to Kyu's  room. He went to use the key and the door pushed open it was already open. When he opened the door he was in a complete state of shock. Everything in the room was thrown about his computer was smashed. His bed was tossed around. He walked in slowly not touching anything. His video games were all smashed to bits on the floor. He felt his anger rising. He never even noticed the gust of wind the was blowing in the room causing the items to be tossed even more. He looked at a picture Kyu kept on his bedside table of Himself and Changmin at a restaurant. Changmins face was left untouched but Kyu's was scratched out and marked with red ink to look like blood. The wind was now creating a vortex. Items  spinning around in a funnel. Changmin doesn't even hear or notice Heechul and Donghae come sprinting in and shutting the door locking it.
"He's this powerful already Hae?" Heechul yelled over the sound.
"I have never seen anything like it. And this room is destroyed." Donghae yelled back
"I have a feeling this isn't a break in or robbery Hae this is a message." Heechul shouted
"Me too Chullie, we need to stop him. Now before he sucks the entire floor into his vortex" Heechul yelled.
Heechul and Donghae forced their own bodies closer to Changmin. The winds strength almost impossible to break through.
"YAH CHANGMIN STOP THIS PLEASE BEFORE SOMEONE GETS HURT. OR YOU GET HURT. THINK ABOUT KYUHYUN!!" Heechul screamed to the rage filled boy.
Within a matter of seconds the vortex diminished, items began dropping from mid air landing on more items. A book managed to clunk Donghae right in the head. Heechul laughed.
"Yah my brain!! It's not funny Chullie that bible is deadly." Donghae scoffed rubbing his sore head.
Changmin falls down to the floor exhausted. He sits for a minute and gets up glaring at the two.
"WHAT THE FUCK GOOD ARE THESE PISS ASS POWERS IF I CAN'T PROTECT KYU? LOOK AT THIS THEY DESTROYED ALL HIS THINGS. WHY ARE THEY DOING THIS TO HIM." He yelled loudly
"Changmin calm down ok breathe. These are just material possesions and can be replaced. Kyu is safe, you saved him. You protected him.  You Have to calm down you just used a fuck load of energy on that impressive tornado of doom. Your body needs to recover." Heechul explained
"We need to meet with the others Chullie, with them maybe we can figure this out." Donghae said softly
"OTHERS WHAT OTHERS?" Changmin spit out
"Changmin go be with Kyu for the rest of the day and night. Tommorow we will come over and have you meet some people. They will be able to help us figure this out and fix it." Donghae said softly touching Changmins shoulder.
"I need to get some things for Kyu here and it's so destroyed. What do I do?" He cried
Donghae went over to the closet buried underneath rubble. He forcefully yanked the door right off the wall. The stuff inside remained untouched. He grabbed a backpack and tossed it to Changmin. He grabbed clothes off the hangers, and out of the drawers. He found neecklaces and ties, accessories and shower items. The two stuffed them into the backpack, and another bag Heechul found under rubble.
"Mr Ninja Saan" Changmin scurried to the reminants of the bed looking for the stuffed ninja he had gotten Kyu at a fair they went to. He found it buried under the bedframe with a small black book he had never seen before. He opened the front binding and read the line in it.
"Journal Of Choi KyuHyun, and scribbled right underneath it was in tiny writing. Shim Kyuhyun. "
Changmin blushed and ran his fingers over it and closed it. He took the two items and popped them in the bag.
"Kamsamnida hyungs for helping me again." He said hugging the two
"That's our duty Prince Loverboy." Heechul said giggling
"Yah quit that hyung" Changmin said blushing.
He headed out to the car and popped the bags in the trunk.He drove off and got the medicines,and some of Kyu's favorite Ice cream. He made his way back to the hotel. He grabbed the bags and went to his suite first. He was confused that the key didn't work. So he went to the lobby to ask why.
"My key isn't working for my suite can you please tell me why?"' he asked the clerk
"name is Shim Changmin from Tohoshinki" he said
"Ah Mr. Shim you have been moved to a private suite per order of Mr. Jung and Mr. Kim. Her is your key,please call if you need anything."
Changmin tilted his head taking the key and then smiled. His hyungs were trying to make things comfy for Kyu and himself and he found himself tearing a little. He went to the floor of the suite which he figured out was 2 doors from Yunjae's . He opened the doors and was amazed. The room was beautiful. He's not used to having such a big room he always opted to room with manager in less than suite conditions. He didn't mind as long as it had a bed and fridge. He slowly shut the doors and made his way in. He set the bags down. The room had a lot of mirrors. And everything was so clean and fresh. He made his way to the bedroom to find it wasn't  2 beds it was a giant soft bed. He knew it mean't he was going to be able to hold Kyu  again and it made him smile.
He took out Kyu's stuff and began placing it where it goes. He hung his clothes up, next to his own. He assumed his hyungs did it. He put his shower stuff in the bathroom which was so luxurious wooden paneled. He saw the huge Tv in the sitting room and another in the bedroom. He put Mr. Ninja-Saan on the bed and tucked the book into the mattress. He would make sure Kyu had all his comforts. He didn't even think about reading the book, though he was tempted. He wouldn't do that to him.
He made his way back to Yunjae's suite. A smile as bright as the sun on his face. He knocked and Yuhno opened the door grinning motioning for him to come in and be quiet. Changmin tensed and scooted in the room. Lying in the bed was, His Umma Jae and Kyu, sleeping peacefully. Kyu was breathless.
"I gave Kyu half of Joongies pain pill, and they both fell asleep." Yuhno smiled patting Changmins back
"They look so relaxed and peaceful Appa, thank you for keeping him safe." He smiled at Yuhno
"He's family now Minnie, I wouldn't have it any other way." He said
The two decide to let them rest and go into the living area shutting the door, and sitting back with a nice cold Soju, and a weird TV show. They both relax finally. The other two sleep peaceful and safely.
HEY GUISE HERES A KILLER CHAPTER HAVE U FIGURED ANYTHING OUT YET? KEEP LOOKING AND AGAIN THANK YOU FOR READING AND SUPPORTING ME IN THIS ADVENTURE  I HAVE THE BEST SUBS AND COMMENTERS EVER!!
KAMSAMNIDA
~*~*~*~*K~*~*~*~*
Here is what Changmin saw upon entering his new suite
THE BEDROOM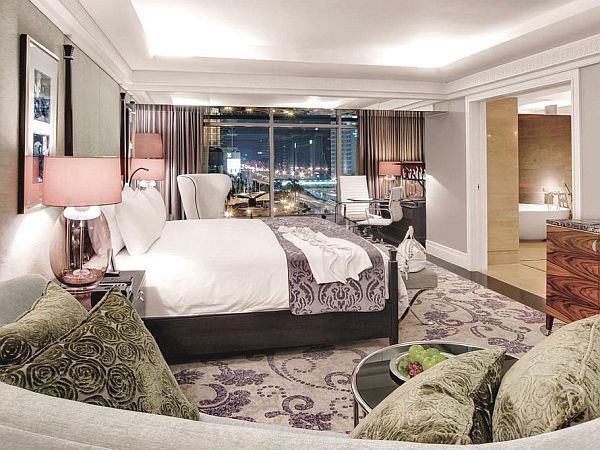 The Bathroom
^ Back to Top