YOU TOO?
by KariLovesJenna
Tags changkyu dbsk hanchul smut superjunior yoosu yunjae | Report Content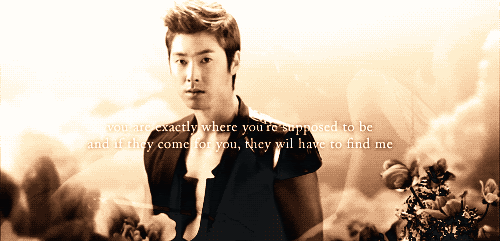 "Hey guys come on in." Yuhno said ushering the 4 in .
They walked in carrying bags of assorted snacks and fruits and what looked like vitamin water, and bottled water.
Jae hears them enter and covers up. As he looks up seeing them enter the bedroom section of the suite.
"Hey guys how's it going? Thank you for stopping by, I am sorry about the party ending so soon I felt a little crappy and needed a rest." Jaejoong apologized
"It's ok Jaejoong hyung we understand fully." They collectively replied
Yuhno took the bags and bowed to the guys. He winked at Jae and brought the stuffs to the kitchen area and put them away accordingly. He decided to make a tray of snacks and drinks for everyone. He pulled out some fruit for a smoothie for Jae as well.
"So Jaejoong hyung about what we discussed. It seems we need to start working on it now rather than later!"
Jaejoong nodded but then became super confused with the other two men sitting there.
"But I thought an elemental has only 2 guardians? At least that's what we always were told in the stories?"
"Deh it's very true. Siwon and Eunhyuk are guardians of another elemental. The Prince of Fire Elemental. In fact he just came to his own powers recently. And, having trouble adjusting as well." Hangeng explained.
Yuhno came out just in time to hear  The Prince of Fire Elemental and dropped the tray of drinks. The four jumped and Jaejoong squeaked.
"Yunnie what is it, what's wrong." Jaejoong worried practically jumping off the bed.
Yuhno came out of it and looked at Siwon, who was smiling. He then turned to Jae rushing to him patting him back down in the bed.
"Ah I am sorry baby it's ok relax no strain remember."He cautiously checked over Jaejoongs leg.
"Yah silly you made your wound seep, I hope you didn't break a stitch.Let me see." Yuhno looked worried. But he was still spazzing in his mind.
He stood up and went over to his bed and grabbed what looked like a box of medical supplies. He carefully changed  the bandage, checking all the sutures, and applying the ointment ever so gently before wrapping it back up.
"There good as new. Now relax please baby."Yuhno said kissing his cheek
"Deh sorry Yunnie." Jaejoong said  meekly
Yuhno ruffled his hair, and apologized to the four men. He then went to pick up the mess and make another tray. He came back out shortly after and set the tray down. He handed Jaejoong the smoothie and sat next to him on the bed.
"Mmmm Yummy Thank you Yunnie." Jae cooed
"Jaejoong?" Hangeng said
"Deh?"
"You need to know what is going on. As well as you Yuhno." Siwon added
Both of the men tensed up each knowing they hid something from one another.
"First Yuhno. You are the Prince Elemental of Fire." Siwon said
Yuhno froze and facepalmed.
SIWON YOU SAID TELL NO ONE!!!
"And you are one of the most powerful beings in our world now. What I haven't told you is. There is 4 more elementals that will join you. One is in this very room."
Yuhno was stunned.
WHO COULD IT BE HMM HANGENG NAH TOO FLIGHTY. SUNGMIN SHISUS THE GUY IS TOO WEIRD!!!
They waited for Yuhno to speak.
"So who is this fellow bad ass elemental brother of mine." Yuhno said laughing
Jaejoong was frozen in fear,and Yuhnos statement made him near explode. Hangeng noticed and calmed the boy.
"We think Yuhno your power and your um how should I put this.." Siwon chirped
"Your power and your love for this person awakened his powers early."
Knowing the only person he loved was Jae he turned slowly towards him and was shocked to see Jaejoongs eyes glowing.
"JAEJOONG IS AN ELEMENTAL?" Yuhno shrieked
Jae jumped back and huddled in the covers, Yuhnos loudness scaring him. He has never been afraid of Yuhno ever. But this scared him. He kept a secret from the man he loved.And he was worried he would lose him.
"Deh Yuhno calm down. We don't need the fire department here." Eunhyuk cackled
Yuhno now realizing his hands were emitting a glow like a dimly lit blue fire.
SHIT STOP NOT NOW!!!
He closed his eyes and went to his happy place. And the glow stopped.
Siwon and Eunhyuk gasped.
"Holy mother of….. You controlled your fire power. AND YOU HAVENT HAD TRAINING!!!" They screeched
Yuhno nodded. He turned back looking at the now petrified Jaejoong.the unnatural glow in his eyes. The tears  threatening to break from them. He felt his heart break. He caused the man he loves to be afraid.
YAH STUPID ASSHOLE WHY DID YOU REACT SO LOUDLY AND STUPIDLY!!!
He slowly moved over to Jae, a sad look in his face. He took the mans hand and pulled him close.
"Baby shhhh I am so sorry, I am such a pabo. I didn't mean to scare you. I love you so much. Powers or not. Shhh please don't cry." Yuhno consoled his boyfriend
"Yu *sniff* Yunnie do you hate me for keeping this from you *sniff*" Jae asked between sobs.
The four excusing themselves to give the couple a minute.
"Aniyo baby, if I did I would have to hate myself. I kept mine from you. Please don't be sad or scared baby. I  would never hurt you. You are my everything Kim Jaejoong. And nothing natural or supernatural will change that do you understand me nothing." He cooed to the now calming man
Yuhno tilted Jaes face to meet his, he was in awe of the eyes making him ever more beautiful if that was even possible. He kissed his lips softly and gently kissed the tears away.
"I love you Yunnie with everything I am." Jaejoong said
"And I love you Kim Jaejoong with everything I have." Yuhno replied
"Now lets face this together deh?"
He called for the four to come back in and thanked them for the moment of privacy.
"Okay Yuhno your powers are advancing daily, and we need to develop them properly so they can be used willingly." Siwon said
Yuhno nodded.
"Jaejoong, your powers are growing as well so we need to do the same, but with your injury we will only work on the light stuff." Hangeng smiled
Yuhno nodded to Hangeng thanking him for being easy on his love.
"Okay to make this less akward for you both. I want you to demonstrate your powers to each other, and to the other guardians. This way we can start fresh with training and development arasso?" Siwon asked
The 2 nodded and tensed up. Jaejoong thought to himself
OH MAN THIS IS SCARY!!!
Yuhno thought
SHIT WHERES THE FIRE EXTINGUISHER. I NEED TO BE AWAY FROM JAE When I DO THIS HE CANT BE STRAINED!!!
"Okay Yuhno you first. We will start with fire control, then temperature control, and end with body manipulation" Siwon said
Jaejoong tilted his head and looked worried. He was already so powerful in Jae's eyes and this made him wonder if the powers would be overwhelming.
Yuhno kissed Jaejoongs cheek and jumped off the bed, he grabbed a fire extinguisher that was near the closet and tossed it to Siwon who chuckled. He walked to the other side of the room making sure he was a good distance away from Jae. He looked at the fake flowers placed on the table.
He raised his fingers to the flowers and with a snap there on that table the very same flowers were now engulfed in a blue flame. Siwon sprayed the flowers with the extinguisher.
"Great control Yuhno good form, you're a fast learner" Eunhyuk clapped.
Jaejoong watched in complete awe, when the flames cracked he jumped.
"That was awesome Yunnie. But why are the flames blue?" Jaejoong asked
"Ahhh They are blue because his fire is of the purest form." Eunhyuk said.
Jaejoong nodded and continued to watch.
"Okay now for temperature control, guys keep your feet off the floor." Siwon said
Everyone removed there feet from the floor and Jaejoong huddled into the blanket. Yuhno closed his eyes and thought of first a scorching hot frying pan, so hot it glows red. The room begins to swelter. Jaejoong realizes it and fans himself. He holds the thought for a minute or two and flashes to a sweeter scene. He thinks of Ice Cream, and then icicles. He then flashes to a freezing cold lake. He lets his mind take it further and imagines it's so cold your tears nearly turn to ice. Siwon realizes he's lost in the mind and throws a shoe at him. Jaejoong is freezing and pulling the blanket over his body becoming a little scared his teeth chattering. The shoe hits Yuhno and it slows down. The floor had become pure ice, all the liquid had frozen. Ice had formed on the windows.He glanced to Jaejoong and panicked seeing his shivering. He dove to the bed and cradled his boyfriend tight.
he rubbed his sides warming him up.
"Yuhno use your power to warm the room back for him, it's a lot easier" Siwon smiled at the two
Yuhno closed his eyes and thought of the warmth he feels when Jae is in his arms, the warm pulse of his kisses. The warm of his heart. He opened his eyes and saw it had worked.
"Dude that was great control, what did you use for a vision?" Eunhyuk  chimed in.
Yuhno blushed and the four smiled and pressed no further. One last power to show . The one Yuhno has never used before. He was getting nervous.
"okay now for body manipulation I will be the guinea pig.just don't break me dude or my lover will kick my ass." Eunhyuk laughed
LOVER? OH DAMN SO NO BREAKING THE EUNHYUK GOT IT!!!
"First what you need to do is envision what you want that person to do. And just like firepower will them to do it." Eunyuk spoke
Yuhno got off the bed and stood before Eunhyuk.He chose an idea and closed his eyes. He envisioned making him do a killer dance move with his eyes closed. Why not start simple. He raised his fingers to Eunhyuk, and Eunhyuk went into a blank stare and began the dance sequence of Mr. Simple with the handstand kick. Yuhno released his fingers placing them at his side. Eunhyuk laughed laying on the floor.
"Dude really my own dance against me?" he said still laughing everyone else laughing as well.
Yuhno grabbed a bottle of water feeling very weak clumsily leaning on the table.
"Yuhno rest now, Your weak for a few minutes remember." Siwon said
He flopped on the bed and Jaejoong scooched to his side worried for his boyfriend.
"Yunnie omo are you ok?" Jaejoong squealed
"Deh baby it's a normal thing it will end soon I promise. My body just loses water,and I need to replenish." Yuhno said
"Yes Jaejoong he's fine it's a flaw of the powers but it's a short lived experience, he will grow into it and soon wont have this part." Siwon said.
Yuhno got another bottle of water now feeling better and sat next to Jaejoong smiling.
"Okay Jaejoong ready to show off your powers now?" Hangeng smiled
"Wait Wait, are we sure this is safe for him, hes still in recovery,and I can't let him be strained." Yuhno cut in
"deh Yuhno he will be just fine. Unlike your powers Jaejoongs are mostly based mentally and emotionally." Hangeng said
Yuhno nodded and sighed relief. He guzzled his water opting for a 3rd bottle.
"Okay Jaejoong our order will go detecting, mood ,and your weak power of weather control" Sungmin said.
"Yuhno want to be his guinea pig?" Hangeng smiled
"Arraso what do I do?" he asked
"I am going to tell you a secret, and give you a number." Hangeng said whispering both into Yuhnos ear
"Now Jae will show his skill. Jaejoong go for it."
Jaejoong smiled and closed his eyes.  Yuhno held back a small giggle at the oddness of this power. Not realizing what it just is!
"Hmmm The number is 33 and the secret is OMO REALLY HANGENG?"
Jaejoong blushed and laughed he opened his eyes Yuhno in awe at him just guessing the number alone.
"The secret is Hangeng is in love with Heechul." Jaejoong said giggling causing Hangeng to blush
"Heyyyy wait I just said I liked him, no fair your stronger than I thought." He said happy at the progress but flustered that 6 people know.
"Well you should tell him really. Trust me." Jaejoong winked
Jaejoong smiled proud of his accomplishment. He looked at Yuhno who was bursting with pride as well.
"Wow Baby that was amazing,and your eyes they are so bright." He stared into them
"Ah yes that is a side effect, but it's rather pretty isn't it?" Sungmin said
Yuhno tensed but relaxed at another man calling his baby pretty. Jaejoong then flinched remembering how he was taught the next power. Hangeng smiled and pinched the bridge of his nose.
"Aniyo Jaejoong we wont do it that way again I promise." Hangeng said
Yuhno looked at Hangeng and cocked his head
HOW THE HELL DID HE JUST WHAT IN THE FUCK IS THAT?
"Oh Sorry Yuhno I can read minds but only if I feel a need to I won't be all pervy. I swear. Jaejoong was worried that we would repeat how we displayed is power of mood control. The roadie we used as a guinea pig still limps" Sungmin cackled laughing
Sungmin gets up and stands in front of Hangeng who procedes to punch him directly in the stomach repeatedly. Yuhno jumps up and Jaejoong grabs him nodding that it's ok to trust in him. Yuhno does and sits down. Hangeng begins to call sungmins lover every name in the book. Sungmin begins to become enraged and tries to fire back. Hangeng drags him to Jaejoong who touches his hand and closes his eyes.
In a matter of seconds the rage is gone from Sungmin and he hops up hugging Hangeng nearly kissing him.
"Woah Jaejoong went a little heavy on the love." Hangeng giggled pushing Sungmin back to the couch.
Jaejoong giggled back realizing Yuhno came into his mind. Now he was going to attempt the power he never tried. He was scared and he took Yuhnos hand. Yuhno smiled and gave him a squeeze letting him know he believed in him.
"Okay Jaejoong final one will be the hardest. Yuhno we will need you for this as well as Siwon. Now I want  you to understand this is merely a demonstration. No anger is to be left after this is over. Understood?" hangeng said matter of factly
The three agreed and Hangeng whispered to Siwon. He then walked to Yuhno and made him walk to the kitchen with Sungmin. Eunhyuk walked to the door and squatted. As if poised to jump.  Jaejoong got very nervous.
"Okay Jaejoong now lay back and close your eyes. And focus on your feelings." Hangeng proceeded to open the window wide. It was a cold night but the sky was clear. Siwon took a deep breath and quietly walked over to Jaejoong. He leaned over the man and kissed him fiercly. Sungmin brought Yuhno out who near had a heart attack and was seeing red. Sungmin and Hangeng held him back. Hangeng whispered to Yuhno
"Just watch"
Yuhno did but he couldn't help but want to burn Siwon alive for touching his baby. He was met by a huge bolt of lightning and a hard crack of thunder. He looked outside and it was pouring, and storming. The wind was so hard it was bowing the glass window. Siwon jumped backand Jaejoong jumped up wiping his lips off tears rolling down his cheeks.
"WHAT THE FUCK HANGENG WHAT WAS THAT FOR?" He spat really wanting his lips burned off.
"Jaejoong look outside." Hangeng laughed
Jaejoong looked outside to see the storm in the middle of winter. It was almost like a hurricane.
He looked at Hangeng.
"That is from the anger,rage, and hurt you felt from that kiss."He said softly
"You…Mean…I….Did….that?"Jaejoong stuttered.
Hangeng nodded.
Sungmin let Yuhno go and he dove to Jaejoong crushing his boyfriend with a hug. Jaejoong buried his face in Yuhnos chest and silently sobbed feeling so horriblefor letting another kiss him.
Siwon laughed quietly.
"Baby it'sok Im not mad,well I was but Iknow it was merely for showing your power. I know baby its ok look at me." Yuhno cooed
Jaejoong looked up and Yuhno placed a passionate kiss on his lips caressing his tender face. Replacing Siwons taste with the taste Jaejoong craved, and loves. The kiss becoming so intense moans came from Jaejoongs throat.
Hangeng looked outside and his eyes widened.
"guys look" he chirped.
The storm had ended and it was now calm outside. The stars were now showing and sparkling brightly. He opened the window and was amazed at the weather. It was warm outside very warm and the moon had a super glow that usually you only saw in summer months. Yuhno and Jaejoong looked and Jaejoong blushed.
"Awe, baby that's so cute." Yuhno cooed in Jae's ear
"Now Jae that was impressive I must say. And I'm sorry for well you know." Siwon said gently
"it's okay Siwon your forgiven." They both said in unison.
Hangeng and Siwon sat back down and looked at the cuddling couple.
"Okay so now you two know of each other's powers and must keep this a secret from everyone. As you both are told there is a bad side to this and you're not ready for that. We will have 3 more powers joining soon, we don't know when or who they are." Siwon Said
"Keep each other protected, and keep your secret safe. We will keep watch over you as always. And when the 5 powers are born fully then we can train." Sungmin said
"We will take leave now it's late and Jaejoong needs rest. Be safe Princes. We will be in the shadows." They all said as Yuhno walked them out.   
He returned and stopped in the kitchen grabbing Jaejoongs medicines, and a glass of water. He walked back into the bedroom and shut the door.
"Here you go baby down the hatch" He said playfully.
Jaejoong took the medicines. And smiled.
"Yunnie I love you." Jaejoong said as Yuhno began to put his pajamas on.
"Baby I love you too with all my heart." Yuhno replied taking off his sneakers.
He removed his pants and slipped on a pair of sweats. He removed his long sleeve shirt and t shirt. Jaejoong stared in awe at the shirtless man. Yuhno turned the television so they could see it in bed. He shut off the light and slid under the covers wrapping his arms around his boyfriend.who was still in a state of DUM DUM LAND, with Yuhno shirtless. Yuhno laughed.
"Ummm baby you ok?" He asked
Jaejoong snapped out of it and blushed.
"Deh sorry space cadet moment." He said timidly
Jae felt shivers down his spine when Yuhnos bare chest touches his arm. Yuhno clicked the TV and stopped on an American movie called A Walk to Remember. He snuggled close to Jaejoong and kissed his shoulder. Jaejoong laced his fingers into Yuhnos and smiled. He turned his head and looked into the eyes of his loving wonderful boyfriend.
"Yunnie?"
"Deh baby?"
"Can we go for a walk tomorrow since we only have 3 more days off of work?"
"Of course baby, I will take you for a walk."
Yuhno brushed a stray hair off Jaejoongs forehead and kissed him softly. His tongue danced across Jaejoongs lip and Jaejoong parted his lips wanting to feel more of his kiss.Yuhnos tongue danced in Jaejoongs warm mouth. As did Jaejoongs. Jae put his hands on Yuhno's chest forgetting it was now bare. It only caused him to add fire to the kiss (Pun Intended). His hands roamed over the bare tanned skin. Yuhno loved the feeling of his soft small hands touching his bare skin and he kissed back with even more as well. This caused Jaejoong to moan a little. Yuhno knew wit Jae's injury it wasn't the time. Even though his cock was nearly ripping his pajamas. Jaejoong felt the same pain. But was scared he wanted to be well for their first time and being the first time he was even more scared.
They kissed for what seemed like hours. Jaes lips became swollen and reddish. Yuhno smiled tracing his lips with his finger. Jaejoong giggled.
"Lets sleep Yunnie so we can go on our walk tomorrow."Jaejoong said near yawning.
"Deh you need to rest baby." Yuhno replied still caressing his cheek.
Yuhno felt Jaejoong rest his cheek on his chest and smiled.
"Sleep Sweetly my beautiful angel." Yuhno whispered in jaejoongs ear then placed a kiss on his closed eyes
"Mmmm You too my handsome Fire Prince." Jaejoong smiled Yuhno grinned back
"Aigoo" he cooed
The two fell asleep fast. The Fire Prince and  his Sky Prince. They didn't know what was in store for them. They just knew something was coming.And together they would face it.No secrets,No Lies.
HEY GUISE. SO DID THIS CHAPPY SUCK? I AM SORRY I UPDATED HALF ASSED TODAY MY MOM WAS IN MAJOR BITCH MODE. SO I SPENT MOST OF THE DAY AND NIGHT HANGING WITH FRIENDS. SO I LEFT CLUES AGAIN. AND YUNJAE KNOW EACH OTHERS SECRET NOW!!! YUHNO WAS NOT HAPPY TO SEE SIWON TOUCH HIS JAEBOO!!! BUT ITS ALL GOOD!!! I WILL UPDATE MORE TOMMOROW ITS NOW 3AM AND I AM BEAT!!!
COMMENT LOVE ME!!!
KAMSAMNIDA
~*~*~K~*~*~
^ Back to Top