What Makes You Beautiful
Completed!
by Baby_Zelo_101
29 subscribers | Updated | Created
Tags yongguk zelo himchan jongup bap daehyun youngjae | Report Content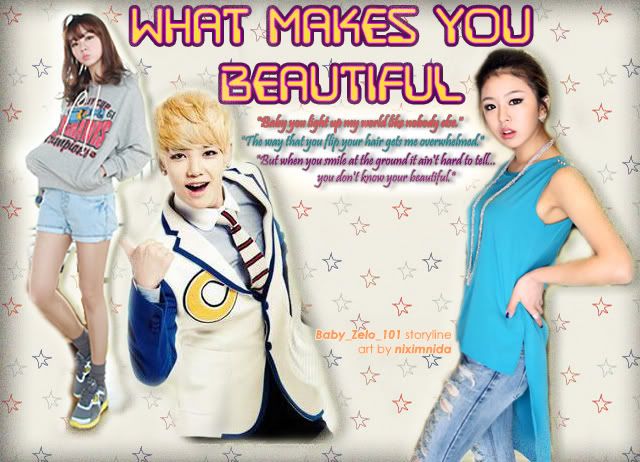 Characters
Zelo(B.A.P.), Haneul(fictional), Sunhi(fictional)
Description
Haneul is a very bright and talented girl. So when she attends a very prestigious performing arts school, it's no surprise that she is a natural favorite at school. The only problem is that the school is led by one of the meanest girls ever,  Sunhi. She is a flawless girl with milky white skin, perfect hair, nice body, and the perfect life. When she sees how close Haneul is becoming to Zelo, she becomes very dirty and mean with her games. See, Sunhi has been after Zelo's heart, but he won't accept her because of the way she is. He has seen Sunhi bully Haneul before, but he was never close to Haneul and he wanted to be so he could protect her. Zelo fell for Haneul when he saw her help a little girl who was disabled. The way Haneul sweetly talked to her and made her comfortable, it was just so heart warming. Zelo couldn't help but fall for her. And that's what makes her beautiful.
Foreword
Haneul~
15 years old
She is a very bright and beautiful girl. Not only is beautiful on the inside, but she is beautiful on the outside too. She has beautiful curvy body and soft milky white skin. She hates her hair though, but everyone absolutely loves her soft curls that reflect the sunlight beautifully. She barely ever shows off her body because she believes it's against everything she believes in, which is purity and intergation. She wants someone special in her life, but she sees how the boys in her school are a piece of shit because they are such jerks and man whores. How will she ever find someone at least edible to be the one?
Note~ The girl in the picture is Haneul when she was younger, but now she has gone through puberty and her face has changed ok? ok.
Zelo~
15 years old
He is a handsome boy who every girl in the school likes. He's only had one girlfriend in his whole life who he has dumped after she had forced him(Partly because of men needs) to have sex with her, not knowing he was a virgin. He is afraid that every girl is like that and he feels like he will never find his true love in a school filled with whores. But what happens when he thinks he's close to her? 
Sunhi~
17 years old
(I know that the girl in the picture is Hwang MiHee) A cold bitch who is not only slutty, but loves the fact that she is that. She liks Zelo very much even though she is older than him by 2 years. She craves him only when she sees that he starts to become close to Haneul. And she does her best to get rid of her.
Minhyun~
Haneul's bestest friend. He's always there for her wether she is sad mad or happy. He is the only boy Haneul knows that is worth a great wife when he grows up. He is one of the kindest and sweetest boys ever.
Tweet
^ Back to Top