Problem solved
by Chibibirdy
Tags romance you yongguk himchan bap schoolliferomance | Report Content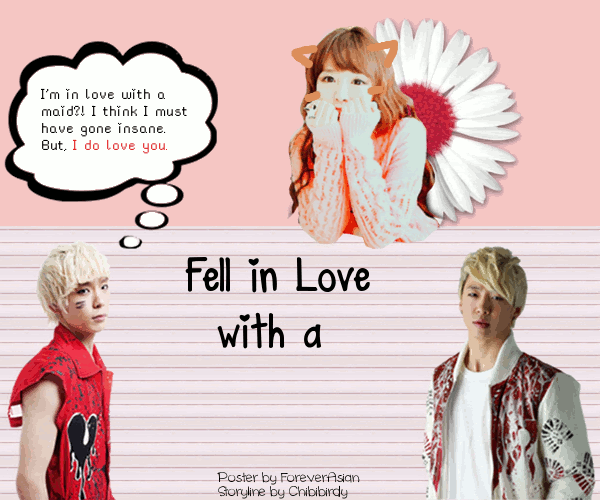 Himchan ran as fast  he could, as futher his feet could take him. He didn't care, he just wants to get away from that place. That place was nightmare. Its like a bunch of zombies that want to eat them.
"Oppa..where are we going?" You panted, you were tired and your feet couldn't hold it anymore. Futhermore, it's still school's time. You got Chemistry after lunch break, and it was your favourite subject. You don't want to miss it but you had no choice, the situation didn't allowed you.
Finally, Himchan stopped, catching his breath. You were catching you breath too. You panted heavily due the tiredness. You've been running for meters, your feets were aching like hell.
You glanced your surroundings. Wait, this wasn't at the school. Where are we?! "Oppa..where are we?" You said panickly. You never went to outside school while its school's time. Was this called truant?
"In the city. Let's have some fun." Himchan smiled in triumph. What was with his smile? Is not like that he had won anything. Himchan pulled you hand and started walked ahead, to nowhere.
Currently, you and Himchan were at a café, ordering mocha for you while Iced Coffee for Himchan. There's pairs of eyes were looking at you and Himchan. Of course, it's 11 in the morning and both you were on your school uniform.
You lowered your gaze, embarrassed of the people's looking. "Thank you." Himchan smiled at the waiter after received the order. Himchan sat at the corner while you just followed him.
You sip your mocha sheepishly. Himchan was aware of your nervous and embarrassement due the people's looks. Himchan hold your hands abruptly at the table, his wramth send you an electric shock through your body.
"Don't worry.  There's nothing to be worry about because I'm always there for you." Himchan smiled warmly. His smile made you comfort and relaxed. "Thank you oppa."
Meanwhile at the school, the situation was uncontrollable. It was insane! B.A.P's member don't know what to do due the situation.
Seojin got pissed watched the scene. Why? If they love Himchan so much, they should accepted his decision. Hey, he wasn't been made for all of them. He's a human. A normal human being. Whatever he did, it was up to him. It his decision. Nobody could stop him.
Seojin couldn't hold her anger anymore. Beside, it's her bestfriend that all of them hated so much. They thought that themselves were way better than you. Oh please, everyone has their weakness.
Seojin couldn't hold her anger any longer. She had to do something. She stood on a table and inhaled all the air around her. "SHUT THE HELL UP!" She yelled all her might.
Now, everyone's attention was on her. All of them looked at Seojin with a big question mark on their face. *Why Seojin on the table?* Daehyun thought curiously.
"Are you really fans of Kim Himchan?" Seojin questioned with high tone of her. "Of course we are!" All them said simultaneously with hard face. Seojin scoffed at the statement they gave.
"You're fan of him? HAHAHA! What a big fat liar." Seojin didn't scared at those stare of those girls.
"What the….yah,  Jee Seojin! What the hell are you blabbering?" Eunmi as the 'leader' of those girls. (She's the one that wants to slap Seojin at  Chapter 12)
"Well, I'm just saying if you're Kim Himchan's fans, you girls should be able to accept his decisions. No matter what is it. As long for his happiness. Don't you want to see him happy?" Seojin's words made all of them thought about it carefully.
They want to see Himchan smile and laugh heartily. But its sad because those smiles weren't for them, but for someone else which it's you. They heart shattered into pieces when they heard the announcement.
Of course they'll mad when their bias belongs to someone else. But for Himchan's happiness was priceless for them. It's important and everything for them. Kim Himchan's bliss is the their priorities.
"You're right.." Eunmi said in low voice but could be heard by others. They nodded at the statement. "I think we should support they relationship." "Besides, Himchan said he loves her so much. There's nothing we can do."
A girl started to cry. Her sob can be heard by everyone.
Zelo who was watching the girl's crying, went at her. "Noona, don't cry. You don't look beautiful if you're crying. Nae?" Zelo said cutely and honestly.
Zelo pouted seeing the girl red eye due the crying. "ZELO-AHH~!"
Thanks to Zelo, all the girls went to his place begging for hug. The rest of B.A.P laughed heartily seeing the maknae's horrified face.
"Help!" The youngest shrieked. "Well, that's settled it." Yongguk chuckled. "Agreed~" Daehyun, Youngjae and Jongup chorused while giggled. "Ah, hyungs! Help meeeee!" Zelo cried for help. B.A.P laughed together before helped the pitiful maknae.
"That's my girl. I'm proud of you, Jee Seojin." Daehyun ruffled Seojin's hair. Seojin giggled hearing those words came from Daehyun's mouth.
Daehyun glanced around, make sure nobody's watching them. He kissed Seojin's forehead then went to B.A.P's place to rescue Zelo. Seojin blushed in bright red because of Daehyun's action.
"Yah, I saw that, yuckie." Youngjae spoke as Daehyun came. "Oh, shut up. You'll understand after you got a girlfriend." Daehyun scoffed.  
You and Himchan decided to come back to school. You pleaded at Himchan for come back. You don't want to skip lesson. Mr Kim would disappoint at you if he knows that you did that.
Himchan couldn't win over your cuteness for begging finally, he admitted lost and brought you back to school.
You gulped hardly when the two of you had arrived infront school. You squeezed Himchan's hand tightly due the nervousness. "I hope everything's alright." "Everything's gonna be alright." Himchan gave you an assuring smile before the two of you made the first step entered the school.
You and Himchan went to the cafeteria where's the chaous happened.
"Himchan-ah!" All heads spun to the entrance. All gaze fixed on both you. You gulped hardly and inhaled deeply.
Eunmi step forward from the crowd. Himchan went infront of you and get ready to protect you from any possibility. Eunmi inhaled before spoke. "Himchan oppa, ________sshi. We're so sorry for..everything! We couldn't accept the fact that Himchan oppa our beloved oppa now belongs to someone else. But your friend, Seojin, had made us thought about it. If we love someone, we have to let the person go. For his happiness." Eunmi representative all the girls, Himchan's fans for that speech.
You glanced your bestfriend. She made thumbs up at you and smiled widely. 'Thank you' you mouthed and smiled back.
"Thank you all." Himchan said moved by his fans. "Besides, we have Zelo now!" "Wha?!" Himchan's mouth was wide open heard that.
"Oopps~" Zelo shrug in cute manner. Now, those girls at Zelo's place stroking his curly blondie hair.
"Hey, chill. At least you've got ________ at your side." Youngjae the brain said while closed Himchan's opened mouth with his index finger.
"And I've got Jieun." Yongguk dreamly thought his girlfriend.
"Whoa, I've got Seojin too~" Daehyun put his arms around Seojin who blushed in flash red.
Youngjae and Jongup who had not girlfriend just remain silent. "JONGUP AH!" "YOUNGJAE HYUNG!" Both of them shrieked and hugged each others. They cried fakely while hugging. You, Himchan, Yongguk, Daehyun and Seojin laughed seeing the two.
*I'm glad I entered you live, Kim Himchan.*
^ Back to Top