Name Game
by sosnsded
Tags snsd soofany taesun yoonyul sunsica sunyeon sunsic | Report Content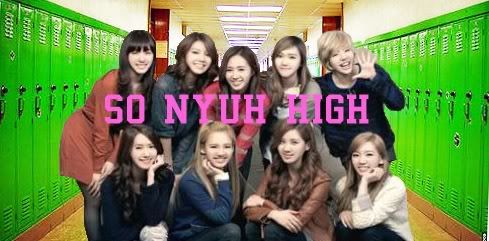 So Nyuh High: Term One
Name Game
"Jessica Jung is in school this early in the morning? What's next, flying pigs?"
"Shh! Don't speak so loudly, she might hear you."
Oh, Jessica heard them alright, but she ignored them and breezed right into class. Despite the nonchalant look that she wore, she was secretly irritated by the whispers and sneaky looks people were giving her. She looked around the room for a place to sit and a girl at the back who was clearly asleep caught her eye.
"This must be the new girl Dad was talking about over dinner yesterday. Pfft, she doesn't look that rich to me. Can't believe that her family is ranked top ten of Korea's wealthiest. Just what this school needs – another spoilt brat," Jessica thought to herself.
Feeling the need to vent her grumpiness, she walked over to the sleeping girl and slapped her arm hard. She then intimidated the girl into getting out of that seat and took it for herself. With a satisfied smirk, she sat down in the newly vacated seat.
However, her mood did not have a chance to lighten for the teacher who was most hated by everyone had just walked in. Upon his entrance, he immediately spotted Jessica and directed a sarcastic remark towards her.
Jessica kept her poker face but groaned inwardly. She really hated this teacher to the core yet at the same time, she could not help respecting his guts. He was the only teacher who had the guts to be tough on his students, no matter how rich and powerful their parents were. There were many teachers who treaded carefully around the pupils like Jessica especially since she was the school's chairman's daughter.
Most teachers believed that Jessica's father would harbour her misdeeds and were hesitant to endanger their careers. This teacher, however, had been tough from the start. From the moment he introduced his name, Choi Siwon, till this very moment, he had never let any student get away with wrongdoing. He was tough but fair.
Mr. Choi had reported Jessica's habit of skipping morning classes during her junior year directly to the Chairman after finding out that the principal wasn't doing anything about it. Jessica had received an ultimatum as a result of that - abide by the school rules or be grounded for a week for each time she turned up late.
It would have taken a miracle for her to get up so early in the morning last year but she didn't have much of a choice this year. Being grounded meant that she couldn't hang out with her best friends, Taeyeon and Tiffany. Those two girls were as precious as her life was to her. They were her only true friends because they didn't care about whose daughter she was or how much money she had. They were her childhood friends and the only people she truly trusted. She wouldn't survive a week without seeing them.
She didn't want to admit it, but this teacher had won that battle. So, she turned up punctually on the first day and intended to keep it up for the entire year until he no longer was her teacher.
The sound of the door being knocked drew her from her thoughts. It was a welcome intrusion, however. Taeyeon and Tiffany were at the door. Mr. Choi motioned for them to enter and folded his arms, awaiting their explanation. She hoped that they had a good one.
•°★°••°★°••°★°•
Sunny, who was slouching in her chair, sat up straight when she saw the girls at the door.
"Isn't she the girl that I winked at a while ago?!" Sunny groaned silently. "ARGH, WHY did I have to wink at her? Darn it, now she'll think I'm some kind of crazy flirt or insane weirdo winker."
Her face flushed red from embarrassment and she rubbed her face with her hands in an attempt to cover her face as much as possible.
"We are sorry we're late Mr. Choi, we were held up at the office while filling out some applications," Tiffany explained with her brightest, sweetest eye smile.
Mr. Choi seemed to be satisfied with that explanation and told them to take their seats. They headed to the back and sat beside Jessica. He then addressed the class.
"Welcome to the new year. You are all seniors now so I'll be expecting to see you helping out the juniors in every way you can. I'd also like to welcome a new pupil to our class. Come to the front and introduce yourself," said Mr. Choi.
Sunny heaved a huge sigh before getting up on her feet and making her way to the front. So much for her plan to hide from the girl she winked at. She stood in front of the class and said, "Hi everyone, my name is Sunny. Sunny Lee. I spent the past few years in the US so I may not know much about things here and I'd appreciate your help in class, thanks!" She bowed to end her introduction and kept her eyes on the floor as she returned to her seat.
•°★°••°★°••°★°•
Taeyeon recognized her as the girl from the parking lot and was stunned when she finally got a clear view of her face. She couldn't stop looking at her even if she tried. Her mind was in a whirl. From the eyes to the lips, Sunny reminded her of someone she knew a couple of years ago and it wasn't a pleasant memory, to say the least. The resemblance wasn't visible when she saw her from a distance but it was very visible now that she was up close. She felt pangs in her heart just by looking at Sunny. Yet, she continued to stare. The wink that Sunny gave her in the parking lot was still fresh in her mind and just thinking about it gave her goose bumps...
"Here."
A little girl was sitting on the curb by the roadside sobbing. She looked up when she heard the warm voice. There was a small hand inches from her face. She looked up further to see who the owner of the hand was. A warm smile greeted her teary eyes and the person opened her mouth again.
"Take my hand."
She sniffed and stared for a little while before taking the offered hand.
•°★°••°★°••°★°•
It wasn't just Taeyeon who was affected by Sunny. Both Jessica and Tiffany were staring at her too. They too had seen the uncanny similarities between Sunny and Taeyeon's someone. They looked at Taeyeon and noticed how tense she was. They then looked at each other and shook their heads worriedly. Jessica felt like slapping herself for not noticing this when she first saw Sunny. "How could I forget that face?" she thought.
•°★°••°★°••°★°•
An hour later, the bell rang, signaling that it was time break time. Students streamed out of the classroom and Sunny was one of the first to get out. Jessica mouthed some words to Tiffany who caught on to the message quickly. Jessica then walked out of the class quickly to catch Sunny while Tiffany went over to Taeyeon to find out how she was feeling after seeing Sunny, her someone's look-a-like.
"Hey! Sunny! Stop!" yelled Jessica in the middle of the corridor. Everyone turned to look at her but she didn't care about their curious gazes. Spotting Sunny further down the corridor, she ate up the distance between them with long, swift strides and pulled Sunny by the arm into the nearest female washroom.
"What's your full name, Sunny?" Jessica asked. Stunned by the sudden approach and question, Sunny didn't answer her. She simply stared blankly into Jessica's eyes. Jessica swept her hair out from her eyes impatiently and repeated the question.
Sunny tried to wriggle her arm out but Jessica's grip was surprisingly strong for a girl who looked so frail. "Will you let go of my arm first? It's getting painful," said Sunny.
Jessica raised an eyebrow and looked down at Sunny's hand. Sure enough, she had an iron grip on Sunny's arm and it was turning red. She let go of the arm immediately and Sunny rubbed her arm to ease the pain.
"What's your Korean name, Sunny?" Jessica repeated her question.
"I don't really want to tell anyone what it is but since you asked, it's Lee Soonkyu. Why do you wanna know anyway? And why are you always so fierce to me? What have I done to piss you off?" Sunny asked.
"Seonkyu?" Jessica clarified, ignoring her other questions.
"No, Soonkyu."
"That's what I said, Seonkyu!"
"No, Soonkyu as in Soondae! No one ever gets my name right," grumbled Sunny, "so just call me Sunny, okay?"
"Damn, even their names are similar," uttered Jessica under her breath.
"What did you say?"
"Where were you two years ago?" asked Jessica, ignoring her question again.
"The US! I've been there for the past four years."
Jessica leaned forward and looked deep into her eyes, as if searching for something. "Is this the truth?" she asked.
"YES! Why would I lie about something like that?" retorted Sunny. She gave Jessica an incredulous stare. "What's wrong with you?!" she asked in a slightly raised voice.
"Argh, forget it," said Jessica. She shook her head, turned and walked out of the toilet.
Sunny put her hand on her racing heart and wondered what all that was about.
^ Back to Top