The Aftermath
by sosnsded
Tags snsd soofany taesun yoonyul sunsica sunyeon sunsic | Report Content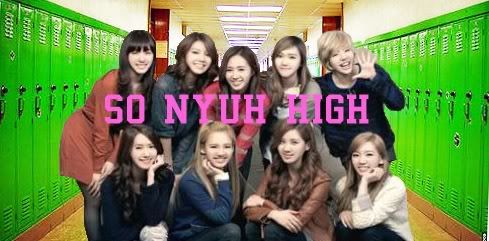 Jessica was sure that something was deadly wrong. Neither Sunny nor Taeyeon turned up for school today. This definitely wasn't one of their truant days where they spent it loving each other. Their current status as a couple was too shaky for that.
Where are you?
Jessica typed and sent a text to Taeyeon first.
Taeyeon's mobile lit up. She was too tired from sobbing all night to even lift a finger to find out who sent it or what it was about. She let it buzz and closed her eyes, shutting the entire world out.
Sunny, what happened? You and Taeng are missing today.
Sunny rubbed her bloodshot eyes and wiped her tears before sitting up to check her mobile. It was Jessica. She felt a tiny bit better.
We aren't a couple anymore.
So much for feeling a tiny bit better, her tears fell like raindrops again. She had already been crying all night and her eyes felt as though they were about to pop out; they were so red and swollen.
Jessica couldn't believe her eyes. She read the message a few times and breathed out slowly. Then she palmed her face and moaned.
"Taeng… why?!"
A strong male voice boomed across the classroom.
"Jessica Jung. Answer this question."
Jessica almost screamed but all she could do was sigh and smile at the teacher she hated most before replying him, "What was the question again?"
•°★°••°★°••°★°•
"Sorry Yoona… you're going to have to eat lunch by yourself today."
Yoona restrained herself from throwing her shoe at that obnoxious face and the owner of that irritating voice. She decided to ignore her instead. Turning the other way, she walked away from the smirking girl. Bora ran in front of her and said, "Will you be alright eating by yourself today?"
Yoona pursed her lips and kept on walking. Bora stopped following her and laughed.
"Enjoy your lonesome lunch Yoona!"
Yoona clenched her fists in anger.
What lunch? Yuri didn't tell her anything about it.
What was going on between her and Bora?
She was fuming when Yuri approached her timidly.
"Er… Yoona yah… about lunch today…"
"I know."
Yoona replied her curtly and coldly brushed her aside as she strode into the locker room to get her running shoes.
"How did you know?"
"Bora told me."
"Oh."
"So… are you okay lunching alone? Coach really wants me to help her out on the tracks. He thinks with some extra help, she can be the next star runner after you and me."
So that's why…
"Sure. I'm not a baby. I'm perfectly capable of buying and eating my own lunch all by myself."
"Yoona yah…" said Yuri in frustration, "I didn't ask for this. It's Coach's orders."
"Well… you could have told me earlier so that Bora the b*tch wouldn't have had a chance to gloat over my clueless face."
"I'm sure she wasn't gloating… she's so friendly!"
Yoona laughed like a maniac. "She's only friendly to you, not me."
"Yoona… can you please be reasonable? I don't know why you don't like her but she told me that she felt hurt by your attitude towards her."
Yoona shot her an incredulous glare.
What nerve!
"Yuri, I'm telling you… Bora is not nice to me. I know a gloat when I see and hear one. It's my word against hers. You can choose who you want to believe but I'm not hanging around to find out. I'm heading out for a jog and then I've got a lunch date with myself that I can't be late for or I'm going to be damn pissed with myself."
Yuri looked on speechlessly as the younger girl walked out angrily.
Just how jealous can Yoona get?!
•°★°••°★°••°★°•
Jessica walked into the grand mansion, nodding politely at the staff who greeted her. They had known her since she was five. She spent much of her childhood hanging out with Taeyeon and as a result, Taeyeon's home felt like her second home.
The elevator doors opened revealing a pitch-black room. She turned on the lights and saw a figure, huddled under the sheets.
"Taeng… it's me…"
She did not get a response.
"Taeng…" Jessica shook the brunette gently.
The figure stirred and turned to face her. She couldn't help gasping at the puffy, swollen eyes on Taeyeon. Taeyeon yawned widely and smiled weakly at her friend.
"You're such a cry baby…" Jessica teased her gently, "but I'd rather see you cry than to have you act like nothing happened."
"You're talking about my breakup with Sookyung? Ha ha… that was different. I think… now I know what it feels like to be heart broken. And this must be how you felt when you broke up with him. I couldn't understand it then."
"That was good riddance to bad rubbish… it's not quite the same."
"It's actually not so bad you know… the crying… helps. The only problem is me missing her to bits but knowing that seeing her is just going to hurt the both of us."
Jessica smoothed Taeyeon's messy hair and smiled.
"Our dear Taeng has grown up so much."
"Life's a b*tch… isn't it. You grow up even if you don't want to."
Jessica laughed airily.
"You are lucky, putting off growing up till now. I had to grow up much earlier than this."
"Sica… how's Sunny?"
"She didn't go to school either."
Taeyeon sat up, feeling worried. "Is she okay?"
"I'm going to check on that little one after this. I had to check on you first you know… you're my dearest friend."
"Don't worry about me. I'm grown up now. I know how to cry and get over breakups."
Jessica chuckled. She got up and walked back to the elevator.
"Sica…"
"Yes?" Jessica stopped walking and turned around.
"I want you to know… I'm okay with… you… and Sunny…"
Jessica shook her head.
"No… Taeng, I can't. She's yours."
"No, she isn't. Not anymore. We're both hurting now but we'll heal. It's all fair and square, Sica. I want you to know that you have a chance too; a chance to be happy again. You deserve better."
Jessica smiled. "Take care Taeng. See you back in school when you're ready."
•°★°••°★°••°★°•
"Sunny and Taeyeon WHAT?!?!" shrieked Sooyoung in horror.
News like this sure travelled fast. Yuri found out from Sunny and told Yoona who just told Sooyoung. Sooyoung was completely horrified.
"HOW? WHEN? WHY? OMGOSHAWEFASDAWEV!!!"
"They were so cute together! What happened?"
Tiffany was equally shocked. She hadn't been hanging out as much with Jessica and Taeyeon lately since she spent most of her time hanging out with Sooyoung. She was immediately worried for Taeyeon.
Taeng… you know that I'm here for you right?
She sent the text message and sighed.
Poor Taeng… when will she find long lasting happiness?
I'm alright. Don't worry about me. I can handle this.
Tiffany was surprised to receive a reply like that.
Taeng has changed.
•°★°••°★°••°★°•
Sunny linked arms with Jessica as they strolled down a quiet street. Jessica had gone to Sunny's house only to find her in a pitiful state of depression. She forced her to take a shower and get changed before taking her out for dinner. This quiet street had some of the best food that Jessica has ever eaten but the best thing about this street was that it was quiet. Tucked in a corner of town, people didn't really bother stepping into this street and Jessica liked how unpopulated it was.
A friendly-looking ajumma smiled and welcomed them when they entered.
"Omo… Sica… you're back to eat my food? You miss my food don't you? And who is this? I've never seen you here with anyone before!"
"Ajumeoni, this is my friend, Sunny."
"Ajumeoni, annyeong haseyo." Sunny greet her with a smile.
"Omo! Sica… your friend is sooo cute!"
The ajumma smiled and pinched Sunny's cheeks affectionately.
Jessica laughed out loud at Sunny's face.
Only Sunny makes me laugh like that.
Sunny pouted and whined, "Ajumma!!!" before smiling again.
"Sit, sit. I'll serve you the usual Sica… what about Sunny?"
"I'll have whatever Sica is having."
"Alright! Coming right up!"
The two girls smiled warmly at the warm-hearted ajumma who had the uncanny ability to make anyone and everyone feel right at home in her small little eatery.
"Do you come here very often?" asked Sunny.
Jessica nodded.
"But you've never brought anybody else here?"
"It's not like they'd want to come here. I figured you'd need a homely place to have dinner in. Every time I feel crappy… I come here and ajumma makes me feel so much better."
Sunny looked at her strangely.
Jessica raised an eyebrow questioningly.
"Nothing… it's just… you suddenly seem so human."
Jessica rolled her eyes.
"I am human you know, not some robot."
"I know but you're so icy most of the time. It's hard to see this side of you. I'm so glad that I know the part of you who comes to a nice ajumma place when she feels crappy."
Jessica laughed and flicked the younger girl's nose playfully.
"Oww!" Sunny covered her nose with her hands.
This is a really nice feeling…
I'm actually enjoying myself right now…
•°★°••°★°••°★°•
"I'm scared, Yoona."
"Why?"
"Sunny and Taeyeon… the couple I was convinced would last… didn't in the end… We're just beginning and already we've had all these quarrels."
Yoona looked at Yuri feeling surprised by her admission. She looked at the tall, tanned girl and hugged her suddenly.
"We'll work it out Yuri."
"I don't want us to end."
"We won't."
"We will if we are unhappy with each other so often."
Yoona stepped away from Yuri and said softly, "The problem I have with Bora is not jealousy, I hope you can understand that. The things she says to me are really mean."
"I am trying my best to stay away from her Yoona yah… she keeps coming to me though. I can't be rude to her."
Yoona sighed. "I know. I know you're trying you best for me. I'll be more understanding too."
Yuri smiled brilliantly. "Does this mean we have made up now?"
The younger girl smiled and nodded. Yuri cheered and planted a kiss on Yoona's lips. Yoona giggled and kissed her back. They pulled apart moments later, panting for breath.
"You're getting better and better at this." Yuri murmured in her ear.
"Your extra coaching has helped."
Yuri chuckled. "I'm always at your service. Free-of-charge."
^ Back to Top