Look Into Your Heart
by sosnsded
Tags snsd soofany taesun yoonyul sunsica sunyeon sunsic | Report Content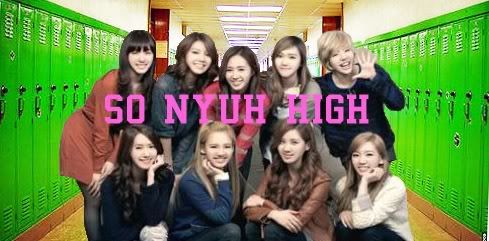 [Later in the day, after the race…]
Yoona was unable to shut her mouth even though she was perfectly aware of the fact that her jaw had dropped further than it ever had. Before her eyes, was some sort of sexy fairy or something, she was sure. Whatever she was, it was not human. Yuri looked downright gorgeous and sexy.A figure-hugging black tank with an army themed jacket thrown over and matching army themed shorts, completed with awesome hair and makeup made Yuri look like she stepped right out from a fashion magazine.
Yoona looked at herself. "Aish, I should have worn something nicer! I didn't know that she was going to dress up like that!" She mentally face palmed herself. Yuri walked up to her and whistled. "Looking nice, Yoona!" She flashed a brilliant smile that rivaled the shine on her hair.
"You're kidding right? I'm in jeans and crap while you look like you stepped out from Vogue!"
Yuri laughed and tossed her hair back. "Actually, this is pretty casual for me." She leaned towards Yoona's ear and whispered, "I told you that people are going to be jealous of you tonight." She winked at the younger girl and patted her head affectionately. Then she threw her arm round her shoulders and pulled the younger girl along with her and said, "Let's get a cab."
Yoona snuck out from the arm hold that Yuri got her in and stopped. "Cabs are expensive."
Yuri smiled again. "Don't worry, I've got an allowance remember? It's more than enough for me each month. Come on, tonight's a special night. We gotta celebrate in style, okay?" Yoona was persuaded. Seeing a cab turning into their street, she flagged it down and got in with Yuri. She looked at Yuri suddenly. "We haven't decided where to go!"
"I have." She flashed the address on her mobile to the driver. He nodded and drove off. Yoona looked at her and asked, "So where in the world are we going?"
"You'll find out when we get there."
The cab drove onto a crowded street, lined with pubs, bars and restaurants. Yoona looked at Yuri uncertainly and nudged her. "Yuri unnie, I am under-aged. I can't drink!"
"Don't worry, so am I. We're definitely not drinking tonight."
The cab stopped in front of a quaint-looking restaurant that was further down the street and a little quieter than the rest. Yuri paid the driver and they got off. They stood in front of a nicely decorated entrance that said Burgundy in a nice, elegant, curly font. "Come on, it's getting cold out here." Yuri pulled Yoona in.
"Table for two, Miss?"
"Yes, please."
They were led to a table for two in a nice, cozy corner. A nice table candle illuminated the small area and put a warm orange glow on their faces. As they looked through the menu, Yoona leaned over the table and whispered, "Ya! Everyone is looking at you! Doesn't it freak you out?"
"Not at all, in fact, I like it very much."
"What?!" Yoona couldn't comprehend that and thought that she must be crazy.
"Just ignore them. They'll get tired of looking eventually. What do you want to eat?"
"Whatever you're having, I have no idea what I'm looking at…"
Yuri smiled at her unaffected frankness and signaled for a waiter to come.
"We'll both have escargot, beef bourguignon and crème brûlée."
"Oui, any wine for you ladies tonight?"
"No, that will be all, thank you."
The waiter nodded politely and left their table. Yoona leaned over the table and whispered again, "Do you eat French cuisine very often? You seem to know what to order so well."
"Actually, no, I learnt all that from my French friends to impress girls like you."
Yoona didn't quite know how to react to that. She blushed and said, "Quit joking already. You are a prankster who's totally out of control."
"I'm not kidding this time. Sigh, the woes of being a prankster. Nobody really knows when you are being serious or when you are just kidding. I guess I brought it upon myself."
The waiter arrived with their entrée and saved Yoona from having to react to what Yuri had just said. As he placed the dish on the table, Yoona looked at the contents suspiciously. They looked a little scary to her. "What's this?" she asked with a disgusted look upon her face. Yuri resisted the urge to laugh at the younger girl who at the moment had the expression of a really depressed fish.
"It's escargot. They are snails. I heard that they are very good."
"Eww… Snails?! Yucks!"
"Aww, come on, try them."
Yuri put one in her mouth and made a show of how delicious it tasted. Yoona looked at Yuri and then the escargot. She picked up the tongs and fork and mimicked Yuri's actions. She put it into her mouth gingerly and chewed.
"How does it taste? Do you like it?
"Yes! It's very nice!" Yoona's half-disgusted face broke into a smile as she eagerly took another and ate it with gusto.
Both girls thoroughly enjoyed their food. It wasn't too long before they were done eating. Yuri signaled for the bill at which Yoona protested. "I'm supposed to be the one treating you, Unnie, it's your thank you dinner!" Yuri shook her head and said, "I will pay for this because I chose the place. You can choose the next place and pay for that. Okay?" Yoona had no choice but to agree.
As they walked out of the restaurant after paying for their meal, Yuri casually draped her arm over Yoona's shoulder. Yoona wrapped her arm around Yuri's waist in return, without much thought. Yuri froze on the street. She looked down at the arm that hung on her waist so nicely and smiled at Yoona. When Yoona realized what she'd done, she hurriedly retracted her arm and blushed furiously. Yuri pouted, put Yoona's arm back on her waist and said, "I like it there."
"Unnie…" It was Yoona's turn to stop.
"Hmm…?" Yuri lazily replied.
Yoona looked down at her feet and bit her fingernails and murmured, "It's about Sooyoung." She could have sworn that Yuri's face fell for a spilt second but it was back to her usual half-smile after she blinked so she couldn't be sure.
"I… er… I…" all the things that she had wanted to say got caught in her throat. She stammered, "A-actually, I…"
"You still don't have the courage to confess to her?"
"No, no, no… Argh, why can't I talk properly now?! It's like this…" Yoona took a deep breath and let out all the words at once,
 "IlookedintomyheartandrealizedthatwehavebeenspendingsomuchtimetogetherthatIhaven'tbeenthinkingaboutSooyoungatallwhenI'mwithyouandIreallyenjoyhangingoutwithyoubecauseyoumakemefeelsocomfortableandit'slikeIcantellyouanythingandthat'swhenIrealizedthatIprobablydon'treallyloveSooyoungoranythinglikethatitseemsmorelikeacrushorsomethingIdon'tknowwhatitisbutIthinkIwouldliketodateyouifyoudon'tmind."
Her face had turned blue but she managed to get everything out at once. She leaned on Yuri and gasped for breath. She looked into Yuri's eyes nervously, waiting for her answer to her request. Yuri looked seriously stunned. Firstly, it was a lot to listen to and a heck of a tough job to make sense of what she had said. But she heard it all. And it was dawning on her. That's when a smile started to creep onto her face, turning into a wide grin that lighted her face up like a Christmas tree.
"That took you a lot of guts to say. Fortunately for you, I have good ears and managed to figure out what you were saying. In any case, I'm very glad that you think that way because I was planning on seducing you and snatching you away from Sooyoung myself.
"WHAT?!" Yoona yelled out loud in disbelief. People around them looked at them curiously but neither girl noticed their stares. They were both too engrossed with each other to notice anything else.
Yuri smirked and said, "Why do you think I offered to help you run better? Why do you think I invited to you join me for my morning jogs? Why do you think I spent so much time to perfect your starting off? Why –"
"I thought you were being a good friend!" Yoona cut her off. She was very disappointed. Yuri wasn't being nice. Yuri was helping her for an ulterior motive and she had thought that Yuri was a real friend.
Yuri was shocked speechless. She didn't expect Yoona to react that way to her confession.
"Yoona ah, I –"
"I'm sorry. I need to think about this. I- I'm confused right now." Yoona ran down the street and realized, much to her consternation that she was crying.
"I really like you a lot… ever since I saw you in the cafeteria…" Yuri completed her sentence sadly as she watched Yoona disappear into the crowd.
•°★°••°★°••°★°•
[On the same day… in the evening…]
There was a black limo waiting outside the hospital as she left.
That looks very familiar…
Then she saw the driver, Taeyeon's driver. He stopped and bowed to her before opening the door to invite her into the car. "Miss Lee, please." She had no choice but to get in, not knowing what was going to happen next. The limo drove to the area near their school. She realized where she was going.
It's the lake…
Sure enough, the limo stopped next to a candy red scooter. A short girl was holding on to two helmets and leaning on her scooter when she saw the approaching limo and waved her free hand exuberantly. Sunny couldn't help but laugh at the brunette's enthusiasm. She got off the limo and was immediately bear-hugged by an over-zealous girl. Taeyeon waited till her driver had driven away, and disappeared from view, before showering her blonde girlfriend with kisses all over her face. Sunny laughed throatily and tried to swat Taeyeon away.
"Oh gosh, stop, stop, you're completely smothering me with your kisses."
"I'm just totally happy that you are back on your two feet now. Is your leg completely alright now? Can you engage in… vigorous activities?"
Sunny laughed and rolled her eyes. She said in her most sarcastic tone, "Like my cast had stopped you from getting it on with me? My leg is fine by the way, they did very thorough checks and I got a clean bill of health, not just for my leg but my entire body."
The brunette was too overjoyed to rebut her girlfriend's sarcasm. She simply grinned dorkily and got lost in Sunny's twinkling eyes. Sunny nudged her and nodded towards the scooter, asking, "What's up with that? Are we going to the lake?"
Taeyeon nodded happily and handed her a helmet to put on. Just as she was about to put it on, Taeyeon leaned in and stole a kiss. She giggled and said, "Reenactment of stolen kiss number five. I've lost count of how many kisses I've stolen already but I'll always remember our first five kisses." Sunny blushed madly under the helmet and swatted Taeyeon's butt playfully. They got on the scooter and rode through the thicket which led to the lake.
•°★°••°★°••°★°•
The lake was shimmering in the setting sun and the trees swayed gently in the light breeze. All was quiet except for some bird calls and cricket sounds. Sunny stood by the lake and stretched herself. She jiggled her legs and was glad to note that her right leg felt as good as ever. She watched a bird take flight, fly across the lake to the other side and finally perching on a tree top in the distance. She closed her eyes and breathed deeply.
Then a pair of arms wrapped around her waist and a chin snugged itself into the cleft of her collarbone. With her eyes still closed, she smiled and draped her arms over the ones that were hugging her. They stood still like that for a long time, enjoying the peaceful moment. Then the hands tried to get under her top. Sunny opened her eyes, laughed and swatted the byuntae hands away. "Trust you to ruin a perfect moment with your byuntae thoughts."
Taeyeon pouted and whined, "But I was getting bored…"
Sunny grinned at her and said, "So what do you want to do now?"
"I had wanted to reenact stolen kiss number two…" said Taeyeon in a small voice. Sunny laughed and ran away, squealing, "No… not again…" as Taeyeon started chasing after her.
•°★°••°★°••°★°•
[The next day in school…]
"Hey check this out gals!" Tiffany gushed as she breezed through the cafeteria and stopped at their usual haunt. "Look at these cute fortune cookies! My Dad just came back from Shanghai and got these for me and my friends which mean you gals!"
Sooyoung stood up immediately and took one eagerly. She broke it open and read the message out loud.
Beware of the belly that rules the mind.
She looked at it in disgust whilst the other six girls roared with laughter.
Hyoyeon got up and took one. "These fortune cookies are a blast!" She opened hers hastily.
Dance first. Think later.
"Oooh… I like this one. It's deep!"
Taeyeon took one and opened it eagerly.
Nothing risqué, nothing gained.
They laughed hard at the message whilst Taeyeon nodded her head in agreement solemnly. Tiffany joked, "Even the fortune cookie knows how byuntae you are!"
Taeyeon looked at Sunny and passed her the bag. She reached in and got one.
Love is never lost. If not reciprocated, it will flow back and soften and purify the heart.
The group oohed at that one. "That's deep too," remarked Hyoyeon. Sunny nodded thoughtfully. It sounded like good advice for Sungmin.
The bag was passed to Jessica. She reluctantly took one and opened it. "What does it say?" asked Tiffany curiously. Jessica made no move to read it so Taeyeon grabbed it and read it out.
He who knows others is wise. He who knows himself is enlightened.
"Ooh… do you know yourself, Sica?" asked Taeyeon cheekily. Jessica sighed inwardly, wishing that she didn't know herself so well. She shrugged.
It was Yoona's turn. She opened one as well.
Things that are past are needless to blame.
"Indeed... Those are wise words…" an unrecognizable voice interrupted them. All seven heads turned. A variety of reactions greeted the newcomer.
The sea of shocked, curious, surprised and clueless faces did not intimidate the intruder who had just one objective in mind.
Sunny and Taeyeon exclaimed in unison, "YURI!"
Yoona looked at Sunny and Taeyeon in shock, "You know her?!"
Sooyoung and Hyoyeon knew her from that racing event and looked at her inquisitively.
Jessica and Tiffany simply looked at her curiously; totally clueless about what was going on.
Yuri bowed slightly and said, "Hello everyone, I'm Yuri. I'm here to talk to –"
Yoona stood up suddenly and announced, "I need the washroom. Excuse me." And with that, she dashed off in the direction of the washrooms.
"… Sunny." Yuri abruptly changed the name of the person she was about to say. It seemed that none of Yoona's friends knew anything about them yet.
"Yuri is my best friend. She's from America like me and she just transferred here on scholarship," explained Sunny. "How did you know I was here?"
Yuri shrugged and avoided answering that. "Sunny ah, are you free now? I need to talk to you."
The blonde nodded her head and stood up to leave. Before leaving she turned to Taeyeon and said, "I'll be visiting a friend who's sick so I can't meet you later. That means I'll see you tomorrow, okay?"
Taeyeon pouted, "Why can't I visit your friend with you? I'll be good, I promise."
Tiffany laughed at what she said and said, "Ya, are you sure you can control yourself? You might end up acting all byuntae with Sunny in front of her sick friend." She ended off with a laugh.
Sunny bent down and kissed Taeyeon gently. "I'll see you tomorrow and make it up to you."
Taeyeon sulked in her seat like a little kid who had her candy taken from her.
Jessica was processing all that information.
A sick friend? Could that be Sungmin? Was he back to bother her?
She frowned, thinking about the different possibilities. Tiffany nudged her, having noticed her behaving strangely and shot her a questioning look with her eyes. Jessica shrugged and remained silent.
Meanwhile, Sunny had left with Yuri to talk and Taeyeon was formulating a plan to see Sunny later. Taeyeon smiled to herself and rubbed her hands in glee and ignored Tiffany's nudge as well. Tiffany threw her hands up in the air in exasperation for her two friends were acting more and more strangely with each passing day.
^ Back to Top