Taken For A Ride
by sosnsded
Tags snsd soofany taesun yoonyul sunsica sunyeon sunsic | Report Content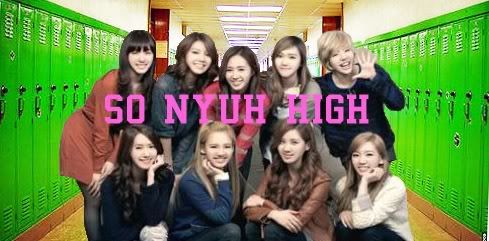 So Nyuh High: Club Week
Taken For a Ride
Taeyeon was in the parking lot, standing by her candy red Honda PCX scooter when she saw the red bike again. It was her dream bike, which meant that it was Sunny! Her spirits soared immediately. She had great news to tell Sunny and couldn't wait to see what her reaction would be like. This time, the red bike stopped in the lot right next to her. Sunny took off her helmet and chirped, "Good morning, Taeyeon! You look so happy today! Did something good happen to you?"
Taeyeon simply smiled and asked her to put her helmet back on.
"W-what? W-why?" asked Sunny, feeling surprised.
"We don't have classes till an hour later right?"
Sunny nodded.
"Just do what I say. Put your helmet back on."
As Taeyeon said this, she was already putting on her helmet which she had taken off not so long ago. She swung her leg over and got onto Sunny's bike. She wrapped her arms around Sunny's waist and gave her a squeeze.
"Come on! We don't have all day you know."
Sunny looked at her quizzically but decided to listen to her. She wore her helmet and started the engine.
"Where are we going?"
"I'll give you directions. Just do as I say."
Sunny nodded and they moved off. She didn't need another reason to ride on her bike because she loved her Superbike very much. She felt a sense of power and adrenaline whenever she rode the bike. At the moment however, she was so painfully aware of Taeyeon's presence and her warmth emanating from her very tight hug that she forgot all about the power and adrenaline of the bike. All she could feel was Taeyeon's arms round her waist and thighs up against her own.
Taeyeon directed her to an off-beaten track leading through some trees. Ten minutes later, they had passed through the thicket and she was treated to a beautiful view of a lake.
Sunny took her helmet off and hung it on the handle bar. She stood by the edge of the lake and stretched.
"This is an awesome view Taeyeon! Thanks for bringing me here."
"I always come here when I need to clear my mind. It's a quiet place that nobody knows about so I can just lie here and think about stuff," said Taeyeon as she sat down on the grass and pulled Sunny down with her.
Sunny grinned. "You seem to know many quiet places and now I know two of them!"
"Please don't tell anyone about this place okay?" Taeyeon looked at her with cute doggy eyes.
"I won't tell, don't worry, I'm not a blabbermouth."
Taeyeon frowned and turned to face Sunny.
"Sunny, I have something to tell you."
"I figured. What is it about? Why are you frowning?"
"It's about the audition results. I'm sorry but you were not chosen to be any of the supporting vocalists."
Sunny's heart sank. "Oh. I guess I had better think about joining something else then." Her puppy eyes looked so sad that Taeyeon's heart went out to her in an instant. She abandoned all thought of pranking her at once.
"Oh Sunny, I was pulling a prank on you! Smile! You are officially one of our lead vocalists!" exclaimed Taeyeon. She leaned over and gave Sunny a really big hug, knocking her over in the process. They both ended up lying on the grass with Taeyeon still holding her in a tight embrace, giggling like a little girl who's just been given her dream present.
Sunny blinked. She was stunned.
"What am I again?"
"Our lead vocalist."
"WHAT???"
Taeyeon pushed herself off the ground and propped herself up with her left arm. She looked Sunny in the eye and said, "Sunny Lee Soonkyu, you are our main vocalist just like me, Narsha and Boa." She smiled at Sunny's bewildered expression and couldn't resist leaning down to kiss her forehead gently. Sunny looked even more surprised than ever and her face had blushed instantly.
Taeyeon laughed and sat up straight, turning away from Sunny to face the lake. She didn't want Sunny to see her blushing. Too engrossed trying to calm herself down, she did not hear what Sunny had murmured to herself.
"That's two kisses," murmured Sunny somewhat unknowingly with a dazed expression.
•°★°••°★°••°★°•
We got back to school with time to spare. I went to the washroom and splashed my face with cold water to calm down. Looking at my reflection I said, "I guess you know how your heart really feels about Taeng now."
I got my phone out of my pocket and texted Hyomin.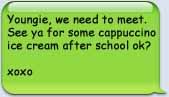 Seconds later... my phone beeped.
Just knowing that I'll be seeing her in a few hours' time calmed my racing heart down. She always seemed to know what to do no matter what the situation.
I headed back to class and returned to my seat. Taeyeon smiled charmingly at me as usual. I smiled at her too. However, I wasn't quite sure what to do with myself. I had no idea what Taeng thought of me.
Were those kisses friendly or something more?
•°★°••°★°••°★°•
A few hours later, I was sitting at our favourite hangout – the Starbucks café on the main street. I sat there with my Raspberry Black Currant Frappuccino, people-watching while waiting for Hyomin to arrive. She arrived soon enough, wearing a simple dress and looking radiant as usual. Part of the beauty of Hyomin was the fact that she was blissfully unaware of her attractiveness. She didn't really understand why people came up to her to introduce themselves all the time. Being her friend also meant that you got to witness her incredible rejection lines, each one funnier and more absurd than the previous one.
She sat down beside me and drank my Frappuccino. Then she looked at me expectantly.
I sighed and told her what had happened earlier.
She listened to my story, raising her eyebrows every now and then but her jaw dropped when I told her about the second kiss.
"Hold on, hold on. Did you say second kiss? When did the first happen? You didn't tell me about the first kiss!?"
"Calm down. You are supposed to calm me down, not the other way round. I didn't tell you about it because it didn't seem to mean anything at that time. I did well during my audition and she was really excited for me. She hugged me and kissed my cheek really quickly. It was more like a friendly peck."
Hyomin cocked her left eyebrow and looked at me with a sly smile. "And now you aren't sure if she's interested in being more than your friend?"
"Bingo!"
"Soonkyu ah… Why am I your love consultant? You're asking a girl who has never been in a relationship before. I wouldn't even trust myself to help myself."
"That's not true. You helped me think it through the last time didn't you?"
"That was a fluke. But it appears to me that you have two choices in this matter. You can either confess your feelings to her or wait for her to confess to you."
"Thanks an awful lot, Hyomin-ah," said Sunny in a sarcastic tone. "There was no way I could have figured that out for myself."
Hyomin threw her head back in laughter. "I told you I'm no expert in love. That's as much advice as I can offer to you. Sleep on it Soonkyu. You might find an answer tomorrow. In the meantime, let's go to the book shop shall we?
"What book are you buying again?" groaned Sunny in aegyo style.
"I wanna get Rejection Lines for Dummies."
Sunny blinked. When she realized that Hyomin was serious about it, she held her stomach as she bowled over with laughter.
•°★°••°★°••°★°•
I stepped out of the car and waved goodbye to my chauffeur. He drove off after seeing me walk into Music Island. I looked around the store but she was nowhere to be found. I felt a tinge of disappointment. Walking to the Korean pop section, I looked for the latest Girls' Generation cd - The Boys. It was easy to spot since it was displayed on the first shelf of the best-selling section.
I wondered if she had already knocked off from work. I lingered around the section for a little longer listening to some cds. Then I heard her voice coming out from the back of the store. She was talking to a man - whom I assumed was the manager of the store - about something. The manager saw me flipping through cds and asked her to tend to me.
She walked up to me and said, "Is there anything I can help you with?"
I turned around and her eyes opened big and wide in surprise.
"Jessica! What are you doing here?"
I smirked and silently shook the cd I was holding near her face.
"Oh. For a moment I thought you were looking for me," she said.
"Why would I look for you?"
Sunny shrugged her shoulders and shook her head.
"Why are you even working here? Do you need the money or is this just for fun?"
"I'm working because I want to earn my own money. My parents will buy most of what I need but i want to take care of my bike on my own without their help."
I felt a sudden surge of respect for this cute girl. I had met a countless number of rich and spoilt kids while growing up and each time I met one, I would remember what my Dad said about being humble about our wealth. I found it a little difficult to keep up with it at times, so I respected this girl who had not shown a trace of her immense wealth since the day I met her.
So for the first time since I first met her, I checked her out from head to toe, thoroughly.
Simple hairstyle, short and blonde – a style that suits her very well might I add – that required little maintenance. Minimal makeup. She had put on a little eyeliner which was a nice touch and that was about all she had on her face. I supposed it was for work because she did not wear makeup in school. She was wearing a simple loose-fitting black top and denim shorts. I had never seen her in heels before. Sneakers seemed to be her favourite footwear.
I had never seen her carry a different branded bag everyday like some rich kids do. I knew for a fact that she has a Mulberry and a Gucci bag. That's all I've seen her carrying so far. I was definitely guilty of owning quite a collection of branded bags.
I love them all – LV, Prada, Gucci, Burberry, Mulberry and more.
I half-smiled to myself. It was funny how I had scoffed at her on the first day for not looking rich. However, one thing had not changed. She still reminded me of Taeyeon's first love. In a twisted way, I could not bring myself to be nice to her.
She seemed to feel uncomfortable under my piercing look. She cleared her throat and said, "Come to the counter if you need any assistance." Then she smiled awkwardly and left.
I followed her to the counter to pay for the cd. As I turned to leave, she waved, smiled and said, "Thank you for visiting Music Island!" in a chirpy, aegyo voice.
Without looking at her, I waved goodbye and left the shop.
^ Back to Top