Chapter 6
by storymaker123
Tags haesica seokyu sunsun taeteuk yulsung hyohyuk soowook | Report Content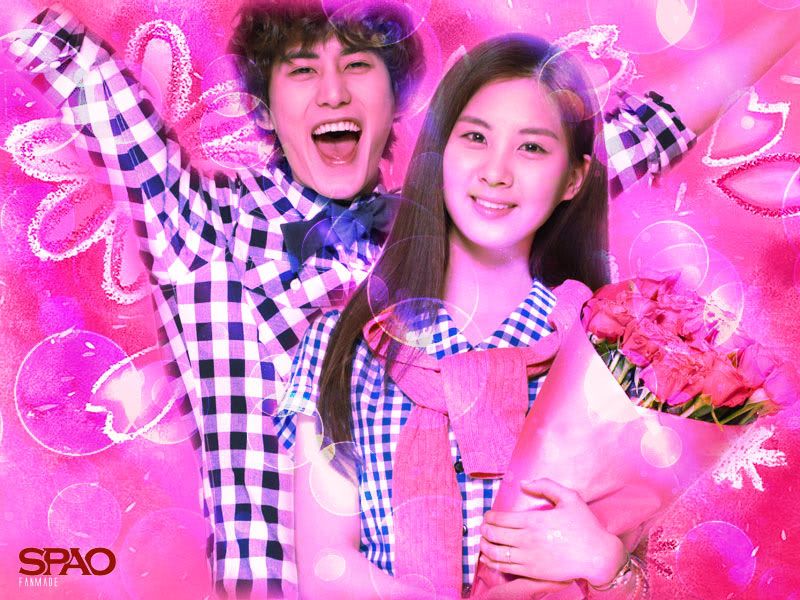 "Oh, sorry!" "No, it's my fault. Sorry."
Seohyun looked up and saw a handsome man. His hair was cute and messy. He was thin but still had muscles. "Um... hi. I'm new here so.... can you show me the school?" Seohyun asked, shyly. The guy looked at her and he, too, was looking at her appearance. She was beautiful. Her hair was long, wavy, and silky. She was thin but chubby a little. "Uh..... sure," the guy said. "By the way, I'm Kyuhyun. Cho Kyuhun," Kyuhyun said. Seohyun smiled and said, "I'm Seo Joohyun. People call me Seohyun, though."
Then the bell rang and Kyuhyun and Seohyun had to go to class. As usual, Kyuhyun just went to sleep until the second bell rang. "Good morning, class!" Mr. Kim greeted. "Good morning, Mr. Kim," the class said. "We've got a new student. Joohyun, you may step inside," Mr. Kim said. Wait.... Joohyun? It's the girl I met this morning! Cool! I mean.... that sucks. Kyuhyun thought. When she walked in, all the boys whistled. Kyuhyun rolled his eyes.
"Hello, I'm Seo Joohyun but you can call me Seohyun," Seohyun greeted. Kyuhyun smiled and it made Seohyun smile for an apparant reason. Then Mr. Kim said, "You may sit next to Mr. Cho." Kyuhyun's eyes opened wide. Seohyun sat next to him. Yes! I get to sit with someone I know! Wait..... I just met him today. That's weird. Seohyun thought. "Hey, we met before. It's a good thing you're sitting next to me. Why? Because the guys in this class are perverts, except for my friends," Kyuhyun whispered. Then Seohyun smiled and said, "Good thing to know. Thanks." And when she said "thanks," he knew she meant it because of the look in her eyes.
After being given a lecture, Mr. Kim was at his last talk. "There's one more thing you need to know. You all have to do a history project. And remember to put both you and your partner's names. Now choose your partners," Mr. Kim said. Then a swarm of boys were cornering Seohyun, saying, "Be my partner!"
Sungmin walked up to Kyuhyun and asked, "Do you want to be my partner?" Kyuhyun nodded and looked at Seohyun. Then Kyuhyun looked back at Sungmin and said, "On second thought, why don't you be Yesung's partner. It seems like Seohyun is having a hard time there." Sungmin nodded and thought, He actually cares for a girl. Sweet!
Then Kyuhyun puched through all the boys and got in front of Seohyun and said, "Seohyun is my partner. Now, leave!" Seohyun's eyes widened as he turned to her. "Looks like we're partners," Kyuhyun sheepishly said. Then Seohyun smiled and said, "Thank you, Kyuhyun-ssi. Or do you want me to call you 'oppa'? Kyuhyun smirked and said, "You're funny. But if you do want to call me 'oppa', you can." Seohyun laughed.
Meanwhile, at Seo's old town.......
"Dad, please! She means the world to me! It won't cost much. Come on!" Yonghwa begged. Mr. Jung looked up at the ceiling and said, "Fine. But after 2 weeks because there's an important exam coming up and you can't miss it!" Yonghwa nodded and said, "Thank you, dad!" Then Yonghwa ran upstairs.
Back at Seoul........
Kyuhyun was in the library, reading. "Are you reading for the project?" he heard a familiar voice. "Yeah. So, Seo, I think it should be about this," Kyuhyun said while showing her the book. "That's good! We should do this," Seohyun said, happily. Then Kyuhyun continued reading while Seohyun was looking for a book with the same subject. Suddenly, she heard singing. It was like a voice of an angel. And she was surprised to see that it was Kyuhyun. He was singing Hope is a Dream that Never Sleeps.
Na waerowodo dae neol saenggakhal ddaen
Misoga naui eol gure beonjyeo
Na himdeureodo dae niga haengbokhal ddaen
Sarangi nae mam gadeukhi jaewo

Oneuldo nan geochin sesangsoge saljiman
Himdeurodo nungameumyeon ni moseubppun
Ajikdo gwitgae deullyeo oneul kkumdeuri
Naui gyeoteseo neol hyanghae gago itjanha

Nae salmi haru haru kkumeul kkuneun geotcheoreom
Neowa hamkke majubomyeo saranghal su itdamyeon
Dasi ireoseolgeoya

Naege sojunghaetdeon gieok sogui haengbokdeul
Himdeul sigan sogeseodo deouk ddaseuhaetdeon
Heemangeun naegen jamdeulji anheun ggum

Neul naui gyeoteseo guerimjacheoreom
Joyonghi neoneun naegerowaseo
Na apahaneunji maeil wirounji
Geuriumeuro neoneun naege danyeoga
 
Sesangi nal ulge haedo naneun gwaenchanha
Hangsang niga naui gyeote isseunikka
Meonjicheoreom chueoki byeonhaeseo ddeo nalkka
Geujeo useumyeon maeumeul dallaeeo bwado

Nae salmi haru haru kkumeul gguneun geotcheoreom
Neowa hamkke majubomyeon saranghal su itdamyeon
Dasi ireoseolgeoya

Naege sojunghaetda gieoksogui haengbokdeul
Himdeul sigan sogeseodo douk ddasuhaetdeon
Heemangeun naegen jamdeulji anhneun ggum

Su eobsi neomeojyeo biteuldaedo
Naneun ireohke seo itjanha
Nae mam hanappuninde
Himdeul ttaemyeon niga ireohke himi dwae jullae
Neoreul hyanghae yeongwonhi

Ireohke sangcheo soge seulpeumdeureul samkinchae
Misojitneun nae moseubeul neoege boyeo julke
Ijeneun apeuji anha

Eonjena neowa hamkke irugopeun kkum ango
Gal su eobtdeon jeopyeoneseo neoreul bulleobulkke
Nae maeum dahae saranghaneun neoreul
"Kyuhyun-oppa, you've got an amazing voice! Why aren't you in the Chorus Program?" Seohyun sat next to Kyuhyun. Kyuhyun blushed a little and said, "Well, I'm a popular guy in this school and a lot of girls will probably chase me and I'm actually kinda shy."
"Don't be afraid to show who you are. Your voice is just perfect."
Then Kyuhyun smiled and continued to read. Seohyun started looking again and she heard Kyuhyun say something. "Thank you," Kyuhyun whispered.
----------------------------------------------------------------
I hope you like it so far! And Taeteuk fans, I'm sorry. I'll do Taeteuk on the next chapter. Again, I'm sorry. I'll just show this pic to show you I'm sorry.
^ Back to Top