9

25 Days Of Falling In Love

by sarangstoryxx
192 subscribers | 13784 views | Updated | Created
Tags cnblue lovestory romance seohyun snsd yonghwa yongseo | Report Content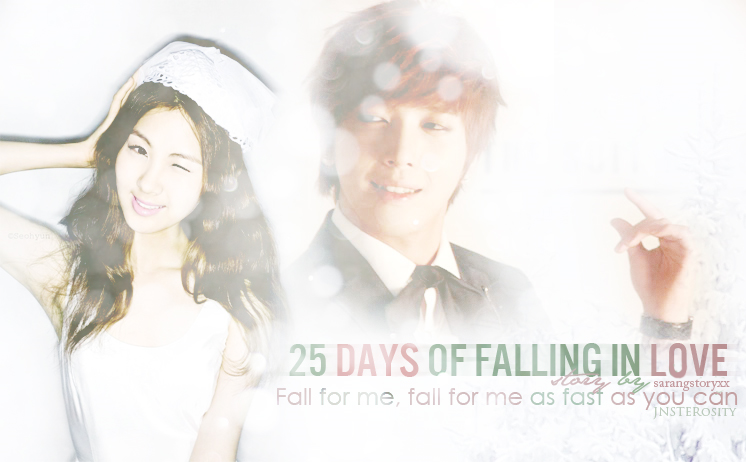 Characters
Seohyun (SNSD) Yonghwa (C.N. Blue) OC's
Description
A 2010 Christmas special made by sarangstoryxx (author of Super Junior: Love Series, The Prequel, Plaid Shirts & Lipsticks, more to come...) follows college student Seohyun who goes to an audition for a music video. She not only gets the part but meets a guy on her way. For the next 25 days, Seohyun along with Yonghwa must rise above newbie status of actress and actor to make the best Christmas based music video in time for the holidays.
Fall for me, fall for me as fast as you can
-------------------------------------------------------------------
Foreword
Characters ~
Seo Seohyun from SNSD
Jung Yonhwa from C.N. Blue
Kpop Idol
Misc. OC's
Synopsis ~
Seo Seohyun is a regular student from DonggukUniversity, in the acting major. Her acting coach lands her a job in a music video drama by a popular Korean idol. Not knowing what the music video is about and frankly not caring, Seohyun agrees to go and audition. There at the auditions, her eyes are attracted by a guy around her age. He keeps to himself throughout the entire process and Seohyun can't help to wonder why he's so quiet. Then they call Seohyun up. She receives the script and realizes that the partner she gets paired up with is the same guy who she couldn't keep her eyes off of. He is introduced as Jung Yonghwa. They are both awkward at first but because of their hidden chemistry are casted to be the stars of the music video. For the next 25 days Seohyun and Yonghwa must work hard to make the best music video in time for Christmas.
Genre ~
Ro-ro-ro-romance! , Love
Author's Notes ~
Hey guys this is sarangstoryxx!! I know I have other fics to finish but I wanted to do this for my first year with asianfanfics during Christmas. If you don't know I've stolen this layout from xLastXAngelx :D (Check out her profile! Hope she won't get mad…) I really have fallen in love with the Goguma Couple from WGM. They're my favorite. And I thought they deserve a romantic Christmas. So, basically this fic came out of no where. If you haven't notice but I'm parodying the way xLastXAngelx makes her forwards. Its a joke but I think I may put it like this from now on? :D
Disclaimer ~
Obviously I'm not hiding away Seohyun and Yonghwa up in my attic while writing this fic. I don't own them and I don't claim them. They are their own person. They are used in this fic basically for the purposes of writing a beautiful story. Any characters that are not Seo Seohyun or Jung Yonghwa are therefore mine. Plagiarize this fic, you will die
Credits To~
Credits to jnster who made the amazing amazing poster that I absolutely love. You will be seeing more requests from me! I had to change something really quick because it was really my fault and I felt bad for changing it. I didn't read the form correctly and put my actual name up. Sorry, it won't happen again! So check out their amazing site and possibly request your own poster or other services they offer! I shall link you here >>>>http://jnsterr.blogspot.com <<<< Thank you so much!
Soundtrack ~
01.  The First Snow and First Kiss – Yoseob (BEAST) & Drama (Dalmation) (Opening Theme)
02.  Hot Times – S.M. The Ballad
03.  Dreams Come True – SMTown
04.  Winter of Memories – Sung
05.  See You Tomorrow – GavyNJ
06.  Say You Love Me – G.NA ft.Hyunah from 4minute (Ending Theme)
Countdown Until Christmas: 25 Days
Tweet
^ Back to Top