Shock
by puffy73
Tags horror minwoo mystery supernatural boyfriendband | Report Content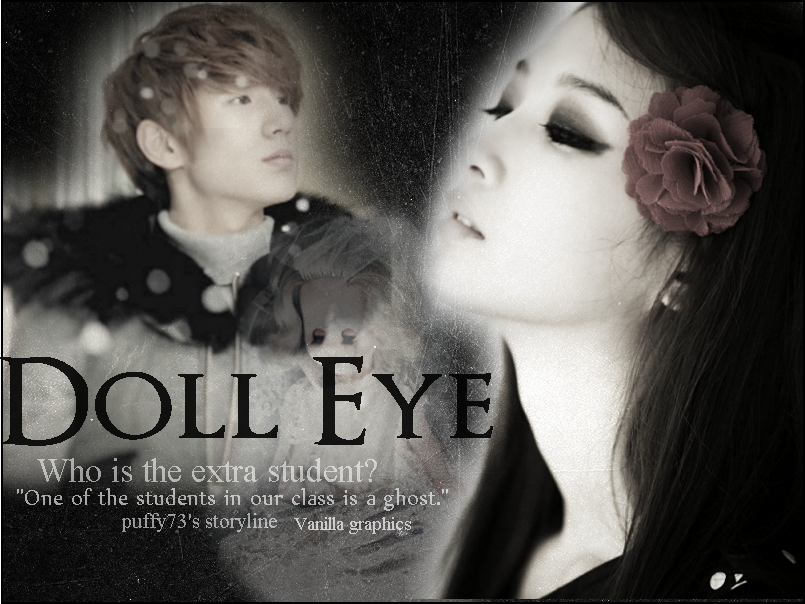 The principal let Miyoung and I take a couple days off from school to get over the shock. I was sure that Miyoung didn't need it, but the principal forced her to. I, on the other hand, was still in a slight form of shock. Every time I closed my eyes I kept seeing Hyorin's bloody body. Regardless to say, I didn't get much sleep.
The first day, I just watched T.V. the whole time, trying to get my mind off the incident. The second day, my grandmother got sick of it and kicked me out of the house.
"Go take a walk around town, sweetie." she said, pushing me out the door.
"B-but, I don't-" I was cut off when she slammed the door in my face.
I sighed. Wow, such loving grandparents I had, right? I started walking around sluggishly, wondering what to do since all my friends were in school at the moment. Well, except for Miyoung. I wasn't sure where she lived so I went to the first place I thought to look for her, the doll store.
I was just about to enter the store when suddenly a tall guy with black hair came out and bumped into me. I staggered a bit, but the guy grabbed my arm before I could fall. When I steadied myself, I bowed and apologized.
He laughed, "It's alright, I wasn't paying attention either."
I nodded and we just stood there awkwardly for a moment. He cleared his throat, "So… were you going into this store?" he asked.
"Uh, yeah…"
"Hmm… I didn't think this store got any customers. Especially young ones like you."
I scratched my head, "Well, actually, I was looking for someone…"
He raised an eyebrow, "Who could you possibly be looking for in a place like this?"
"Um, a girl named Miyoung…"
His face instantly brightened, "Oh! Are you one of her classmates from school?"
"Y-Yeah."
He smiled and held out his hand. I shook and he said, "I'm Donghyun, Miyoung's brother. It's nice to finally meet one of her friends. She's usually so quiet." He pinched my cheek, "And you're so cute too! Are you her boyfriend?"
I reached up and rubbed my sore cheek, "Uh, thanks. And no! Miyoung and I are just friends!" If we're even that…
"Oh, that's too bad. She's pretty though, right? Want me to talk to her for you?" he asked, nudging my arm.
"N-No! Please don't!" I exclaimed, grabbing onto his arm.
He chuckled and ruffled my hair, "Okay, fine. What's your name?"
"Minwoo."
"Minwoo…" he repeated, "Well, Minwoo, I have to get to work now. I think Miyoung is in the basement." He shivered visibly, "I don't know how she can stand being around those dolls all the time, they creep me out."
He turned and waved as he left. I couldn't help but notice that, though he and Miyoung looked alike, their personalities were completely different.
I went into the store, walking quickly past the creepy cashier lady who looked exactly the same as she did a few days ago, still staring straight ahead. I went into the basement and stood in front of the coffin with the doll that looked like Miyoung in it.
I stared at it for a moment, looking at the eerie resemblance before calling out for Miyoung. A few seconds later, she stepped out from behind the coffin, exactly like she did the other day.
"Minwoo, you don't look so good."
I sighed, "Yeah… I haven't been sleeping very well."
She just tilted her head to the side slightly, watching me carefully with her uncovered eye. She nodded and went to sit on a bench in the corner, patting the space beside her which I took as a signal to sit too.
I collapsed onto the bench and buried my head in my hands, finally feeling the exhaustion. Suddenly I felt Miyoung gently grab my arm away and pull my head into her lap. I was shocked at the action, but relaxed instantly, feeling surprisingly comfortable and not awkward in that position.
I felt my eyes closing in drowsiness, but suddenly blurted out quietly, "You know, Miyoung… I was beginning to wonder if maybe I was the extra student…"
She smiled slightly (the first time I had seen an expression on her face other than a calm or annoyed one) and stroked my hair lightly.
Just before I fell into unconsciousness, I heard her whisper, "Don't worry Minwoo. I know that you're not dead…"
~~~
Yay!! Donghyun oppa is finally here~!! I'm going to marry him <3 (even though he's like, 7 years older than me :/ BUT my 15th birthday is soon, so I'll be one year closer~~WAIT FOR ME DONGHYUN OPPA, PLEASE!!)
Anyway, what do you think about Miyoung being so sure that Minwoo isn't the extra student? Is she right, or does she just not want to admit that it might be true?
Also, don't you love the poster? XD I love it! Creds to Vanilla448
Comment!!Subscribe!! I love you all~ <3 (Even if you're a silent reader, but I hope you're not) :D
^ Back to Top