3

My Annoying Little Fairy

Completed!

by NIGHTfall
101 subscribers | 3916 views | Updated | Created
Tags b1a4 fantasy jinyoung sandeul you comdeyromance | Report Content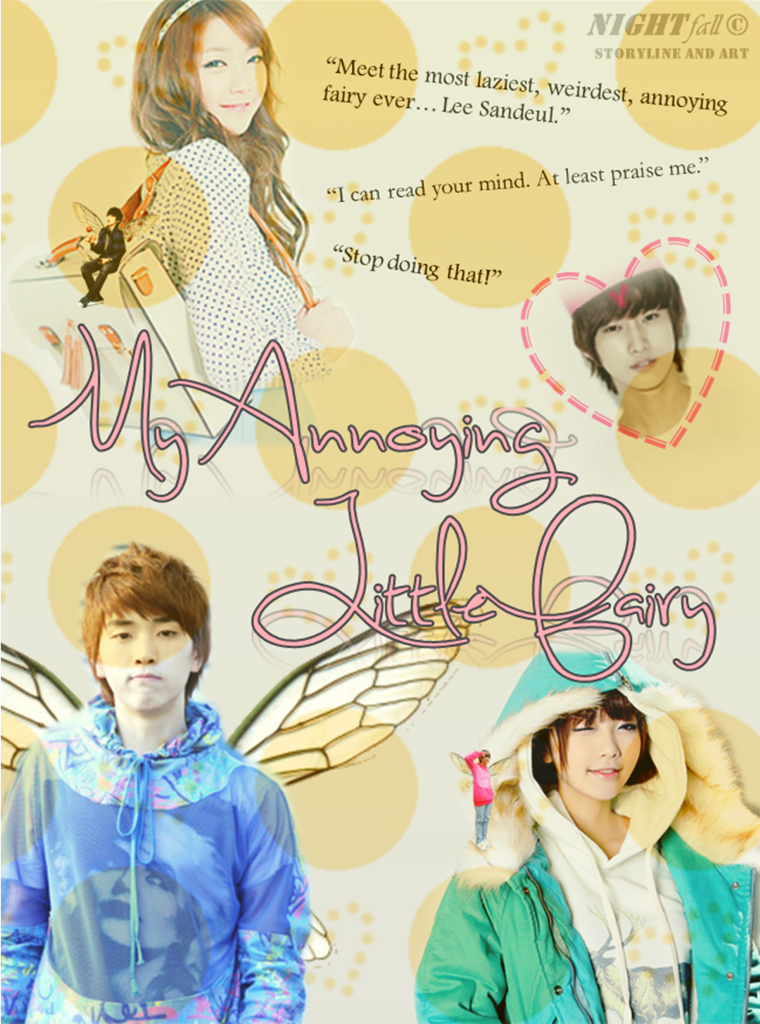 Characters
Sandeul - You- JinYoung
Description
You're just an average typical girl at school, the extreme bookworm and have a major crush on the school's kingka, Jung JinYoung. Your chance in love was always failing, you've always been fooled by many guys and your relationship never lasted that long as you would've expected. However, strangely one day when you were walking home, you noticed JinYoung walking beside you, you couldn't help but to take a few glances at him, but then unexpectedly you heard someone spoke. Looking over at your shoulder you realised that a tiny guy with wings was the one who spoke.
What if that tiny 'person' was a fairy? And was going to be your guardian in a successful love?
Main Characters
You- the bookworm, loves nothing but books and Jung JinYoung. You then suddenly encountered Lee Sandeul, a fairy, who said he would help you with your 'failed' love. But not so long, JinYoung happens to ask you to become his girlfriend, you confusingly and happily agreed.
Lee Sandeul- a fairy, who claims to be a 'love' guardian and would help you with finding love. He then tries to improve your 'boring' lifestyle and try changing your 'nerdy' look. A twist then appeared when JinYoung asks you to become his girlfriend, you agreed. Thinking that he succeed, but he then found out about JinYoung's purpose.
Jung JinYoung- the school's kingka, who's knows of your feelings towards him and sometimes bully you. But when he found out that he was failing his class and would not be able to graduate, he needed someone to help him get his grades up, so he decided to ask you to be his girlfriend in order to help him.
Foreword
"What in the world are you? Are you a pixie or some sort?"
"No, fairy. Fair-y. Not pixie, there's a huge difference,"
"I see no difference,"
"Pixies are small green hideous creatures, while- me, a fairy could adjust my size and look better. Do-you-understand-now?"
"N-O! Why are you here?!"
"Geez! Stop screaming. Allow me to introduce myself, I'm Lee Sandeul. I'm a fairy who can help you with your so-called 'failed' love,"
"Fairies could also be Korean too?"
"Err… Yeah,"
"So you're like some kind of 'love' guardian?"
"You could say that,"
I cannot believe this, I'm talking to some kind of strange bug. And it's saying that it's going to help me with my failing love. Pfft, I better stop drinking too much energy drinks.
"For your information, I could read your mind. AND I'M NOT A BUG! I'M A FAIRY!"
"ARGH!!!" I yelled as I droppedit from my hands and ran off. This is strange, did I really see a fairy?
Tweet
^ Back to Top