Day 1/3
Rated M
by Yunlovesjae4ever
Tags changmin comedy dbsk jaejoong yoosu yunho yunjae | Report Content


Jaejoong POV
I got you under my skin
I slammed my phone down again. I'm surprised to how my phone is even able to survive from my infinite times of violence.
I slumped out of bed lazily as I ventured out of my room.
Noticing that Heechul's room is slightly ajar, I smirked to myself as I took out my phone and tiptoed into his room.
*CLICK*
I pumped my fist up as I captured the unglam of Heechul and hurried back into my room.
After 15 minutes or so, I heard a slight knock at my door.
Taking in a deep breath, I opened my door, only to find Heechul dressed messily with his hair tied up in a ponytail. If I didn't know him, I would have thought that he was 100% my type.
"Let's start, we only have three days" Heechul yawned. Before I could even process what was happening, everything hit me. I cursed silently at the sudden pain. Thousands of fashion magazines, gossips newspaper, trendy magazine hit me straight in the face, even my school library didn't have this much books.
"Why am I even reading all this girly stuff?" I questioned," For God's sake, I'm training to become a kingka, not some gay shit"
Heechul shook his head as he replied,""Image isn't everything a kingka need, first you attract everyone's attention then you get your knowledge working to pull yourself up in the circle. And right now, I'm helping to improve your peanut-sized knowledge about fashion and gossips."
 I sighed as I picked up all the magazines and flipped through them half-heartedly.
Why did I even accept such ridiculous bet from the start? Right, it was to beat Jung Yunho. The mention of Jung Yunho perked up my interest as I began to study every detail of the magazine.
However, my focus is being a bitch today. After about 30 minutes or so, I stood up and went over to Heechul.
"I don't understand a single thing at all except those women that have big boobies!" I exclaimed as I dramatically put out my two hand to empathize the only thing I understand.
Heechul scowled as he said, "Good luck then,"
I paced around in front of him for a few times. Realizing that Heechul showed no sign in helping me, I decided I have to use my technique.
I smiled sweetly as I showed his unglam picture to him, "I wonder what will happen if this gets posted online."
 Heechul glared at me then he began explaining, how to apply mascara and eyeliner. What kind of shirt match with my pants/jeans. What kind of lip-gloss matched with what outfit. What kind of perfume match with my overall outfit. What kind of accessory do I wear. What kind of style suit my mood. When and when not to blush and wink. Basically, the do's and don'ts to become popular.
I nodded as I took notes of every single detail mentioned.
Heechul stood up as he grabbed some magazines and threw it to me, "Memorise all that I have said and all these magazine and that's all for today."
I nodded as I picked up the magazines and retired to my room. Since when does being a kingka require this much energy? I sighed as I repeatedly flipped through everything to get them stuck in my head.
 Oh my god sun!
I scrambled looking for my phone in the huge mess of magazines and I picked up Junsu's call.
"Jaejoong! How's it going? I heard from Changmin that you are going to miss school for three days. I miss you already." Junsu whined cutely.
Everything is hell here! I have been studying fashion which I have no interest of for 10 hours already. Not to mention, I have the biggest bitch here, Kim Heechul.
"Oh, everything is great here Junsu! Heechul is the nicest guy I have ever met. I miss you too." I forced my voice to go an octave higher to sound excited.
"I'm glad you're having so much fun. I thought it would be boring actually. Anyway, ever since you and Yunho have that bet, the whole school has been talking about it. There's even a popularity poll right now. And your popularity is the second last in school." Junsu continued, "Jae, I have to go. Call you back later!"
Thanks Junsu, my self-confidence has just dropped even lower. Every fibre of me is being criticised by people. I wonder who's that poor soul who was even lower than me.
~~~~~~~~~~~~~~~~~~~~~~~~~~~~~~~~~~~~~~~~~~~~~~~~~~~~~~~~~~~~~~~~~~~~~~~~~~~~~~~~~~~~~~~~~~~~~~~~~~~~~~~~~~~~~~~~~~~~~
As promised, an update!
THIS IS A MINI CHAPTER :( I'll update again soon in 3-4 days thus this chapter is slightly shorter?
I'm not really satisfied with this chapter though :( Bear with this boring chapter as I thought I might as well make it more realistic and that not image changes everything. Jaejoong's image transformation will most likely be next chapter. *SPOILER*
All these comments are so heartwarming, I was so afraid of losing subsricbers and readers but all of you guys gave me so much hope :) I can't even describe my happiness right now! Thanks to all of you :) I might not be able to express my gratitude well but I really thank all of you from the bottom of my heart. :D I missed all of you guys and am back to greet you guys with this chapter and more!
A lil thanks for all these warm comments :)
I was like this when I saw the comments :
AND :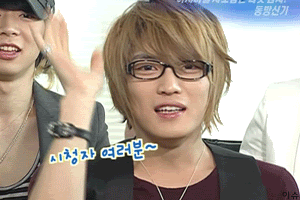 For all those who did not give a shit about this fanfic :
Nah, just kidding :) Just hoping you will read :D
THAT'S ALL!!!!!!!!!!!!!!!!!!!!!! BYE :)
^ Back to Top