D I S N E Y [ a graphics contest ]
by glitteryy
45 subscribers | 1841 views | Updated | Created
Tags challenge contest graphics competition | Report Content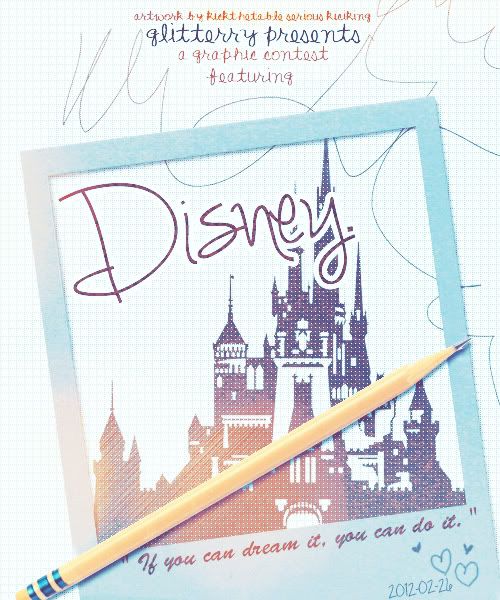 Characters
All
Description
" If you can dream it, you can do it. "
- Walt Disney
~
we are the kids who willed the seven dwarves to hurry so that snow white would be saved.
we are the kids who cheered simba on as he fought scar.
we are the kids who smiled as beauty danced with the beast.
we are the kids who booed at ursela when she took ariel's voice.
we are the kids who watched eagerly as cinderella transformed into a magnificent princess.
we are the kids who yelled out tarzan's cheer with him.
we are the kids who leaped in joy when sleeping beauty was re-awakened.
we are the kids who felt the wind whip our hair as we ran with pocahontas.
we are the kids who wished to stay in neverland and never grow up.
we are the kids who flew on the magic carpet with aladdin and jasmine.
we are the kids who helped marlin find nemo.
we are the kids who fought alongside mulan.
we are the kids who squealed at bambi's cuteness.
we are the kids who sneered at cruella and loved the dalmations.
we are the disney kids.
Foreword
I'm sure for many of us, Disney was part of our childhood, and is still part of us.
Recently, I've been very attached to Disney movies & songs, and so had the idea for this contest!
~
what do you have to do?
create a graphic based on any disney movie that you know; you can take the ones that I have indirectly listed in the description, or use a movie which is not there. 
please use disney movies though, don't get confused with what's disney and what's not.
shrek, for example, is by dreamworks.
the only movie that is not made by disney and i will accept is anastasia, because i love it so much.
your graphic can either take the form of a poster, or an au meme.
i will not be giving prompts, because i feel that the movie you choose is enough to give you the inspiration you need.
things to take note of!
x please subscribe to this thread if you are going to take part
x one graphic entry per user
x no collaborations
x submit your entry by posting a link to your photo in the comment box!
x there is no specific deadline, that will depend on the number of entries i get first before i start deciding! 8D [ I forgot about this, keeper 8D ]
how will I be judged?
there is no specific rubrics, but i will look at creativity as well as originality! 8D
what are the prizes?
as of now, I have none in mind, but possibly karma?
if there are suggestions, please put them forward! 8D
~
I hope to receive lots of entries, because I know there are many exceptional graphic designers here on aff!
Don't be afraid to take part! 8D
Beautiful poster up there is made by kickthetable @ Serious Kicking! 8D
Let's spread our love for disney <3
Tweet
^ Back to Top