A job?
by eunhyukjae_
Tags comedy donghae eunhyuk henry romance superjunior you | Report Content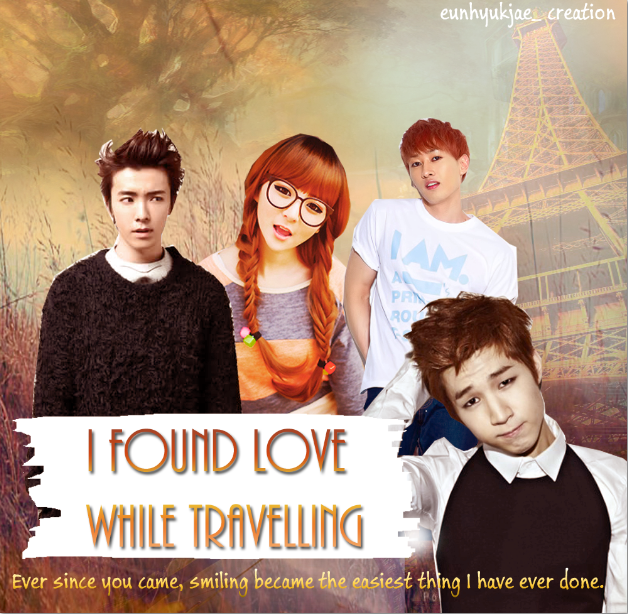 Everything had been pretty mundane for the past week, I have been spending my time going around Seoul to take pictures, as usual. Sometimes I would just chill at Jinwoon's cafe since his boss wasn't around most of the time and he only had to go back to work when he had a lot of customers.
I woke up and prepared breakfast just like every other morning, when I received a phonecall from Sulli.
"Sulli Unnie!" I said happily when I answered the phone
"____-ah! Are you free today?" She asked
"Yeah, why?" I said
"Remember about the job at SM I told you a week ago when we went out?" She said
"Yup, the one you said you will ask Lee Soo Man about?" I said
"Yeah, guess what? He asked me to tell you to go down to SM today for an interview!" She said excitedly
"WHAT?! SERIOUSLY?!" I asked excitedly and broke into a huge grin
"Yes! Go to Lee Soo Man's office by 1pm today, he'll interview you." She said
"Personally?" I asked nevously
"Apparently yes. He rarely interviews people personally so I think you have a high chance of getting in!" She said
"Hopefully! Will you be there later?" I asked
"Hmm, sorry no. But good luck for the interview later okay? Call me after that! Wear something formal!" She said
"Okay sure. Thanks unnie!" I said happily
"No problem! Hwaiting!" She said and hung up
I was nervous yet excited at the same time. I always loved organizing stuffs and although it's tiring, if it gets completed and everything goes well, it's the sense of achievements that keeps me going.
When the members came down for breakfast, I decided to tell them about the interview after they finish eating when they were all gathered at the table.

"Oppas, I've got something to say!" I said when they finished eating breakfast.
I could see worried and curious eyes looking at me. Henry was the first to break the silence.
"Princess are you leaving? Please don't leave!!!" Henry looked at me with pleading eyes
"Don't leave! If you leave who's gonna cook breakfast and dinner for us?!" Heechul screamed
"Nobody's gonna cook breakfast with me if you leave!" Ryeowook said
All the members started bombing me with reasons that I shouldn't leave while I just looked at them curiously.

"STOP! I'm not leaving! I just wanna tell you guys something." I said while quieting them down
"What?" All the members looked at me curiously
"I'm going for an interview at SM..." I said
"WHAT?!" I could see the shocked looks on all the members face
"I heard they need a manager spot for some of the artists... so Sulli unnie and Kibum oppa helped me ask Lee Soo Man and he asked me down for an interview... Are you guys angry? If you are I will turn it down!" I said quickly
The members shocked looks immediately broke into smiles.
"THAT'S GREAT!" Kangin said excitedly
"Yeah, it's true there's not enough managers, we need another manager because we are such a huge group." Leeteuk said
"That would be great princess! I can see you everyday and not having to be worried you are lost!" Henry said
They all agreed it's a good idea and encouraged me to go for it. I smiled at them and told them I'll be going for the interview at SM later.

"I'll fetch you there." Donghae and Eunhyuk said at the same time
All eyes turned to them while they looked at each other.
"Don't you have to fetch Hyoyeon later?" Donghae asked Eunhyuk curiously
"Right... But I can fetch ____ too. We are going to the same place." Eunhyuk argued
"Oppa, it's okay, I will go with Donghae oppa, you can go fetch Hyoyeon unnie." I said
"Yeah, we'll see you at SM building then. ____-ah, go change." Donghae said
The intense atmosphere between Donghae and Eunhyuk was getting obvious and I tried to intervene.
"How about I meet you all after your schedules?? If I get the job maybe we can all go out for dinner!" I said cheerfully
"Sure!" They all said in unison and I went up to change.
I wore this and gathered all my certificates and achievements.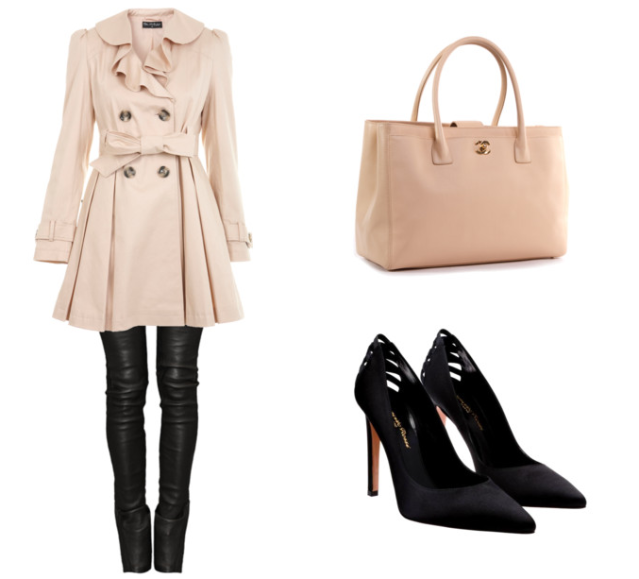 " />

"Is this formal enough?" I asked the members
Zhoumi stepped forward and spun me around while saying "Perfect. Formal enough for an interview. I love your fashion sense!"
"Thanks oppa! I love yours too!" I said and headed towards Donghae
"Good luck for your interview!" The members said before Donghae and I left the house.

-Eunhyuk POV-
I wish I was the one by your side, the one that has no excuses to not fetch you to an interview, I don't want to lte Donghae take you to the interview but... I have Hyoyeon. I'm sorry ____-ah
-End of POV-

"Oppa I'm nervous!" I said while shaking Donghae's arms when we were in the car
"Relax!" Donghae calmed me down
"I really want to get this job. I think it'll be fun." I pouted
"A manager's job is normally organizing and planning stuffs and rushing us to schedules, you sure you want to do it?" He asked me
"Of course! Oppa did I tell you I love organizing and planning things and getting it done? It gives me a sense of achievement and I love it." I said
"Then why are you still nervous?" He asked
"Well... I don't know. I just feel nervous because Sulli unnie says Lee Soo Man never interviews people personally. I'm stressed by that." I said
"It's true. But that means he thinks highly of you. Don't worry, I'll be outside waiting for you." He said
"Don't you have schedules today?" I asked
"Nah, I actually intend to practice in the studio today." He said
"Don't worry about me, I'll call you after the interview!" I said
We arrived at SM shortly and I nervously walked in to the building. It reminded me of the time when I told Lee Soo Man I was living with the boys, but the one that was there with me is not here beside me now.

Donghae sent me to the office and gave me a "Hwaiting!" sign before leaving for the studio.
I knocked on the door nervously before I heard a "Come in."
Me: "Annyeong hasaeyo" *bows*
LSM (Lee Soo Man): "Annyeong. Have a seat."
Me: *sits down nervously*
LSM: "So I heard from Sulli and Key that you have great organizing skills?"
Me: "Yes, I always loved organizing and planning things, because it gives me a sense of achievement when the job is completed."
LSM: "They told me that you planned your high school's dance and also major events in the school before?"
Me: "Yes."
LSM: "Can you tell me a bit of how do you do it?"
Me: "I do everything in an order. For dances, I plan the things that are needed for the dance, ring up all the necessary people for food and drinks catering, send out the invitations beforehand, order the decorations to be put up, and ensure everything is ready 2 weeks before the dance starts. I am the overall in-charge for the dance and I'm proud to say that the dances and events I'm in charge in has completed successfully."
LSM: "Do you know who will you be working for if you are hired?"
Me: "Nope. To me it doesn't matter which artist I work for because I will be professional regardless of who it is."
LSM: "You just passed the interview."
Me: "What?"
LSM: "I always wanted someone who is good in planning things ahead and giving the artist enough time to rest and go for their schedules. Also, I expected you to say that you want to work with someone close, but you said that you didn't mind working with anybody because you would be professional regardless. That's the kind of person I am looking for."
Me: "So you mean I'm hired?"
LSM: "Yes, and you will be one of the managers for Super Junior."
Me: "Super Junior? That means I will be living with them and also preparing their schedules?"
LSM: "Yes, I heard from the managers that the members listen to you well, and since you are living with them it would be more convenient for you to do your job."
Me: "Sure! Thank you for considering my interests."
LSM: "No problem. I've already talked to SJ's other manager about it and he's fine with it. He'll inform you about some details for the job. If there's no problem you can leave now."
Me: "Okay. Thank you Lee Soo Man-shi!"
LSM: "No problem. Do well in your job."
Me: "I will!"
After leaving the room, I cheered in the hallway and smiled to myself. I couldn't wait to tell the members about the good news!

Author's Note: _____'s gonna join SM, as SUPER JUNIOR'S MANAGER! whoopppp there will be more things to look forwoard to xD

 
^ Back to Top