Call me Oppa!
by eunhyukjae_
Tags comedy donghae eunhyuk henry romance superjunior you | Report Content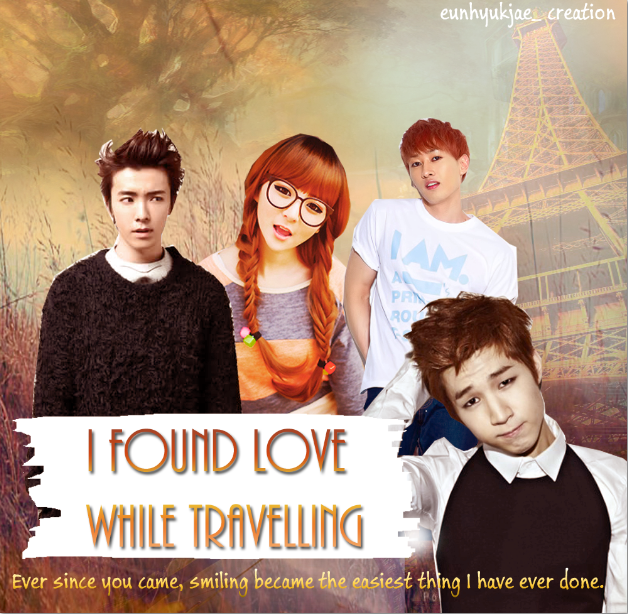 Everybody went up to change, leaving Donghae and ___ in the living room as they both have changed already since Donghae had a schedule before. There was an awkward silence between them.
I decided to break the silence. "Donghae-shi, you are really handsome in real life!" I complimented him. I couldn't call him oppa cos we weren't close. At least not yet.
 "Thank you! And why won't you call me oppa? I thought Heechul hyung asked you not to be so formal!" Donghae said
"Uhm... We aren't that close yet..." I mumble but Donghae heard my words.
"Wow, that kinda hurt." He admitted while showing a hurt expression
"Sorry!" I felt apologetic immediately and bowed my head down.
"Aww I was just joking! You are so cute!" He lifted my chin and pinched my cheeks.
I blushed tomato red immediately. Who wouldn't blush when this perfect guy was just inches away?
"How about let's bond tomorrow? I don't have a schedule tomorrow and I can bring you around Seoul! By the end of the day we would become close and you have to call me oppa, okay?" He asked happily
"SURE! I would love to have a tour guide around! We'll see about that, DONGHAE-SHI!" I teased him and ran away.
"Wow, did I really just do that? We'll be close by tomorrow, WE WILL!" Donghae chuckled and silently thought
The boys came down in minutes and assembled at the front door.
"Okay, so we have 5 cars. Me, Heechul, Yesung and Kangin are gonna travel in one car. Siwon, Ryeowook, Kyuhyun and Kibum are gonna travel in one. Hankyung, Zhoumi, Shindong and Sungmin in one. Eunhyuk, Donghae, Henry and ____ in one. Alright?" Leeteuk said
"But I want to be in the same car as ___ too!" The members who weren't in the same car as ___ whined. I chuckled at the boys reactions.
"My decision is final. Get in the car or no jjangmyun." Leeteuk firmly said
The guys got into the car within seconds. I laughed. They were so cute.
"KAJA! I'M HUNGRY!" I said to Eunhyuk, Donghae and Henry.
"____-ah! sit in the front with me!" Eunhyuk said
"Okay, sure!" I happily replied
"awwww princess aren't you gonna sit with me? you are gonna dump me for eunhyuk hyung?! I've known you for years and you're gonna dump me for someone you met for barely 5 hours! We have so much to bond...." Henry whined
I cut him off saying "mochi we'll talk when we come back, okay? I want to be close to the boys since I'm gonna stay here for awhile!" I replied
Eunhyuk cheeks turned a shade of red when he heard ____ said "I want to be close to the boys"
"Omo, are you alright? your cheeks are really red! Do you have a fever?" I anxiously touched Eunhyuk's forehead.
"Oh, I'm a-a-alright. Don't worry. I'll drive now." Eunhyuk stammered because of the sudden body contact
Henry took the chance to sleep while Donghae kept quiet during the whole trip and just silently observed as ____ and Eunhyuk chatted happily.
"Why does she treat eunhyuk better than me?" Donghae thought glumly.
^ Back to Top