Cry your heart out, because I will always be here for you
by eunhyukjae_
Tags comedy donghae eunhyuk henry romance superjunior you | Report Content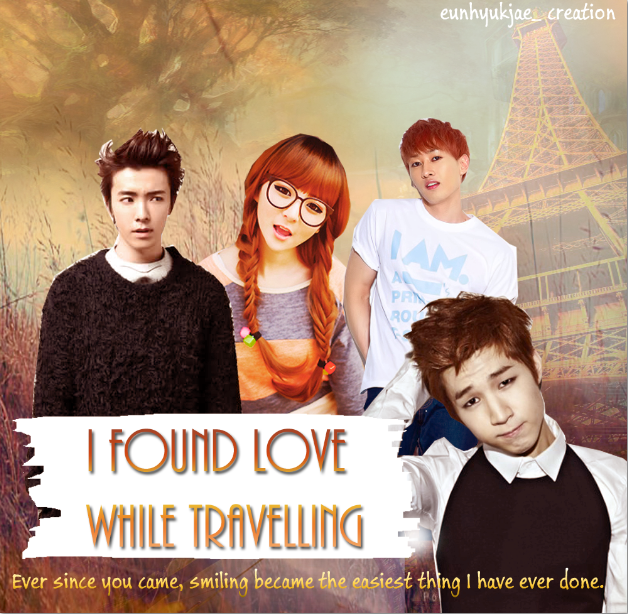 The car ride was silent and I wasn't used to the silence between us.
"Oppa, what's wrong?" I asked
"Nothing, I'm just tired." He said flatly
"Oppa, stop here." I said
"Why?" He said as he pulled over near the han river.
"Get out of car." I said and got out of the car.
"Why did you ask me to come out of the car?" He asked
"Because I know you have something on your mind and I want to help you." I said honestly
"How did you know?" Eunhyuk asked
"Ever since you fetched me when I was with the SNSD unnies, your face expression wasn't good at all. I knew there is something wrong,if you don't want to tell me it's okay, but don't keep it to yourself." I said

We sat down on the steps and faced the han river. It was a comfortable silence. The wind was blowing against us and it was really cooling as we sat there.
"Oppa, watch this." I said and walked down a few steps.
"AHHHHH!!!!!!!" I screamed towards the river. There weren't many people there and I just got a few weird stares and passerbys just walked away.
"What do you want me to do?" He asked
"Scream your troubles out. Forget that you are an idol, just scream!" I encouraged him
"Okay. ahhhh?" He said and looked at me
"louder!!" I said
"AHHHHHHHHHHHHHH!!!!! IT HURTS!!!! I'M TIRED OF PRETENDING IT DOESN'T HURT BECAUSE AFTER SO LONG IT STILL HURTS!!!! WHY?!?!?!" He said and crashed onto the floor, crying.
I was shocked although I didn't know what happened and the next thing I knew I bent down to hugged him and let him cry his heart out. He rested his chin on my shoulder and hugged me back as his tears rolled down his cheeks. I didn't probe to ask him what happened as I figured he would tell me if he wanted to.

After about 10-15 minutes of crying, he pulled apart and looked at me saying "why does it still hurt?"
I wiped his tears away and said "Thats because you haven't moved on."
"Don't you wanna know what is it about?" He said
"I know you will tell me when you want to. Today just doesn't seem to be the right time." I replied
"Thank you ___-ah, I feel so much better now. If you weren't here I would probably just cry myself to sleep when Donghae is sleeping." He chuckled
"Oppa, I will always be here for you no matter what happens, okay?" I assured him
"Thank you ___-ah, you are the only girl who have treated me so well except my mum, noona and... her." He said
I could feel my heart beating fast when I heard that. But I couldn't help but feel abit down when he mentioned her. I didn't know who he referred to, but I assume it's the girl that he's crying over for.
"Oppa, let's go and eat ice cream! My treat!" I said as we walked to the nearest convenience store
"Okay" He obliged as we walked hand in hand towards the store.
I went inside to get our ice creams because I didn't want him to be recognized and then we walked back to the han river where we sat down and ate our ice creams.
"Feeling better?" I asked him
"So much better. Thank you so much." He said while putting his arms around my shoulder
"Anytime, oppa." I said as I laid my head on his shoulder.
"Should we get back?" He said
"If you are fine then let's go." I said
"I'm fine now. Let's go?" He asked while standing up and offering me his hand
"Okay." I said while pulling his hand
On our way back, he was back to his chatty self and we were cracking many silly jokes, to the extent that when we got back to the dorm, we were still laughing. When we opened the door, we saw the members sitting at the sofa looking at us.
"Why are you back so late?" Donghae asked
"Yeah, we reached home 1 hour ago." Shindong said
"Uhm... I wanted to eat ice cream so I asked Hyukjae oppa to accompany me." I said
"You could've called! We were so worried because you guys didn't pick up the phone!" Leeteuk said sternly
"You called? We set our phones on silent mode." Eunhyuk said
"Forget it. Just don't do it again, alright?" Heechul said
"Sorry." Eunhyuk and I said together before heading to our rooms
We went up the stairs and chuckled again while remembering the jokes that we said just now while everybody just gave us a weird look and went back to what they were doing.
Author's Note: Hyukjae finally let out all his troubles! But that's just the beginning... Comment and tell me who do you want ____ to be with! ^^
^ Back to Top