What am I feeling?
by eunhyukjae_
Tags comedy donghae eunhyuk henry romance superjunior you | Report Content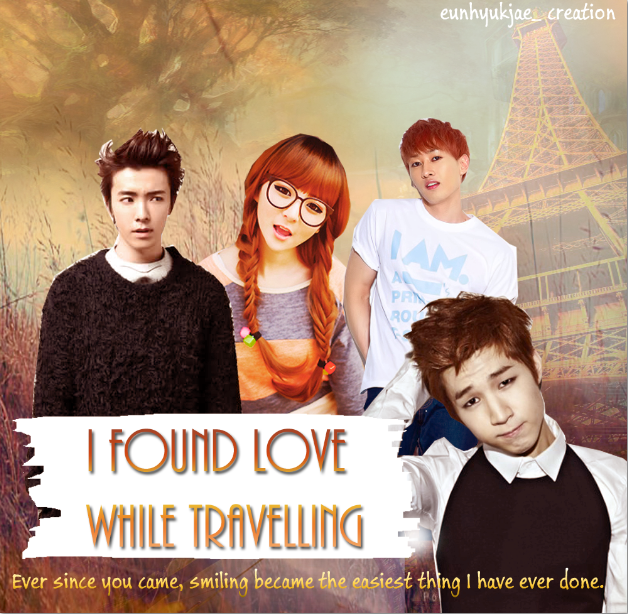 We walked back to the car and Donghae and I was less awkward now, probably due to what we talked and acted just now. He started talking about his life and I talked about mine and unknowingly we reached the dorms.

When we entered the house, many of the boys were still up. Ryeowook, Shindong, Heechul, Kangin, Sungmin was watching a movie while the rest were just doing their own stuffs. I could hear Kyuhyun playing starcraft though. Henry crashed me into a hug and said "Princess! I missed you!"
I chuckled and said "I missed you too! haha"
Donghae walked over and said "What about me? Don't I deserve a hug for bringing you out today?" He opened his arms and I ran into it, hugging him.
"Woah, so you guys are close now? Hyung, how can you snatch her from me!" Henry pouted
"Awww is my mochi jealous? Don't worry, I love you all the same!" I smiled and said
"See, she loves me more!" Henry said
"She didn't! She said she loves us all the same!" Donghae argued
"I knew her first!" Henry argued back
They continued arguing while I just chuckled at their childishness. I spotted Eunhyuk standing at a corner looking sad, and when I caught his eyes he gave me a half smile and walked back to his room. My first instinct was to follow him, and I didn't know why either.
After he entered his room, I decided to take a quick shower and change before finding him. I wanted to be there for somebody when they are having a bad day and also because I wanted to get closer to the boys.
After showering, I headed to his room and knocked on his door.

*Knock Knock*
"Who's there?" Eunhyuk asked from behind the door
"____!" I said
"Oh, come in!" Eunhyuk said

"____-ah, are you looking for me?" Eunhyuk asked curiously
"Yeah, I am! I noticed you look really glum just now when we looked at each other. Is anything bothering you?" I asked
"Hmm... I guess? I'm not sure though..." Eunhyuk answered
"If you are comfortable you can tell me about it!" I encouraged him
"Hmm.. okay. Here goes. I recently met a girl and she gives me a warm feeling everytime I see her. I don't know if I like her but whenever she's away from me I would wonder what she is doing and when she went out with my friend I felt really empty. What do you think?" Eunhyuk asked hesitantly.
"Oh, so it's girl problems?" I asked. I didn't know why, but I felt disappointed that he had someone in mind.
"I guess you could say it that way." He said
"Well... maybe you could wait awhile before you confirm your feelings? Like you said, you just met her. Maybe after hanging out with each other you will get to know each other more and maybe think whether you really like her?" I said
"You're right! I should give myself more time. Thank you ___-ah!" He said while hugging me.
My heart was literally racing when he hugged me and I blushed while hugging him back. It was something I rarely felt, but I liked it.
"Oh, I better go and sleep now! You too! Don't sleep too late! I know you all have performances tomorrow! Goodnight Eunhyuk-shi!" I said
"Wait!" Eunhyuk stopped me
"Yeah?" I asked
"Why won't you call me oppa?" He asked
"haha what's with you all and your oppa fetish?" I said
"Well... I don't know. I wanna hear you call me oppa." Eunhyuk said
"Hmm... I'll think about it! When I'm comfortable I'll call you oppa." I said
"Okay then. Let's hang out soon!" He said cooly
"I look forward to it!" I smiled happily
^ Back to Top