6

Toulouse: The City of Refuge

Completed!

by KPossible21
3295 views | Updated | Created
Tags amber minyul sungyeol myungber spinoff paris yeolber | Report Content

Characters
Lee Sung Yeol & Amber Josephine Liu
Description
"The end of your wet eyes full of memories; I hope it dies in my embrace."
-Be Mine (Infinite)-
When Sung Yeol's best friend, L, wanted to leave the city of Paris with his girlfriend, Amber, Sung Yeol instantly agreed to help him. After months of no contact from the lovers, Sung Yeol decided to go and check on them in where they were supposedly staying, Toulouse. However, when he arrived, things were not what he had expected them to be. L was missing… and Amber was heavily pregnant.
Note: Toulouse, known as La Ville Rose (The Pink City), is the capital of the Midi-Pyrénées region, the largest region in urban France. It is the fourth largest city in the country and is more than 600 kilometres away from Paris, 5 hours apart by train.
Foreword
I returned to Paris on the 7th of August and I didn't waste my time to take the train straight to Toulouse. I had never been to the Pink City and I knew I would be lost there. I arrived late afternoon and took the taxi to the nearest police station. To be honest, I didn't know where Min Ho worked, so I convinced the female police officer to help me track him down, saying I was a distant relative. She was suspicious, but hey, if I was criminal, why would I be going to a police station looking for a police? Right?
Min Ho came to the police station I was at on his way home and was surprised to see me. I was angry to discover that things were not what I had expected them to be. When he asked about L, I began to feel scared. Fear and unease gripped me so tight and for the first time in my life, I couldn't stay optimistic. As he drove us to his house, Min Ho told me what had happened in the past months, about Amber arriving, no sign of L, and the letter he sent to L and Amber's apartment in Paris. I couldn't help but starting to believe Appa's story. I told Min Ho about it and I noticed the change in his expression. He said he read a newspaper article about the bridge and he turned around to take us to his office to find that newspaper, which was published back in January. I couldn't even enjoy my tour at the police station, as cool as I would have found it to be if my mind wasn't in disarray. Min Ho and I didn't even fight during the car trip as we normally would do whenever we met, given that we were born enemies, though it would mostly be me being a kid.
I thought finding out that L never made it to Toulouse was a shock on its own, but a bigger bombshell was awaiting me at the Choi's house. Before we stepped into the property, Min Ho held me back and said in a sympathetic tone, "You better be prepared when you see Amber."
I frowned at his statement. It sounded like a warning. "What's wrong with Amber?"
He didn't get to answer as Yuri, his wife, had already opened the door and greeted me. Min Ho had informed her that I would be coming. Yuri Choi was still as stunning as ever at the age of 26, her body as gorgeous as it was the last time I saw her, which was three years ago. She went to get Amber as Min Ho and I settled in the living room. His children were at the dinner table, eating dinner quietly. Little Alice shyly greeted me as little Jaden was too busy messing around with his food.
"Sung Yeol!" Amber's voice was heard.
I swung my neck and I almost fainted at the sight before me.
I didn't know who it was standing next to Yuri, with an enlarged stomach and weary features. Correction, I wouldn't have if Yuri had not said earlier that she was getting Amber.
---
A spin-off of Paris: The City of My Heart. You can check out the original story if you want to know what it's about.
This story plot is pure fiction, including the events and characters. Celebrity's names are borrowed for writing purposes. Any similarities to actual persons, alive or dead, events, real or fictious, are purely coincidental.
© KPossible21, 2012.
---
This story is an entry to J&E. Infinite Story Writing Contest. Prompt used: "The end of your wet eyes full of memories; I hope it dies in my embrace." - Be Mine.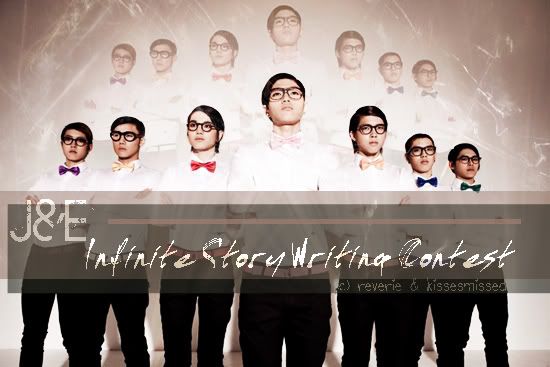 ---
REVIEWS
Tweet
^ Back to Top