46

What She Never Knew [Oneshot]

Completed!

by dubumints
78 subscribers | 2027 views | Updated | Created
Tags b1a4 cnu oneshot romance sad bittersweet | Report Content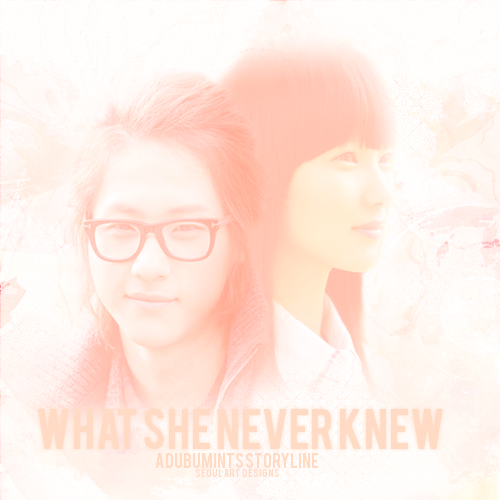 Characters
Dong Shinwoo [CNU], B1A4, && OC
Description
When you had all the chances but you failed to grab them.
Author's note:
Hello! dubumints here, with another oneshot for you guys! :)
This time though, it's a B1A4 oneshot, my next bias group after SHINee.
This oneshot is for the upcoming Valentine's Day! ♥
The story will be posted on Valentines Week (because I'm not sure if I can post it on the actual V Day.)
PS. English isn't my first language, so pardon me for the errors you'll meet along the way.
---
credits:
poster and main background: SHINeelovr4evr@ Seoul Art Designs
---
word count: 3,450
15 pages [MS Word]
DISCLAIMER
I do not own Shin Dongwoo (maybe in the future, rofl.), B1A4, and the Kpop idols. All the other stuffs in this fic are mine unless otherwise stated.
 All rights reserved.
Please do not plagarise, post as your own (in other words, stealing), or redistribute.
Or I'm telling CNU. Hmpf.
Foreword
Falling in love...
Has never been this silent.
Tweet
^ Back to Top