Chapter 3
by tessaxnomy and dustyshio |
Tags dalmatian dayday drama ljoe romance teentop | Report Content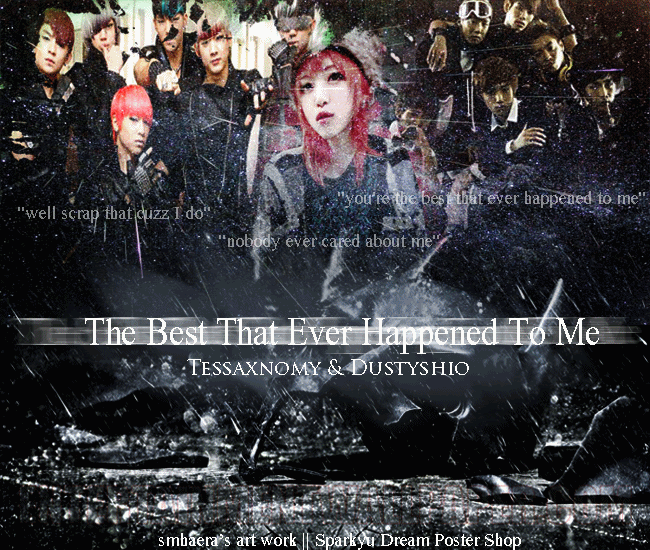 *Is she awake yet?* you heard somebody say.
You frowned a bit and tried to open your eyes but shut them as soon as you felt the light from a window.

"Hyung she's awake!" Somebody yelled as you heard different footsteps approach you.

You opened your eyes and sat up straight to have a better look at the group of pretty boys in front of you.
You scratched your head and asked "Who are you guys and where am I?"

"We're Teen Top!" a black haired young looking kid said as he jumped up and down. You chuckled a bit at his childish behavior and looked at the others.

You recognized them from your school but the one who stood out the most was the guy with the pink hair.

"You!" you yelled, pointing your finger at his face. "You're the dude that woke me up!"

He laughed a bit and pushed your hand away from his face.

"Yeah, I'm mischievous rapper (haha what was T.O.P media thinking) L.joe. I'm sorry that I disturbed your beauty sleep in the gutter."
He stepped next to you and slung his arm around your shoulder. A blush immediately crept up your face.

"But it doesn't really matter because your already beautiful." He said and wiggled his eyebrows. Your face darkened and you pushed his arm off of you.

"Yak so cheesy." You muttered as you stepped away from him.
"Hahaha hyung got dumped!" the red head said and rolled over the floor (like a buffalo) from laughing.

"Aish Ricky you are going to get it now!" L.joe yelled and lunged at the boy called Ricky.
He ran out of the room followed by a mad L.joe.
"Come back here you little-" You heard him yell.

"I'm sorry for what just happened. L.joe is just an old perv." Said the guy with the black mohawk.
You just shook your head and sat back down on the bed.

"Oh by the way charisma rapper and leader CAP imnida." He said saluting at you.

"Ya guys introduce yourself!" CAP said hitting the back of their heads.

"AWW! Hyung~~~~ that hurts~" The pretty brown haired guy whined.
"Don't be such a douche and introduce yourself will ya." CAP nagged back.
"Tsk." He rolled his eyes at him and smiled at you.

"Annyeong! Power voice and pretty boy Chunji imnida!" He said winking at you.
"Pretty boy? More like wink machine." A guy with thick lips said mocking.

"Ayo~ emotional vocal Niel imnida." He waved at you and you waved back.
"Ha you forgot something." Chunji said.
"What?" Niel asked confused.
"That you have FISH LIPS!!! Whahahahaha~!" Chunji burst out in laughter and clutched his stomach.

"Why you little-" And just like L.joe and Ricky, Chunji ran off with an angry Niel behind him.

"Then that only leaves me. Dancing boy Changjo imnida." He smiled and plopped right next to you on the bed.

"And what's your name?"

"Jiyeong imnida but you can call me just Ji. I'm sorry for disturbing you." You said looking down to the floor.

"It's ok you don't need to worry about it. You can stay as long as you want to stay." CAP assured you.

"Oh no no, you already did enough for me. I will be going now." You stood up and walked to the door to be blocked by Ricky.

"Where are you going?" He asked you innocently.
"I-I'm going back now. Thanks for taking care of me." You bowed and tried to walk passed him but he blocked you again.

"No you can't go yet! Can't you stay a bit longer?" He asked giving you his puppy eyes.

"I-I'm sorry but I gotta go search for a job and a place to sleep." You pushed him to the side and walked out of the room to be grabbed by your arms and dragged in by Chunji, L.joe and Ricky.

"Just stay here. You can work for us and we still have a room free were you can sleep in." Chunji said trying to convince you.

"But-" You tried.
"It's Sunday and the shops are all closed. I'm sure you don't have enough money for even a cheap motel so don't be so stubborn and stay here. Or do you want us to pick you up from some random gutter again?" L.joe nagged praising himself for being so clever to come up with that.

You sighed and slummed back onto the bed. "I guess you're right."
"YEAH!!" They all cheered.

"Ok now tell us why were you laying in the gutter."

You looked down and started to tell them your story.   
 
^ Back to Top