Thank you
by dbskgirl4ever
Tags blockb korean zico bapband bap daehyun schoolliferomance | Report Content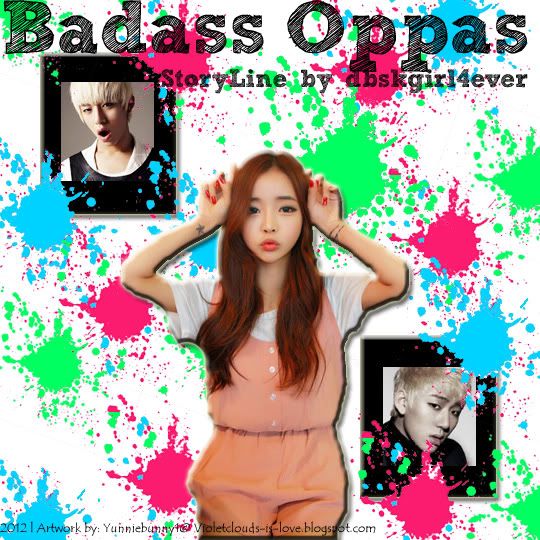 http://www.youtube.com/watch?v=kAywpLtk_aE
----
Daehyun opened his eyes. He was in the darkness. The only light was coming from outside the hallway. He had no idea where he was. Daehyun tried to sit up but instantly felt splitting pain in his head. He moaned and touched his bandaged head.
Daehyun felt air touch his lips and touched his lips. His mask was gone!
Daehyun looked around, slightly wary and shocked. *What the hell happened? Where am I and why the hell does my head hurt so much?*
The door opened and he looked towards it.
You stepped inside with a water jar. Your eyes widened at the sight of him awake. "Daehyun oppa!" You quickly ran over. "Oppa, you woke up!" He had a strange look on his face. You worriedly examined his face, "Gwenchana? What's wrong? Do you need something?" He just stared at you.
A horrible idea came into your mind. *He didn't lose his memory, did he?!*
"Daehyun oppa…you do remember what happened, don't you?" You anxiously bit your bottom lip. *Please…*
A flashback of the scene back at the club entered his mind. He remembered running into the club and searching desperately for you. He saw Block B members fighting with other boys. *Yeojin?! What about her?! Is she safe?* That's when across the room he saw you. His heart squeezed in relief. But the relief didn't last for long. Behind you, he saw Taeshik getting ready to strike you with a glass bottle.
Without thinking twice, Daehyun ran in and blocked you from getting hurt. The last thing he remembered was a burst of colors exploding in his mind and then red…and then finally…nothing.
"I remember." He whispered. You sighed in relief.
"What time is it?" Daehyun asked. You glanced at the clock by his bedside, "It's almost 2:30 in the morning. You should go back to sleep."
But Daehyun wasn't sleepy. If anything, he just had a bad headache. It was awkwardly silent. Daehyun shifted uncomfortably. He felt self-conscious without his mask on. He wanted to grab the pillow and cover his face but you would really think he was crazy then.
"Does everyone know I'm here?" Daehyun broke the silence.
You nodded, "They left. They said they would be back in the morning."
"What about you? Why didn't you leave?" He asked.
You looked down at your hands in shame. "I…couldn't" You whispered. "I felt responsible for you becoming like this." He opened his mouth to protest. You looked up at him and searched his face, "Oppa, why did you do that?"
"Do what?" Daehyun gave you a confused look.
"Save me?" You asked. His mouth fell open a bit. *Does she even call that a question?!* "Look at what happened since you stepped in. You almost died." You frowned.
"So what? You wanted to be the one who got your skull cracked in two?!" Daehyun sneered.
Your face fell, "Oppa-"
"WHY DID I SAVE YOU?! I can't even-" Daehyun had no words and just shut his eyes and massaged his forehead. *My head hurts like crazy.*
You worriedly stood up, "I'll call for morphine." You reached for the call button.
Daehyun grabbed your hand and you looked down at him. "Do you regret me coming to save you?" You searched his eyes, wondering what his motive was for asking such a question. "Answer me." Daehyun demanded. "Yes…I do." You whispered. His face fell and grip loosened up.
You sank back onto your seat, "Look at you, oppa. You're in the hospital right now because of me. Look at yourself and tell me that you don't regret it."
"I don't."
"You're lying." You looked away.
"Enough!" Daehyun hissed. You looked at him. "Stop with thepity party! If you're going to keep blaming yourself for what happened tonight, you can go back home. I'm fucking fine. The worst thing that could happen to me is something happening to you! I'm grateful you're not hurt so just leave it alone, all right?!" He snapped.
Your heart melted at his sharp, caring words that were thrown at you. *That's the nicest thing he has ever said to me…* Your heart fluttered unexpectedly.
Daehyun crossed his arms and scowled. But his expression changed instantly when he heard you crying. Bewildered, he stared at you. "Thank you, oppa. Thank you for being so kind to me." You bawled into your hands. Daehyun sat up, flustered at the unexpected burst of emotions, "Y-yah. Stop crying." He glanced around *Shit! I made her cry again! Way to go Jung Daehyun!*
You kept on crying.
"Yeojin, stop crying, please." Daehyun pleaded in a gentler voice. "There's another patient in here. You'll wake him up." There was a small grunt from the other side of the curtain. "See?" Daehyun whispered, "You woke him up-"
You stood up and sat on the edge of his bed. Without thinking you wrapped your arms around his neck. His eyes widened in surprise. "Oppa, mianhae. I promise I won't put you in danger again. And thank you for being alive. I'm so grateful." You blubbered.
Daehyun softened. *If I had the choice, I would do it all over again. Just for you, Song Yeojin.* He wrapped one arm around you and held you closely. 
^ Back to Top