Don't die, please
by dbskgirl4ever
Tags blockb korean zico bapband bap daehyun schoolliferomance | Report Content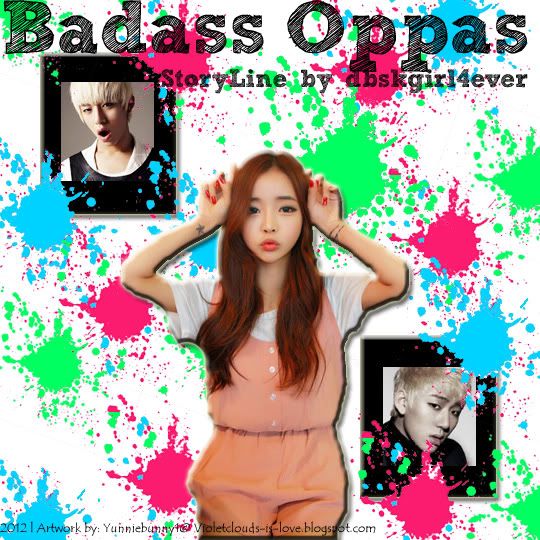 Ever since Daehyun had overheard Taeshik that day, he had become more watchful over you. He made sure to walk home with you when Zico didn't. If you had to run to the market, he would go with you. If you weren't home when the sun set, he grew anxious and texted you.
But nothing happened in the next couple of weeks. Daehyun was beginning to think Taeshik was all talk and no action.
It was Saturday night and the boys had returned from work.
"Let's order pizza!" Zelo yelped. "No pineapples on mine!" Youngjae ran upstairs to change.
Daehyun turned on the kitchen lights and looked around.
"You looking for Yeojin?" Yongguk came in and dug through the cabinet for the pizza eatery's number. Daehyun nodded. "She's not here. She went out." Yongguk answered. "Ah, there it is!" He pulled out the flier. Daehyun stared at him *Out?* "She went to the hip hop club with Zico." Yongguk explained.
Daehyun nodded and turned to leave but froze. *Wait…did he just say she went to the hip hop club?* He whirled around and stared at Yongguk in horror.
He blinked, "Wae?"
*SHIT! NOT GOOD!* Daehyun fled out of the house. "Yah! Jung Daehyun!" Yongguk called but he was gone already. Himchan came out of the bedroom with a curious expression, "Where is he running to?" Yongguk also had a puzzled expression on his face, "I don't know…he just ran for it after I told him Yeojin went to the hip hop club."
Although his lungs bured, Daehyun didn't stop running. He couldn't stop. He might have been overthinking things but what if you really were in danger? If something happened to you, he wouldn't be able to live with it. *Please don't let anything happen to her until I'm there to protect her.*
----
The club was packed with people. You felt claustrophobic being squeezed between so many bodies at once. You gripped onto Zico's hand harder and he managed to pull you out of the rough crowd. "Watch it, bitch!" A few girls hissed.
You frowned, "Remind me why I'm here again?" Zico laughed, "Because you want to make you extremely sexy boyfriend happy." "How about ridiculously immature boyfriend?" You joked. "Muh?!" Zico tickled your sides and you giggled.
"Look at the happy couple. Aww~" P.O. and Kyung mocked. Zico shoved them and they laughed. "Come on. Let's get something to drink." Kyung nodded to the bar. You followed Block B and sat down on the stool. You sipped your water while they drank virgin cocktails. *I guess Block B isn't that badass as everyone thinks they are.* You giggled to yourself.
You felt your phone vibrate in your pocket and pulled it out. You opened your phone and saw a text from Daehyun. Your face softened immediately. *Daehyun oppa?* You opened the text and read the message.
Zico grew curious of your text and leaned in. His eyes scanned over the words.
'Leave the club now and come home!' – Daehyun.
Zico furrowed his eyebrows *What the hell. This guy always interrupts our dates now. Is he out of his mind?*
*I wonder why Daehyun oppa wants me home.* You started to text him back but Zico grabbed your hand, "Let's go dance."
"Wait, I have to text-"
"Later." Zico gave you a look and practically forced you out of your seat.
You stumbled forward and your phone tumbled onto the ground. You glanced back, "My phone-" Kyung picked it up, "I'll take care of it." *But Daehyun oppa's message…* You thought.
The song changed to a slow one. *Perfect timing.* Zico wound your arms around his neck and wrapped his own arms around your waist. He pulled you close against his body and you looked up at him. His tender eyes swept over your facial features and a smile came on his face *This is how it should be. Just you and me. No drama. No Jiyeon. And definitely no Daehyun.*
You uncertainly smiled back but your mind was back on your phone. *I wonder why Daehyun oppa wanted me home right now…he seems to text me a lot these days. Is something wrong?*
The song ended and you quickly headed back to the bar. You glanced around. Kyung wasn't in sight. *Where did he go with my phone?!* At that moment, Daehyun was calling you. But Kyung couldn't hear the phone vibrate on the table. Frustrated Daehyun stared at his phone *Why isn't she answering, damn it?! Something better not have had happened!* He ran faster than ever. You searched throughout the club for Kyung. *Come on! He has to be here somewhere! Argh!*
Just then someone snatched your wrist. You spun around and your eyes widened *What is he doing here?!* Taeshik smirked, "We meet again." You twisted away from him, "Excuse me. I'm looking for someone." You walked away but he followed you, "Who? Your boyfriend?"
You stopped. You just realized you were alone. *Shoot! I lost Zico!*
Taeshik shook his head, "Tsk, tsk. That thick-headed bastard doesn't know how to take care of his girl, does he?"
You frowned, "Don't call him that."
"Aww. Defending your man?" Taeshik laughed. An upbeat song came on and he nodded towards the floor, "Dance with me?" "I already told you. I have a boyfriend." You said, annoyed. "That doesn't mean you can dance with me. Come on." Taeshik tugged on your wrist. "Let go-"
As soon as the words were out of your mouth, your arm was yanked away from him. Zico's snake-like eyes pierced through him, "Don't manhandle my girl." He grabbed your hand and led you away. Taeshik viciously glared at Zico's back *Disrespectful till the end, huh? I'll show you what happens when you cross Park Taeshik.*
Zico pulled you to a non-crowded part of the club. "You all right?" He asked. You nodded and rubbed your pink wrist, "I'm fine. Can we leave now?" "Yeah, that jerk's presence ruined the whole atmosphere." Zico muttered. He rounded Block B up.
You saw Kyung and darted over, "Oppa, can I have my phone now?" "Oh yeah. Forgot about that." He handed you your phone. You gratefully took it. Your eyes widened. *3 missed phone calls from Daehyun oppa and a voice mail?*
"Let's go, babe." Zico said. You let him lead you towards the exit as you tried to listen to the voice mail. "Going so soon?" A voice asked. You, Zico, and the rest of Block B turned around. Taeshik and his friends were standing there, proud and cocky as ever. You momentarily forgot about the voice mail. "
What the hell?" U-Kwon raised an eyebrow. "Does it really matter to you?" Zico questioned, irritated.
Taeshik gave him a dirty smirk, "Of course. I haven't had a chance to dance with your girl yet." His friends snickered behind him.
"What?!" Zico hissed. You pulled him back, "Oppa, don't listen to him. He's just trying to piss you off."
"Damn right because he pisses me off." Taeshik snapped.
Zico shoved him, "What's your problem?!"
"You are my fucking problem." Taeshik snarled back.
"Oppa! That's enough! Let's go!" You pleadingly looked at the rest of Block B, "Oppas, please…"
Jaehyo took charge, "That's enough, Woo Jiho. Just let them go. They're a bunch of idiots." "Come on, oppa." You wrapped your arms around yourself. You just wanted to leave this place already. "Don't appear again in front of my eyes. You understand?" Zico shot
Taeshik a warning look and headed back towards you. You sighed in relief. *Finally.*
The 8 of you turned to the exit. *No one has the last say but me.* Taeshik strode towards Zico, grabbed his shoulder, and turned him around. Then he landed a punch to the side of Zico's face. You screamed, "OPPA!" His face whipped to the side and blood came out of his split lip. Zico wiped the blood off and stared at Taehik, "You serious? Did you just hit me right now?"
"What are you going to do about it?" He sneered.
*That's it.* Zico didn't hear your voice as he tackled Taeshik onto the ground.
"FIGHT!" Spectators shouted but didn't do anything to stop the fight. Girls screamed and fled pastyou towards the exit. "Zico oppa, stop!" You pleaded. "Kyung oppa, stop him!" But Kyung was fighting one of Taeshik's friends. You looked around at the violent scenery, horror-stricken *This is a disaster!*
You didn't know how to stop this mess. Not even the bouncers could stop the growing fight. "Zico oppa-" You stepped forward, only to be pushed onto the ground. You winced as you scraped your knee on the floor. You stood up with tears in your eyes and shouted, "STOP! JUST STOP THIS RIGHT NOW!"
Of course they didn't listen.
Zico punched Taeshik in the face and kicked another boy in the stomach. While Zico was being distracted, Taeshik got up and glowered daggers his way. *I'll pay you back twice as hard. Watch what happens to your precious boyfriend.* You took out your phone and started to text Yongguk for help.
Taeshik snuck towards you from behind. He grabbed a bottle of vodka and raised it over your head.
At that moment, a blur of a body sped in and arms protectively wrapped around you.
BAM! CRASH! Glass broke everywhere.
Your eyes widened and body froze *That sound...*
It chilled your heart.
The arms that secured you started to go limp.
You turned your head and saw blood on blonde hair. For a moment, you thought it was Zico and got ready to scream. Instead you saw Daehyun and your heart stopped beating. Your mouth fell open but nothing came out. *Daehyun oppa? What…what is he doing here?! How did he get here?!*
But that wasn't important right now. He was bleeding so much. You literally thought he was going to die.
His eyes rolled to the back of his head and he slumped onto the ground. Your body finally unfroze and you scrambled down to the ground. "Daehyun oppa! Oppa!" You slipped your arm underneath his neck and lifted his head up. You held up your hand and your eyes widened. *So much blood. This is Daehyun oppa's blood.* The thought made your hand shake uncontrollably.
Shocked by the sight of blood, Taeshik stepped back with wide, eyes. *Fuck. He's not dead, is he?! Shit, SHIT, SHIT!* He disappeared out of sight before he could be caught.
"Daehyun oppa!" You put your hand on his chest and shook him frantically. His eyes slowly opened but they couldn't focus on you. Tears streamed down your face rapidly, "Oppa! Can you hear me?" Your voice sounded far away and everything was a blur. He slowly blinked and his gaze stopped on your face. *She's crying. Why is she crying? Don't cry, Yeojin-ah.* He reached out and his fingertips brushed your cheek.
That small motion made you weep hard.
*I'm glad you're safe.* With that last thought, Daehyun became unconscious.
You saw his eyes close and your eyes enlarged in alarm. "Daehyun oppa…? No…no…no, please! Daehyun oppa!" No matter how much you shook him, he wouldn't come back. *He can't be dead, right? No don't tell me. DAEHYUN OPPA CANNOT DIE!* "OPPA!" You screamed at the top of your lungs.
At last your voice captured the boys' attention. The place fell silent and all eyes landed on you.
*Yeojin!* Zico shoved the boy away and ran towards you, "Yeojin, you okay-" He froze when he saw Daehyun on the ground with blood all around him and his eyes closed. *When did he get here? What happened to him?* You were sobbing hysterically as you were holding Daehyun in your arms. You kept calling his name over and over again, which broke Zico's heart. He darted towards you, "Yeojin-"
You grabbed his hand and looked up at him with red, watery eyes, "Oppa, I'm begging you. Please call 119. Get help. Daehyun oppa saved me. H-he came to save me and h-he got hurt instead of me. I can't let Daehyun oppa die. Please!" You bawled harder at the thought of losing him.
Zico's expression softened and he nodded, "Okay. I'll get help." He got up and took out his phone.
You held tightly onto Daehyun and refused to let him go.
^ Back to Top