White Day Gifts
by dbskgirl4ever
Tags blockb korean zico bapband bap daehyun schoolliferomance | Report Content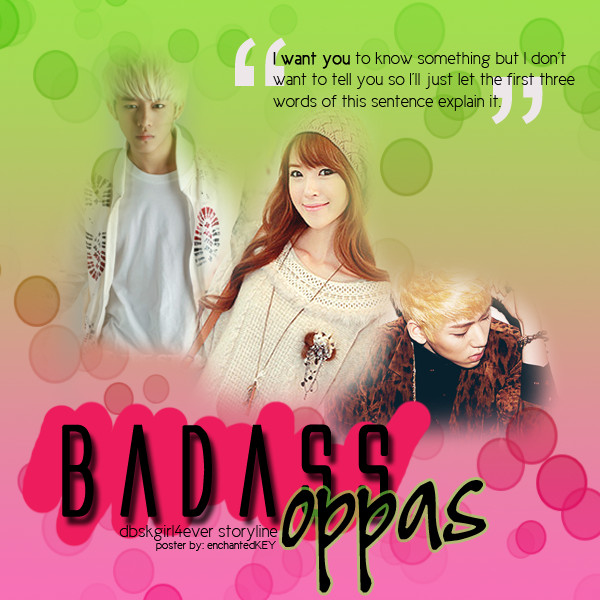 http://www.youtube.com/watch?v=26QXqA6745M
----
If anything had changed between you and Zico, he didn't show it. If anything, he just gave you a bigger smile. As the days passed by, you calmed down. *It wasn't anything. He was just being Zico and teasing me.*
On March 14thyou didn't wake up to the sound of your alarm clock but Zelo's rap.
"Boring stories, stop, my love story. Will I be able to express my feelings? Endless worries. Today, I went to the store to buy bread cause this is all I can do. Will you like this when you receive it? Or will you not receive it and go the opposite way? I'm a dwarf wandering around Snow White. I'm nothing special but I can protect you, my baby."
*What's going on?* You sat up and rubbed your sleepy eyes.
SNAP! "Hey!" You protested.
Laughing, the boys ran off. "I'll cherish this forever, baby doll!" Himchan kissed the Polaroid picture and ran off.
Zelo popped back in, tossed the sweet bread on your lap, and ran away.
"What the-" You glanced at the bread and let out a throaty chuckle. "This was the 'big thing' you were going to get me for White Day, Choi Junhong." You looked out at the window and saw the sun up in the sky. "Wow. The boys woke up earlier than me. The sun must have risen on the wrong side today."
You got up and went to get ready for school. Finished, you came down in your ironed uniform and backpack.
Youngjae was waiting by the staircase for you. "Yah, here." He held out a pink rose.
Your eyes lit up, "Waaa! For me?"
"Do you see any other girl in the room?" Youngjae asked. You accepted the rose. "Happy White Day, maid." Youngjae affectionately rubbed your head with a smile. You smiled back, "Thanks."
You went into the kitchen to find breakfast already ready. You gasped in surprise, "Omo! Who did all this?!"
"Good morning~" Jongup came into the kitchen. An apron was tied around his waist.
"You did this, oppa?" You asked, moved.
Jongup smiled and nodded. He pulled the chair out with a smile, "Sit and enjoy~"
You sat down with a big smile, "I wish everyday was White Day."
"Don't push your luck." Youngjae made a face but laughed afterwards.
Himchan came in with a big bouquet of roses, "For the only girl who will always stay in my life."
"Aww, oppa. Thank you." You were touched and gratefully accepted the bouquet. "No problem. Happy White Day." Himchan kissed your cheek and grabbed a muffin.
You were about to eat when a deep voice rapped, "I act all tough when I run into you. I have no interest in my guyfriends' talks. I only look at you ma baby. I wanna draw you during Art Class and I wanna make a song for you during Music Class. I'm attracted. You're N, I'm S. This butterfly has no end like a rational number. You're my last luv." Yongguk finished and smiled his gummy smile, "Happy White Day."
"Oppa, that was perfect." You clapped. He laughed and bent down to kiss your cheek. "Thanks." When he pulled away, you felt a light weight on your neck. "Oh, what's that?" Yongguk pointed.
You glanced down and your eyes widened at the silver bunny necklace. "Oppa…" You said, touched.
Yongguk gave you a wink, "My honeybunny." He patted your head and went to get ready for work.
"Thanks. You made my gift look insignificant!" Himchan shouted.
"What about you, hyung?" Youngjae compared his rose to Himchan's bouquet and raised an eyebrow.
You laughed, "Thank you everyone for the wonderful White Day gifts!"
Daehyun came down the stairs. You blinked hopefully at him. Jongup, Himchan, and Youngjae stared at him.
Daehyun froze and wondered why all eyes were on him.
"Don't you have anything to give to Yeojin?" Himchan asked.
Daehyun just walked out the door.
"Guess not." Youngjae shrugged. You slightly pouted in disappointment. *Can't he at least say Happy White Day?* "Don't be too sad. You know how Daehyun is like." Himchan patted your shoulder.
Daehyun stopped and glanced back at the house. *Just wait a little bit longer, Yeojin. I have something ready for you today. I'm going to finally confess to you but it'll have to wait until after school.*
^ Back to Top