Valentine's Day
by dbskgirl4ever
Tags blockb korean zico bapband bap daehyun schoolliferomance | Report Content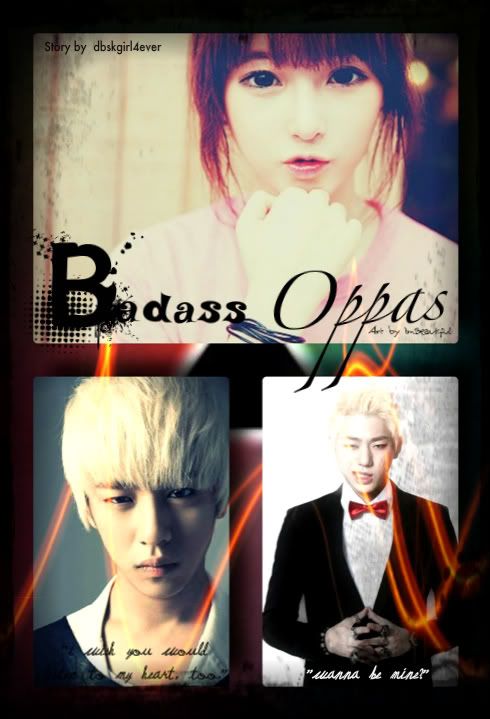 http://www.youtube.com/watch?v=mat9Rc84Xsk&feature=related 
-----
It was Thursday night, also the night before Valentine's Day. You were shaping cake batter for your signature cake pops. It was tradition for you to make cake pops for the boys every year for Valentine's Day. You counted off the sweets, "1.2.3.4.5.6.7. Six for oppas and one for Jiyeon."
You set them on the tray and put them in the oven. Right when you had shut the oven door, an image of Zico flashed in your mind. *Am I supposed to make him one, too?* You looked at the remaining cake batter. *It would be a waste of cake batter…* You quickly started to make one more. You popped that one in the oven and dusted your flour-covered hands.
*That's 8.* You smiled in satisfaction.
----------
"Oppa, let's go! Or we'll be late for school!" You hollered.
"I'm coming!" Youngjae barked.
You shook your head with a sigh *They're always late.* The boys came stampeding down the stairs. "What takes you guys so long?" You complained.
"Sorry we're not perfect like you." Youngjae blew on his bangs, "Besides shouldn't you be a tad bit nicer? It's Valentine's Day after all."
Zelo popped out, "Noona! Where's my cake pop?!"
"You were all late so no cake pops this year." You stuck your tongue out.
Zelo panicked, "Noona, no! Those are my favorite treats!"
"Too bad." You left.
"NOONA! NOONA!" Zelo followed you, whining like a puppy about his precious cake pops.
"Aigoo." Youngjae rolled his eyes.
"Baby doll, wait!" Himchan came crashing out of his room in only his wife beater and boxers. He blearily rubbed his eyes and blinked at the rest of the boys, "Where did Yeojin go?"
"She left." Jongup said.
"Aish." Himchan was about to go after you but Youngjae grabbed his shoulder. "What?!" Himchan hissed. Youngjae raised an eyebrow and looked him up and down, "You really want to go out like that, hyung?" "Like what? Oh shit." Himchan saw himself and smacked his face with a groan. "Did Yeojin leave me anything? Like a cake pop?"
"No." Jongup said.
"WHAT?! BUT SHE ALWAYS MAKES US CAKE POPS EVERY VALENTINE'S DAY!" Himchan burst.
"We didn't get one either." Youngjae grumbled and left.
"Maybe she was busy with homework. Bye, hyung." Jongup waved and left. Daehyun followed soon after.
Grumbling, Himchan went back to bed.
The five of you arrived at school. Zelo was especially in a bad mood. "See you later." You waved. "Or not." He muttered. You chuckled and lightly ruffled his hair. He dodged out from under your touch. You just smiled and went to class.
"OPPAS!" Fans of B.A.P. rushed over with their gifts. Daehyun didn't want to accept any of them *The only present I want is from Yeojin.*
You arrived in class to see Jiyeon already there. "Good morning." You waved. "Good morning." She answered back. "It's Valentine's Day. Are you giving chocolates to anyone?" Jiyeon warily asked. "Yup." You answered. "Who?!" She eagerly asked.
You opened your backpack and took out a cute cake pop in the shape of a puppy.
Jiyeon blinked at you. You smiled, "Happy Valentine's Day, best friend forever."
"Oh. Thanks. Did you make this yourself?" She asked.
"Yep." You beamed and nodded.
*Not bad.* Jiyeon put the cake pop in her backpack.
"What about you? Are you giving chocolates to anyone?" You asked. She put a finger to her lips and winked mischievously, "It's a secret."
"Secret?" You smiled curiously. You never imagined it would be one of the B.A.P. oppas.
 --------------------------
The bell rang and the boys split up for class. Youngjae went into a different classroom than Jongup and Daehyun. He was smarter than the average senior and was in an advanced class. Youngjae opened his backpack to take out his school materials. "What the- what is this?" He pulled out something strange.
Lo and behold it was a cake pop in the figure of a bunny!
There was a sticky note attached to the stick: 'Since I made you a cake pop, don't call me a nun anymore.'
Youngjae started to grin *Sly Yeojin. You did make cake pops for us this year, too!*
"Yoo Youngjae, where'd you get that cake pop from?" One boy asked. Youngjae smiled, "My nun." J
ongup and Daehyun arrived in their own classroom and waited for their teacher. A girl snuck into their classroom and held out a heart-shaped box. "F-For you, J-Jongup O-Oppa." He kindly smiled and accepted the gift, "Thank you." She squealed that he had spoken to her and ran out the door. Jongup smiled at the gift, "It would've been nice if Yeojin could've made us a cake pop this year, huh?"
Daehyun appeared nonchalant but he agreed.
Jongup started to dig through his backpack. His fingers latched around a stick. Thinking it was a pencil he pulled it out. To his astonishment it was a bunny cake pop! His eyes widened, "Daehyun hyung!" Daehyun looked at him and his eyes also widened. "I found this in my backpack…" Jongup blinked.
Daehyun quickly dumped the contents of his backpack on the desk. He frantically searched for the sweet treat. *If she only gave it to Jongup…!* But to his immense relief, he found it. Daehyun chuckled. The bunny was wearing a mask just like him. 'If I had one wish, it would be for you take off your mask for good and talk to me. Happy Valentine's Day Daehyun oppa.'
Jongup read the note for him: 'Happy Valentine's Day! From, Snoopy.' He laughed, "Oh, Yeojin."
Zelo set all his gifts on the desk with a sigh. "Wow, Zelo! Again?! Dang!" His friends whistled enviously. Zelo grumpily pouted *I wanted noona's cake pop though.Oh well. These will have to do.* He picked out a strawberry lollipop and started to suck on it. His teacher came in, "Take out your books."
Zelo rummaged through his backpack. He grew confused at a foreign object sticking out of his book. Curiously he pulled it out. Zelo gasped, making the entire class stare at him. *IT'S A CAKE POP!*
'I made you a cake pop so quit pouting Choi Junhong.'
A big grin formed on his face. *NOONA, YOU'RE THE BEST!*
"Something wrong Junhong-"
"WAHOO!" Zelo pumped his fist in the air. He ran over to the window and shouted loudly, "YEOJIN NOONA SARANGHAE!" His friends cracked up but his teacher stared at him as if he was crazy.
In your classroom, you heard Zelo shouting your name with declarations of love. Jiyeon gave you a puzzled look. You just smiled. *Happy Valentine's Day B.A.P.*
 ------------
The cafeteria was filled with chocolates and sweets. You and Jiyeon sat and ate at the usual table. A shadow fell over you and you looked up. Zico grinned down at you, "Happy Valentine's Day." "Good, you're here. I have something for you." You dug into your backpack. His eyes widened, "Muh?! Really?! I wasn't even expecting anything from you!" His heart elated with joy.
The girl of his dreams was giving him a Valentine's Day gift.
You pulled out the cake pop. Zico stared at the panda. You smiled, "Happy Valentine's Day."
He softened and took the treat. *She made me a panda because I call her one. That's so cute.* Zico smiled, "You're so sweet. Thank you. I'll eat it well."
You nodded back. His heart grew with hope *Does this mean our relationship is taking another step forward?*
At that moment B.A.P. came by and bursted his bubble. "Thank you for the cake pop, Yeojin~"
Zico spun his head to see Youngjae, Jongup, Daehyun, and Zelo holding out THEIR cake pops! His jaw fell open *What?!* He whirled around to you, feeling betrayed, "You made them one, too?!"
You nodded, not knowing why he was so astonished.
"She ALWAYS makes them for us." Youngjae smirked. Jongup chuckled while Daehyun also smirked behind the mask.
Jiyeon stared at you *You made a cake pop for Daehyun oppa?!*
"Noona~" Zelo ran over and embraced you tightly, "Thank you. I'm sorry for getting mad at you this morning." You patted his arm, "It's okay. I understand." Zelo smiled, "I'll get you something BIG for White Day!" You laughed, "Araso so go eat." Zelo gave you another squeeze and left.
"Guess your cake pop doesn't mean much now, huh?" Youngjae casually put him down.
Zico gritted his teeth *Asshole.* The boys left.
Jiyeon straightened up and gripped her backpack *My gift for him!* To her joy, Daehyun went in a different direction than his friends. "I'll be back." Jiyeon ran off.
Daehyun went to his locker and opened it. He gazed at the cake pop with affection. *I'll save this for later.* Daehyun put the treat safely in his locker. Just then someone called his name. He looked up to see Jiyeon running towards him. She stopped in front of him and bent over to catch her breath. "Daehyun oppa, wait." He blinked at her.
"I have something for you." Jiyeon fumbled through her backpack and finally pulled out a gold box of chocolates. Beaming shyly, she held it out with both hands. Daehyun curiously gazed at the chocolates. "I wanted to give this to you. I know we haven't talked much but I hope you'll be able to open up to me soon. I want to know more about you. So…happy Valentine's Day, oppa. I hope you can accept my chocolates and be my Valentine." She expected him to take the chocolates and at least thank her.
But what he did next was unbelievable to her.
Daehyun walked away from her, leaving her embarrassed and ashamed.
*If I don't open up to Yeojin, what makes you think I'll open up to you? No one will ever be my Valentine but Yeojin.*
*He. Did. Not. Just. Walk. Away. From. Me.* Jiyeon whirled around and glared at him tearfully. *You dare reject me?! You think your Yeojin is so precious?! I'll get you back for that! I'll dirty that pure reputation of hers AND take you away from her! Then you'll only be able to see me!*
^ Back to Top