【O2】 My thoughts and conversations
by ThePrince
Tags donghae eunhae eunhyuk fantasy fluff superjunior | Report Content


'' So what are you going to name this little clown fish? ''
'' East Sea, or in other words, Donghae. ''
That was what the boy first said to me in his dream;
'' Isn't the East Sea the most beautiful thing you've ever seen? ''
Donghae's not too bad for a name, no?
'' Not bad for a name. ''
I told you, even appa agreed.
'' Thank you again. ''
I lit up a smile and gave a small smile.
'' What was that? ''
'' What was what? ''
'' You smiled. ''
'' I smile everyday. ''
'' Not everyday. ''
Okay, okay, this time I really did smile, and my gums were showing, too.
'' Now that's my son's famous smile. ''
'' The 'gummy' smile. ''
'' The 'gummy' smile! ''
He likes to call it the ''gummy smile'' because my gums would show everytime I smile.
'' Appa, but are you sure the fish's a male? I mean Donghae fits better for a boy. ''
'' Then let it be a boy, he's your friend now, is he not? ''
'' Yes, yes he is. ''
He ruffled my hair, causing it to form a weird shape.
-
Appa insisted on going to the super-market to get a fishbowl for Donghae.
He told me to treat Donghae like a human being, fishes should have feelings.
Just like ''Finding Nemo''.
That movie was okay, I mean Nemo was an idiot;
He knew he couldn't swim very well yet he disobeyed his dad.
I watched it once, and I regretted it.
Ah, remember one of the lines in the movie was; ''Fishes are friends, not food''?
Yea. . don't you even think about touching Donghae.
I transferred Donghae from the plastic bag into his new home, the fishbowl.
Appa and I also bought some tank accessories, to decorate it.
We bought some pebbles, green pebbles, and a smal little house, and the filter thingy so Donghae won't die.
I hope I can raise him until he becomes big, then I will set him free back into the ocean.
'' Donghae-ah, annyeong. I'm Eunhyuk, and you're my new friend, okay? ''
I was alone in my room.
Appa already retired into his bedroom, and here I am, talking to my new friend.
It may sounded weird, but when you have a friend, you talk to them, right?
'' You're so pretty, Donghae. Uh, don't take it the wrong way but I'm not gay. Complimenting others is common. Your orange skin looks so shiny under this dim moonlight. If you were a real human, I would caress your hair by now, I hope it'd feel smooth and soft. ''
My bed was settled right in the corner of the room where the main window is.
Everynight, as the moon awoke from the day nap, he would shine his light directly onto my bed.
Since I set Donghae's house on top of my bed, so I can reach him before crashing down the mattress and sleep, the light is now shining brightly upon him.
'' Donghae-ah, I want to join school with the other kids. I want to have some kind of education so people won't think that I am unknowledgable when I grow up. Do you think it's a good idea? Staying at home doing nothing really is boring, and I need some socializing in my life. I'm ten, I need communications. I can't stay home all day, all year. ''
I poured a poor amount of the fish food I bought into his bowl.
'' Enjoy your night snack, we'll talk more about this later okay? ''
I happily stared at him munching on the food with his pouting lips.
Then I crawled under the thick comforter and began to doze off.
-
I felt something running through my hair, very close to my scalp.
Oh my flying monkey, it can be a bug!
I opened my eyes instantly and I found appa sitting there smiling at me.
'' Ahhhhhhhh!!! ''
'' What? No need to scream, son, it's just me. ''
'' Why were you touching my hair? I thought it was a bug. ''
'' Haha, there's not much bugs in this area, Hyuk. ''
'' Well I'm relieved, I hate small creatures. ''
'' Donghae is small. ''
'' I mean pests, Donghae's a fish. ''
'' Nice save. ''
'' You're not working today? ''
'' No, it's Friday. You know I always have a-three-days weekends. ''
'' Oh, right, I forgot. ''
'' You wanna do something today? ''
'' Yeah, notebooks and pencils. ''
'' What? I asked you what to do, not things to buy. ''
'' Appa, I want to attend school. ''
'' That's shocking, what made you want to go so suddenly? ''
'' Well, I want to at least start my life with some basic informations and knowledge. ''
'' Okay. . . . . How about this? This school year will be over in four months, and three months later it will be August, when school registration will be held, I will then register you for sixth grade okay? I think they would accept you even though you didn't attend elementary school, it probably just nap and snacks. So what do you say, son? ''
'' Sounds good. ''
'' And you're a good kid, you'll be fine. ''
'' I'm not worried about the big kids, I'm just afraid that I might not catch up. ''
'' We'll take care of that matter later. So for now I want you to do something. ''
'' Go out to the decks and have rides again? ''
'' No, brush your teeth. ''
'' What? ''
'' We've been talking for awhile now, and your breath stinks. ''
'' You're cool, thanks. ''
'' Haha, no prob, Jimbob. Just go brush 'em. I'll feed Donghae, I bet he's hungry 'cause he's been hearing us talk for awhile. ''
'' No, it's okay, I'll feed him. ''
'' You hear that Donghae? Hyuk wants to feed you, just himself. ''
'' You're too much sometimes. ''
'' I'm just a cool dad, that's all. ''
Heheh, right.
---
SO SORRRYYY, I've been sick, and school, and AFF had problems like 2 weeks ago.
So sorry again for neglecting you guys and this fic! T__T
I still need to update my other fic. *Dramatic sighs*
Anyways, enjoy this update!
I'll update again soon! I promise!!
I feel bad for making you guys wait this long for my updates.
Enjoy these gifs! :D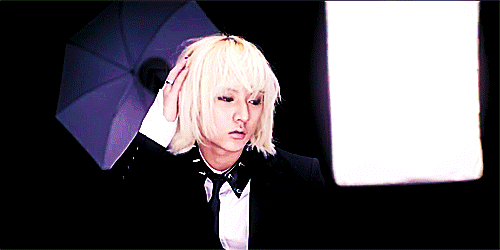 Don't worry, I like Baekho and Minhyun.
So Ren is all yours. LOL
But he is fabulous.
People are telling me Heechul and Taemin have a new rival Muahahaha.
^ Back to Top