37

Married by Day, Troubled by Night

by cuppieeee
2510 subscribers | 63094 views | Updated | Created
Tags drama infinite ljoe romance woohyun you | Report Content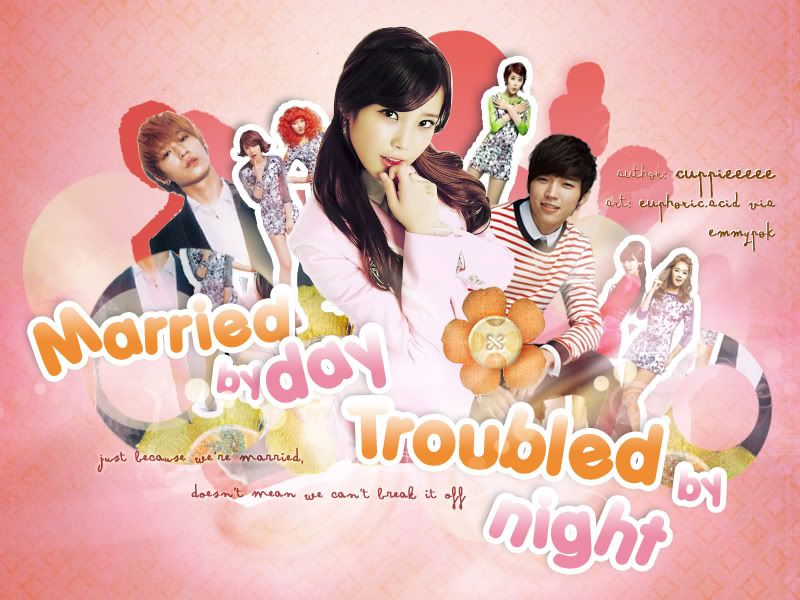 Characters
You, Woohyun and L.Joe
Description
Now taken and happily married, you're having the time of your life as Nam Woohyun's wife.
4minute isn't completely off your back yet. They're still trying to get in between you and Woohyun's love life. But then, a mysterious guy that you met at your wedding squeezes his way between you and Woohyun as well.
What's his motive?
How does he know you?
But more importantly… Who is he?
Foreword
Yo yo yo!! :DD 
The sequel is finally up everyone!! The highly anticipated sequel of 'Nerd by Day, Player by Night'. ~~
I hope you'll all enjoy the sequel just as much as the prequel, because this one will be a hell of a rollercoaster ride ;D (hopefully)
I'll be writing the story so you won't have to read the prequel to understand what's going. But it's alway optimum to read the prequel first, right? :D
<3
-----------------
You/Lee ~~~~ (Replace ~~~~ with your name :3)
-Happily married to your loving husband, Nam Woohyun
-Bagel girl (cute face, hot body)
-Now in Seoul University, majoring in beauty (Makeup)
Nam Woohyun
-Your perfect, loving husband
-In uni as well, but not manages Nam Corps with his dad
-Always wanting to have kids
-Owns the club 'Inspirit' now
L.Joe
-A mysterious guy that you met at your wedding
-Somehow knows your name, without you ever remembering seeing him
-More to be revealed…
4minute
-Attends the same university as you
-Continuing their rule as Queenka of their current campus
-Holds a grudge against you for lying to them
Infinite
-Still ruling the university campus as Kingkas 
There is also  a mystery character in the story ;) So be sure to stay tuned :)
Tweet
^ Back to Top