1

He Loves Me .... And My Twin Sister.

Completed!

by spadesandhearts and choivera |
3840 views | Updated | Created
Tags bigbang choiseunghyun korean romance twins ygent | Report Content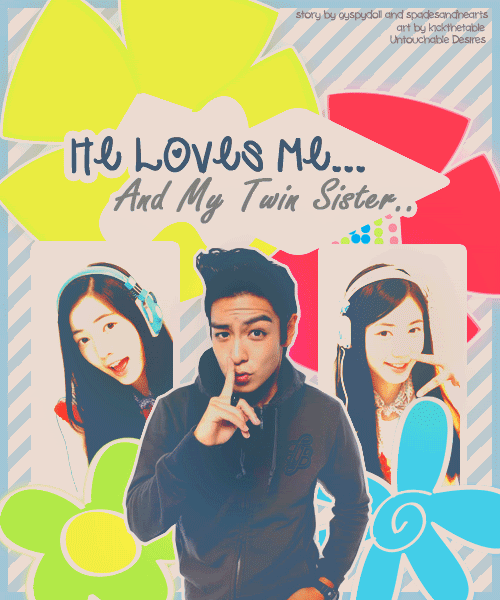 Characters
Lana & Hayley Kim [oc] // Choi Seunghyun (T.O.P.)
Description
"Loving both of you is breaking all the rules ..."
Lana & Hayley Kim are incredibly close twin sisters. Vowing to visit their mother's birth place, they move all the way to Seoul. Both girls hoping to start a new life and erase their past. Upon arrival, they both fall for the infamous TOP ; but will he be able to choose between the two? Can he choose?
Foreword
Lana //More of the keep-to-herself kinda girl unlike her twin sister Hayley. She's selective about who she trusts and besides her sister, no one knows her as well as her best friend Emma. But with Emma still in the States, how is she going to adapt to Seoul life? Can she break out of her little protective bubble and could talented rapper T.O.P help her along the way?
Hayley // Opposite of Lana, Hayley is open and free spirited. Although, she does have some trust issues, she opens up to people a lot more. Known to be the "crazy" twin; Seoul may not know how to handle her antics. T.O.P may just be what she needs to calm her down.
TOP (Seunghyun) // The apple of the twin's eyes. Extremely handsome and talented. He falls for both of the girls, but will he be able to choose?
*Thank you to kickthetable at Untouchable Desires' Grapic Shop for the poster & background.
Tweet
^ Back to Top