1

My 'Lovely' enemy+evil-Husband Cho Kyuhyun

★

Completed!

by FrozenFire and ScarletSapphire |
1013 subscribers | 115346 views | Updated | Created
Tags comedy kyuhyun leeteuk nominwoo romance sooyoung superjunior | Report Content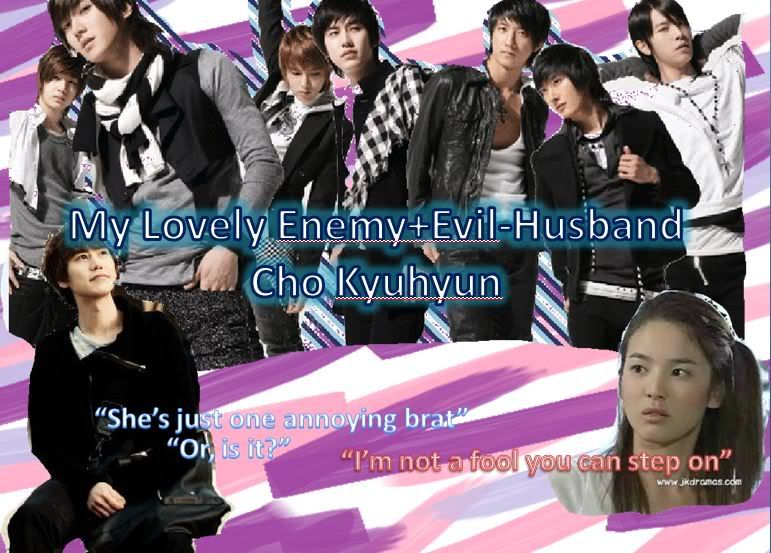 Characters
Cho Kyuhyun Leeteuk No Min Woo SooYoung Super Junior
Description
For the sake of my lovely parent, I was forced to marry with the heir of Cho Company. And I guess you already know who he is. Yes, Cho Kyuhyun the cute, innocent maknae of Super Junior, is my husband. I really really felt that my life is unfair because I was forced, and I hate my husband. Although I know you will said, "Yah! Cho Kyuhyun, is nice and cute maknae forever"  "Yah! Are you anti of Kyuhyun??" Or the worst, "Yah! Do you want to be ELFs enemy for saying Kyuhyun such that person?" But really, I'm not lying. if you don't believe, read this.
Foreword
The characters :
1) Cho Kyuhyun
- evil
-arrogant
-the heir of Cho's company
2) Kaitlyn Lee ( you, OC)
-she will protest if you ordered her
-her other characteristic wil come out soon
3)Kateryn Lee
-kyuhyun's lover
-didn't know kyuhyun was married, because she went to overseas at that time
-antagonist
-desired to take Kyuhyun back
4) No Min Woo
- Kaitlyn's best friend
- Kyuhyun's rival?
5)Super Junior
-what do you expect this group for? Their's characteristic will be shown soon.
P/S: My first time doing super junior's fanfic so, I'm sorry if it the characteristics in my story doesn't suit the real characteristics of  real super junior's members and also Kangin, Hankyung and Kibum, will show up, although they're not in Super junior anymore.
For your information Kaitlyn Lee is not Song Hye Kyo, I just used her picture. So do Kateryn Lee. She is not Choi Soo Young of SNSD. I hope you don't get misunderstood about this. Mianeh for the circumstances.
__________________________________
TRailer i'd made for this Story
Tweet
^ Back to Top