Enemy?! Great!
by FrozenFire and ScarletSapphire |
Tags comedy kyuhyun leeteuk nominwoo romance sooyoung superjunior | Report Content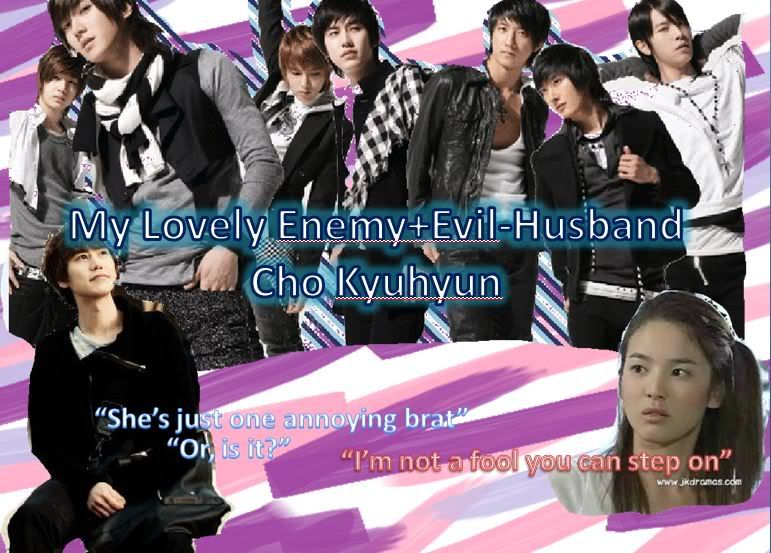 No one P.O.V
 The atmosphere become hot suddenly with Leeteuk staring at Kateryn unbelievably, Kyuhyun sighed heavily, Kateryn keep smirking at Kaitlyn and Kaitlyn keep smiling towards her.
"How are you doing unnie? You seem more tired than 5 hours ago" she asked.
Kateryn crossing her hands and flipped her hair. "Well, as you see I'm doing great after having some good time with my boyfriend." As she said, she hugged Kyuhyun's arm. Kyuhyun stunned for Kateryn's sudden action. He looked at Kateryn with what-are-you-doing-looks.
Kaitlyn looked at them and rolled her eyes quietly. Unfortunately, the evil Kateryn saw. "What's wrong with your eyes? Why are you keeping rolling them up and down?" she asked, acting like an innocent. Both Kyuhyun and Leeteuk looked at Kaitlyn.
"I..er..my eyes. Dust. Inside" She said while rubbed her eyes. "Oh I see" Kateryn said. "Leeteuk-oppa, why don't you help her by blwing the dust out?" Kateryn asked.
"BWOH?!" Kyuhyun and Leeteuk yelled in unison. Kateryn looked at Kyuhyun weirdly.
"Kyu-ah, why are you yelling?" She put her hand on Kyuhyun's forehead. She bit her lip. " I think you miss me, right Kyu?" as she said, she kiss Kyuhyun's cheek in front of Kaitlyn and Leeteuk.
Kyuhyun stunned. Kateryn smiled with victory. "By the way, why don't all of us have something to eat? I'm hungry, besides we can know each other better"
Leeteuk looked at Kaitlyn who is currently looked at the other side. Staring like there was an interesting show is happening now.
"Kaitlyn" He called her, but she didn't answered him.
"Kaitlyn, do you want to have something to eat?" he poked her, and she thought for a while.
"Are you okay? Do you want to follow us?" He asked again.
"I'm fine. But if I joined you guys, I'm afraid that I might disturbed  the love birds." She said.
Leeteuk stopped. "you don't have your meal yet right? Come join us. I'm afraid you might get gastric" as he said he dragged Kaitlyn leaving Kyuhyun and Kateryn behind. "They're really close, aren't they?" Kateryn said.
Kyuhyun slowly released her grip on his arm and stared at her. "Why did you do that?"
"What did I do?" She asked her back.
"Why did you said about boyfriend, and why suddenly you hugged my arm, and why did you at here?"
"Kyuhyun. I just. Huhh.... I miss you, okay? I don't want to be far from you"
"But, why did at the first place you told her that? It'll hurt her feelings you know"
"What? Am I misheard? You care about her? Kyuhyun-ah please wake up! You care about that immature kid? You don't love me anymore?" She asked him back. Her eyes filled  with fake tears.
"No..no don't cry. I don't mean that. I just.. don't want to hurt her feelings. I mean, she just a kid and I-" "You still care about her Kyu."
"I DON'T because I love you." He said as his hand played with Kateryn's hair.
"Me too. Now can we follow them? I'm hungry, oppa" Kateryn pouted. Kyuhyun chuckled. 'Oppa. She resist to call me oppa' he thought for himself.
Kyuhyun hold Kateryn's hand and they both walked to the restaurant.
-----------------------------------------------------------------------------------------------------------------
"Can I take your order sir?" the waiter asked. Luckily it is the waiter. If it a waitress and she is an ELF, Leeteuk will be in serious danger as he didn't forget to disguise himself.
"Kaitlyn, are you finish?" He asked Kaitlyn who was focusing on the menu.
"Err..er..give me fresh orange please? And...erm..chicken salad"  she said. The waiter took her order and waiting for Leeteuk's.
"Same as her" he said.
"please wait for 30 minutes sir, and your food will be ready" he said and walked.
Leeteuk stared at Kaitlyn who was looking at other direction. Suddenly she said, "I miss my mom"
"Pardon?" Leeteuk asked her back.
"I miss my mom. I want to go to my home."
Before Leeteuk could said anythhing to him, the KK couple coming in while smiling happily.
"You guys at here! Woah! We've been searching entire restaurant." Kateryn said as she took a seat beside Kaitlyn, while Kyuhyun is beside Leeteuk.
"We've take our order. Call the waiter and take your orders too" Leetuk said. Kyuhyun raised his hand and called one of the waiter.
"Yes sir? Can I help you?" he said and Kyuhyun said that they want to take their orders. Kaitlyn looked away and didn't give any attention to them. She stand up. Leeteuk looked at her. "Washroom" she said as she know what leeteuk going to ask her.
She walked in the washroom and washed her hands. After finished washing, she went out and bumped into a guy in front. "Sorry" she said and looked at the guy's face. She stunned.
Cute! She stared at him and didn't heard what the guy said to her. The guy chuckled and flicked his finger in front of her make her startled. "Sorry" she said again and stared down at the floor.
"Nevermind. Kenchana?" He asked.
"Ne, I'm okay."
"Cute" the guy said.
She stunned. Am I misheard? She looked at him and he excused himself. She clenched her fist while gritting her teeth. "I don't even have the chance to ask his name!" she walked back to her seat with happy face.
Kateryn P.O.V
I saw her happy face and all of sudden I feel annoyed. I smirked and looked at Kyuhyun who is sitting beside me. I rolled my eyes when I saw Kyuhyun keep looking at Kaitlyn. I mean, hey, your girlfriend is here! You are not supposed to look at other women except your girlfriend. I opened my bag and take out a thing which called 'fake mole'. (A/N: I don't know what its called, but most Indians wore it on their forehead).
"Kyuhyun-ah" I called Kyuhyun.
"Hmm?" Kyuhyun looked at me, but not only Kyuhyun,  a head was trying to eavesdrop our conversation.
"You have something at here" I said and put the fake mole right at Kyuhyun's cheek. "Really? Gomawo" He said and sipped his drink.
I glanced at him and couldn't help myself from burst out my laughter. Kyuhyun quickly looked at me. Both Kaitlyn and Leeteuk too. "Yah, Kateryn. What's going on?" He asked as his brows deepened. I looked at him and laughed again as I saw the Kyuhyun's 'fake mole' move as his cheek move too. Follow the rhythm.
"Wae??" He asked as he saw Kaitlyn and Leeteuk covered their mouth from bursting their laugh.
I pointed at his face as I can't bear to see him being questionable. I pointed at his face. "cute" I said between my laugh. Kyuhyun seem unsatisfied. He gets up and walked to the washroom.
"you did that?" Kaitlyn asked me. I nodded. "funny isn't it?" I replied, act to be friendly in front of leeteuk oppa.
Kaitlyn gave me thumbs up. "good job, unnie. I love it!" she said and we both laughed together. Leeteuk looked at us, and said "Girls, I'm going to check on our maknae. Afraid that any antis going to get him"
"Okay, take your time oppa" I said and he nodded. Well, I do need time, to talk with my unofficial enemy.
After make sure that leeteuk far from us, I stopped laughing. Kaitlyn too. She looked at me. The atmosphere become hot suddenly. There is an awkward feeling between us.
"So you already know about us huh?" I started the conversation.
"Ne? Ohh..yes" as she said she looked down.
"Kyu told you" I said again, while crossing my hand, and this time, my tone became hard a little bit hard than before.
She nodded. "So do I" I said.
"Sorry?" She stared at me. I looked at her back. I examined her face. Silently, I admitted that she look cute as her eyelashes –
"unnie? Are you okay?"  She asked me, make me startled.
I sighed. "It's not about me, but you. Kyuhyun told me about your contract marriage." I said revealed her secret. She stunned.
"He...he...told you?" she stuttered. I nodded.
"Babo"
"What?" I asked.
"Nothing." She smiled at me. I feel annoyed again.
"Don't smile at me" clearly the words went out from my mouth.
"Unnie?" she looked at me weirdly. I guess this is the right time to told her to stay away from Kyuhyun.
"Kid, listen here. I know you already fallen for Kyuhyun, but I advised you, keep your feeling aside because you might hurt by me. You also know that he is mine, so stay aaway from him if you want to have long life. Araso?"
"What do you mean?"  She asked.
"You.. are my ENEMY" I said and emphasizing ENEMY word.
"Enemy? What are you talking about Kateryn?" A voice heard make me startled. Oh crap! Nightmare!
--------------------------
A/N : Hey guys! It's been a week I'm not updating this fic. Also to my other fics. Sorry to my subscribers. I don't have much time. You know, everyday I got my sleep for only 4 hours. Oh disaster! My eyes already got dark round circle around it. TT.TT What should I do??!
Oh, by the way first of all, as usual. Thanks to those who comments, reads, views and subscribes my story. Thanks for your effort makes my fic NEARLY 50000 viewers!Really! It is my first fic being viewed by so many readers! Heheh.
Second, just to inform you guys that Kaitlyn isn't Song Hye Kyo, just her face is the same as her. So do Kateryn. She isn't Soo Young. Ohh! I want make a poll. Well, another changing of plot again *sigh*
Sorry, but my co-author decide that Min Woo is just a cameo. His place will be taken by Ki Bum Super Junior. He will show up later. But no worry, Min Woo still stay in the dorm, and still Kaitlyn's bestfriend. Ermm, just voting and I will think about it later after I got the result. Sorry again.
Lastly,
DO COMMENT MORE!!!
SUBSCRIBE!!!
LET's BE FRIENDS!
VOTE HERE!
^ Back to Top