The guy.....
by FrozenFire and ScarletSapphire |
Tags comedy kyuhyun leeteuk nominwoo romance sooyoung superjunior | Report Content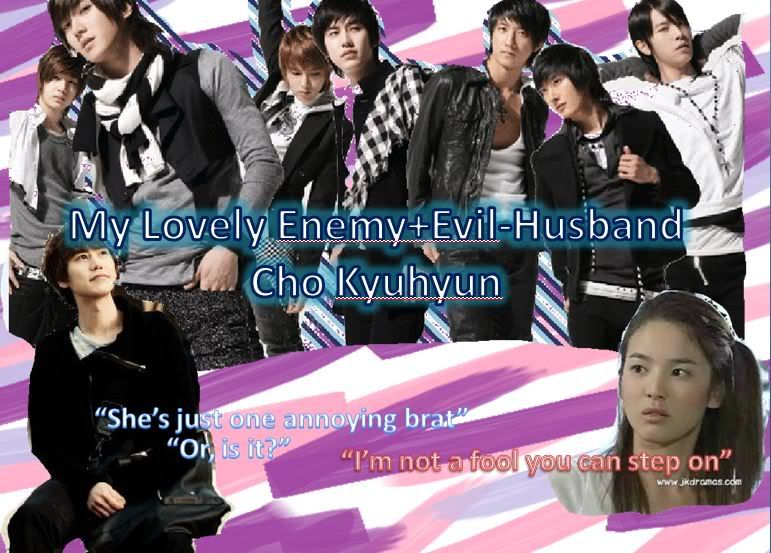 Narrator P.O.V
The street was quiet. If you walk there, nothing are seen except dust rolling on the road (Like in Spongebob Squarepant). But the silence was broken with an
"I'M GONNA DIE!!!!!" scream from a girl, running like mad from four, may I say, the most extremely handsome guys I've met in my life~<3! Ehem, sorry. From four guys who is hot on their trail.
Kyuhyun P.O.V
'Why in the world is she's so fast? Fast runner, loud voice, ungirly strength, violent. Is there a girl like her? With those complete package, she'snot a girl.' I thought to myself while running, and I'm the LAST.
An idea popped up in my mind. I smirked and ran into a corner at my right, separating from the others. If she use a trick to run away from us, I'm going to use a trick too,
A shortcut.
Kaitlyn P.O.V
I think I'm the fastest among them. Heheh, I'm starting to losing them. Yahoo!!!  I'm free again!!!!
'They might caught me if I go back to the dorm. I'm gonna sleep at Hee Jin's house tonight. Clothes... I can borrow hers.' I started to plan while running.
Suddenly, I bumped into someone. I glanced at him and intend to ask for an apology, but quickly change my mind when I saw his face. For my pride's sake, I better run away from this guy.
--------------------
A/N : Hello Guys! Hehe sorry short chapter, BUT I promise to update 2 more chapters if five of you guys can guess who is the guy, that Kaitlyn bumped into correctly. Heheh, a bit mean isn't it? Hehe, guess correctly! Good Luck!
^ Back to Top