Oppa is hurt....Oppa is really hurt
by FrozenFire and ScarletSapphire |
Tags comedy kyuhyun leeteuk nominwoo romance sooyoung superjunior | Report Content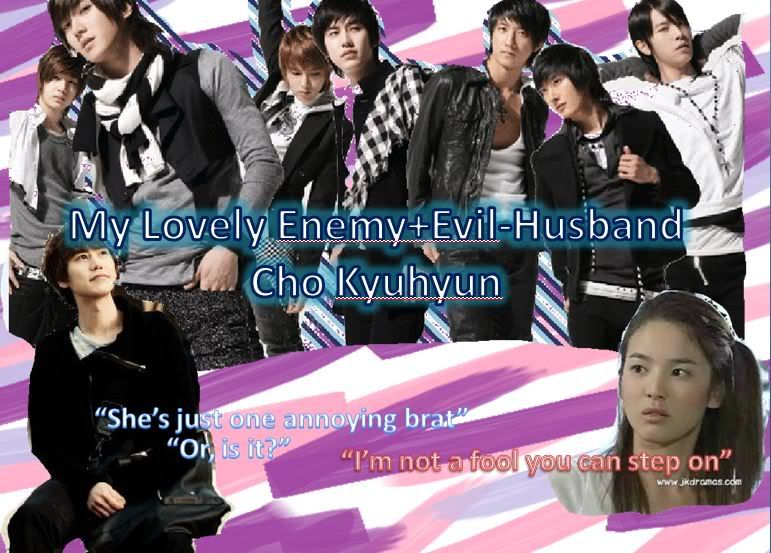 ~.~.~.~.Flashback~.~.~.~
"Oppa! Oppa!" Little Sung Ju ran to her daydreaming brother.
"Oppa" She called once again, make Jung Soo wake up from his dream. "Yah! What's up? Can't you see I'm busy?" he yelled at his younger sister.
She ignored his yelling, "Oppa! Do you believe me if I told you I've a bestfriend that look alike me?"
"What? A person look alike you? Really? Is she exist? Or it just your imagination?" Jung Soo denied while crossing his hands.
She smack her brother's hand, make him yell in pain. "Its true oppa! Even, my teacher call us twin. I also call her twin, because we really look alike. The way we laugh, the way we smile and the way we talk, its all the same. Even some of my classmate misunderstand who is me, and who is she. " She explained.
"I don't believe" Jung Soo said while staring at his sister.
"I'll show her to you tomorrow. I also told her about you, that I've a brother, who will be a superstar soon and she said that she can't wait to see you" little Sung Ju said while doing aegyo to her oppa.
"Araso araso. Tomorrow, oppa'll fetch you at your school, okay? Now, my sweety little cute sister, go to sleep. It's already late" Jung Soo patted his sister's head and pointed to the clock nearby, which show 12:30 am.
"Araso. Oppa, don't sleep too late okay? You've to take care of your health too, despite your dream, okay? Bye, good night. Sweet dream" She said and planted her last kiss on Jung Soo's cheek.
Jung Soo smiled when his sister run to her room. He rubbed his cheek, which Sung Ju kissed just now, and mumbled to himself. "Why did I keep having bad feeling about her?"
*Next day
"Sung Ju-ah, are you sure your oppa coming?" the 'twin' asked while packing her beg.
"Yes, I'm pretty sure. Why? You don't believe your twin anymore?" The confident little Sung Ju answer, but little sulking towards her twin.
"No, I believe you, Of course. We are twin right?" She smiled then continue, "But, I don't know why, I keep having a bad feeling. A feeling that this will be the last time I see you. I'm afraid."
"Nahh, its okay. Its just a feeling though. Nothing bad gonna happen. Trust me." Sung Ju said while patting  her twin's back.
"Well, okay I'll ignore this bad feeling thing. By the way, Sung Ju-ah, why don't you go first? I want to go to the toilet for a while. I'll meet you at the gate in 15 minutes. Wait for me, okay?"
"Okay, take your time." Sung Ju smiled and watched her bestfriend walked to the toilet.
'Twin, even I having this bad feeling thing. I just don't know what will happen but if this is the last time I see you, then Goodbye and live well, twin" She sighed and walked to the gate.
"Oppa!" She screamed calling Jung Soo, who is wandering around.
"yah, Sung Ju." He smiled and hugged his sister. Then he looked around, when he see his sister alone.
"Eh? Where is your 'twin'? You said that you want to show her to me? AH! I know. You lie right? You just want me to fetch you right? Ah, you just dreaming. What twin? Twin. HAHAH" Jung Soo said while chuckled.
Sung Ju stared at her brother. "I'M NOT LYING!!!" She screamed and make Jung Soo stop laughing.
"Araso araso." He said while crossing his hands.
Sung Ju looked around and she saw her 'twin', opposite her.' "There she is." She pointed to the road in front of her.
"TWIN!! TWIN!!" She yelled. "TWIN!! HERE!!" Without looking around, she ran across the road to get her 'twin'. Jung Soo couldn't stop his sister when he saw a big truck coming towards Sung Ju.
 "SUNG JU!!!!!!!!!!!!!!!!!" He screamed when the truck crashed Sung Ju tiny body.
The twin looked when she heard someone yelled Sung Ju and she dropped down to the floor. "Twin." She said while her tears flowing freely through her chubby cheeks. She stared blankly at the dead body of her twin. She shivered. "Tw..tw..twin. Goodbye" She shuttered and her body is so weak, she can't even stand up and cries there.
Jung Soo ran toward his sister and cried when he hugged the dead body of Sung Ju. "Sung Ju!" He screamed again, but that not gonna bring his sister back.
~.~.~.~.End of flashback~.~.~.~
 Tears dropping and running freely from his cheeks. 'Sung Ju-ah. Oppa is hurt. Oppa really hurt' he said while staring at her picture.
"Oppa wish you do well in there"
^ Back to Top