Doom day.
by B1andB2 and b3some |
Tags comedy jonghyun key romance shinee | Report Content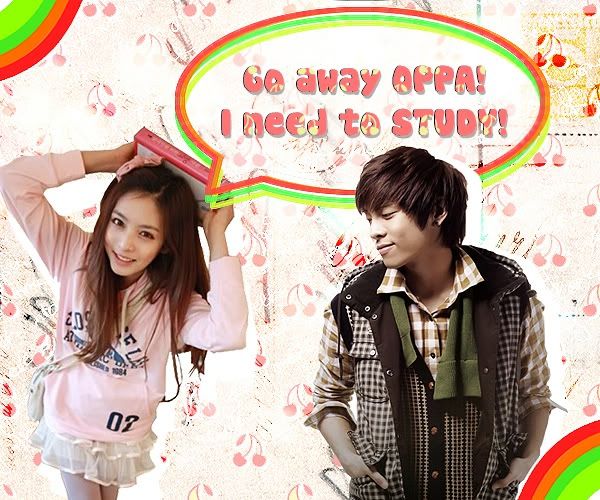 Ch 34
DaWun's P.O.V
I didn't speak to Jonghyun for the rest of the week.
Not because I didn't want to, but because I simply didn't know what to say to him after our…our…our…
In fact, I don't even know what to call it.
Our thing.
In the case that he was to confront me, what would I say?
Would I tell him that I sympathised him?
Would I apologise?
In fact, he should be the one apologising!
After all, it was his fault that all this happened!
...wasn't it?
ARGH!
Stupid Jonghyun, stupid, stupid dinohead.
Oomph!
Whilst I was thinking to myself, I seemed to have bumped into a very giddy Sungyeon, who had a monster grin plastered on her face.
"Yah, what's with that face, did you and Taemin have a make out session?"  Even with my teasing, her smile didn't fail to falter.
"DaWun! The test results are up!!! Omo! I hope I got a high rank! I studied so hard for the test ! Omgomgomgomg!"  She was grabbing me by the shoulders, and jumping up and down, before dragging me to the notice board.
I groaned, following Sungyeon.
This was just like a déjà vu, of when the results were up last month, except she and I had swapped roles, it wasn't me that was dragging Sungyeon to see the ranking, but in fact the other way around.
As we approached the list, I suddenly had a sick feeling in my stomach.  Like last time, there were people swarming the notice board, like flies around a rotten piece of meat.
There were screams, of happiness, and despair, as students exited from the crowd – either jumping up and down with joy, or crying.
A girl, who I recognised to be in my class walked past us, her friend's arm around her shoulder.
She was crying.
"It's okay Heena, at least you're not in the bottom half."  Her friend comforted her.
"Poor Heena, she did quite well last time! 16th? I think?" Sungyeon whispered to me. I gulped.
"Sungyeon?" I turned to face her.
"Neh? What is it DaWun?"
"I…I…I don't think I can do this." I whispered to her. A confused look clouded her face.
"What? You mean look at your ranking? Why? You'll probably be number 1 again!"
"I don't know about that…you saw how Heena's rank lowered  dramatically. And recently, I haven't been studying very well…what if.." my voice cracked.
"Relax! What's the worst that can happen? It's only a ranking…" Sungyeon pulled me into a hug. "Don't worry!"
She gave me a smile, and all of a sudden I felt a lot better.
Maybe smiles are contagious after all.
With a new found confidence, I strolled over to the notice board, which by now had had cleared a bit, with Sungyeon by my side.
"Omgosh! DaWun! 5TH! I CAME 5TH! KYAAA!" Sungyeon was literally jumping around in circles. She turned to give me a hug.
But stopped when she saw my face.
"1…
2…
3…
4…
5…" I mumbled, counting the number of names in front of mine.
"6…
7…
8…
9…
10.."
There were 10 people in front of me.
That meant.
"Oh, DaWun…you came…" There was a concerned look in Sungyeon eyes.
"Eleventh." My voice was but a mere whisper.
I didn't know how I was standing there, looking at the two 1's next to my name. Somehow, it just didn't look right, there should only be one 1 next to my name….
"DaWun?" I heard Sungyeon breath beside me.
 "Everyone's gone…"  I snapped out of my daze and to my surprise it was just Sungyeon and me left at the notice board.
"How long have I been standing here?" I asked, confused.
"Around 20 minutes, class is about to start soon. You still haven't eaten." I checked my watch and she was indeed right, it was 1:10, 5 minutes until lunch ended.
"I'm sorry, Sungyeon, you didn't have to stay with me, you should've have gone to eat lunch with...  " I looked at the ground.
"It's okay, DaWun. Don't worry too much about it, I mean, what's the worst that could happen? Plus, it's not your last! 11this still really good!" She laughed before giving me a hug.
"Yeah…" I forced a laugh back.
 "Lee DaWun, would you please report to the principal's office."  The loudspeaker announced.
I froze.
I spoke too soon.
There sick feeling in my stomach came back again, and I breathing became a little constricted.
Next to me, I felt Sungyeon stiffen up.
~~~
"DaWun, don't worry. Nothing bad is going to happen."
 I looked at Sungyeon.
"Thanks for coming with me."
Hesitantly, I brought a hand up to knock on the principal's door.                                        
"Come in." The booming voice of the principal resounded from the room.
"Good luck." I heard Sungyeon whisper. "Hwaiting!"
I gulped and took a deep breath.
1….
2…
3…
I opened the door.
"Oh DaWun, I've been expecting you…come take a seat. I was hoping we could discuss something concerning your academic performance."
Sungyeon's P.O.V
I gasped.
Was DaWun…
No, it can't be.
Was she going to get kicked out of Shinwa?!
I had to tell Jonghyun.
Yes, I may be shy, but I'm not an idiot. It's obvious that Jonghyun cares deeply for DaWun, and vice versa. I don't know why they haven't been talking lately…I would ask DaWun, but it's probably something private.
And I don't like intruding in people's personal lives…
I ran through the halls. Stuff class.
12A….
12B…
12C…
Ah!
12D.
Jonghyun's class.
Tentatively I knocked on the door before entering.
"Yes?" The teacher, who sported a pair of thick glasses looked at me.
"Sorry for interrupting your class teacher-shi." I bowed before the class for Jonghyun. I saw him at the back of the class, leaning back on his chair.
"B-b-but can Jonghyun-shi please be excused." I bowed again, not caring that I looked stupid.
"Why may I ask?" The teacher asked me.
"Um, you see. His…his…parents have come to talk something important with Jonghyun-shi"
"Parents?" Jonghyun raised an eyebrow.
"Neh, so teacher, may you please excuse Jonghyun for a minute. Thank you." And yes, I bowed again. Aish, I have to stop doing that.
The teacher pointed to Jonghyun, and nodded her head in my direction. Jonghyun stook up.
"Thank you, Ms Lee."  He bowed before exiting the class.
"Yah, my parents really come?" he asked me when we were outside.
"No…sorry for interrupting your class, Jonghyun…but something really important has happened, or is going to happen."
Jonghyun's P.O.V
I looked at Sungyeon.
"What?" I asked her. I knew it was too good to be true, my parenta coming to visit me at school.
"DaWun…" Sungyeon started. I cut her off.
"Look, sorry, Sungyeon, but I don't want anything to do with her at the moment." I sighed and started walking back towards the classroom.
"She's at the principal's office."
I stopped walking.
"Talking about her academic results with the principal…"
I turned around.
"And?"
"And, I think that she might be in trouble Jonghyun. She came 11ththis month."
In my mind I was putting 2 and 2 together.
DaWun….
Principal…
Academic results…
11th…
And then I start running, Sungyeon right behind me.
^ Back to Top