I want you
by dbskgirl4ever
Tags korean ljoe romance teentop | Report Content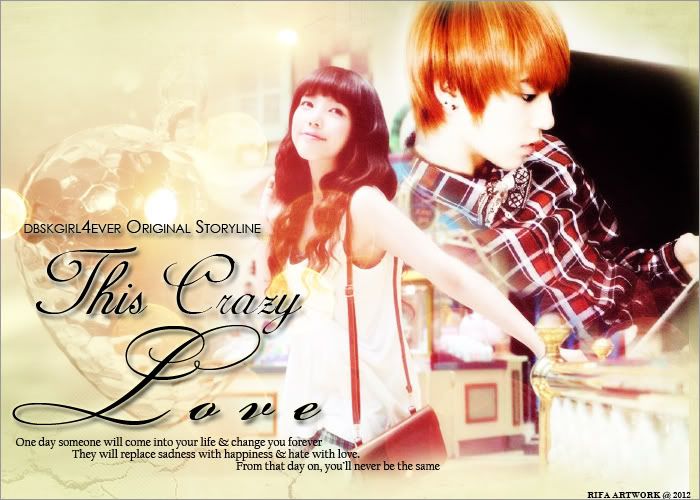 http://www.youtube.com/watch?v=6yFS0QlJmZg
-------
You and Zelo were walking towards your apartment. He said some jokes now and then that would make you laugh loudly.
"So…did you have fun today?" Zelo asked.
You beamed and nodded, "I did. It was great to visit Lotte World again after so many years."
"We should go again." He said. "We should." You nodded in agreement.
Zelo looked up, "Whoa, you live here now?" "Mmmhmm." You nodded.
"Big change." He noted. "Yeah." You smiled.
The two of you faced each other. "Thanks again, Zelo." You said.
"No problem. And here's your bunny." Zelo pulled the bunny off his back and handed him to you. He wrapped your arms tightly around it and smiled near your face, "Hold onto it when you sleep tonight, okay?"
You let out a light giggle and nodded, "Okay."
"Sweet dreams, Saerom." Zelo said. Before you could tell him the same, he leaned in and kissed your forehead.
Your eyes widened and your heart stopped beating. *Did he just…?* Slowly you looked up at him with a slightly open mouth.
"See you on Monday." Zelo winked and walked away, leaving you feeling confused and lost. *Does Zelo…like me?*
 -------------
Misool's car slowed down by the apartment. "Is it here? Huh." She looked up at the bright apartment complex, "No wonder you stay with your job. It pays you pretty well." L. Joe was about to get out when she said, "Hold up. Isn't that Saerom?"
Instantly he turned his head. At first he didn't see you. But the bunny plushie was moved out of the way and he saw you AND Zelo.
L. Joe naturally grew angry and jealous. His eyebrows furrowed defensively. *What the hell is he doing here again?!*
Zelo said something to you and you nodded. Then he bent down and kissed your forehead. Your face was one of shock.
L. Joe could've killed Zelo at the moment. *The bastard has the nerve to actually kiss her?*
Misool smirked, "Interesting. So Saerom has a boyfriend?" "Go home." L. Joe muttered.
Misool pouted, "But I want to watch the drama-" "GO!" L. Joe snarled and got out with a slam of the door.
"Fine!" Misool snarled. She turned the engine back on and sped off.
"See you on Monday." Zelo winked and walked away. "…Bye." You whispered, dazed.
"SAEROM!" A voice barked.
You spun around and your eyes widened. The plushie dropped onto the ground. "Oppa!" You quickly picked up the bunny and awkwardly ran over. "W-when did you come back?"
"Where the hell were you the entire day?" L. Joe asked. "Lotte World." You bit your lip.
"With him?!" L. Joe snarled. You flinched, "Y-you saw Zelo?" *Oh no! He didn't see the kiss, did he?!*
L. Joe wanted to ask why but that would make him either seem possessive or belittling. "Do you know how many times I called you?!" "Eh?! Really?!" You quickly pulled out your phone and your eyes bulged out, "Omo! Oppa, mianhae! I didn't hear it!"
"I thought you weren't going out with him." L. Joe mumbled. "I'm not! It was just a friend-" "You know this is a date, right?" Zelo's words made you puzzled. *He said it was but was he being serious?*
"Whatever. Next time answer your phone. And I don't want you out late at night with that yellow giant, araso?" L. Joe snapped.
You nodded eagerly, "Araso. I promise."
L. Joe gave you a look and went inside, "Oppa, wait!" You quickly followed him. The two of you entered the apartment. "Did you eat yet?" "I'm not hungry." He muttered.
"Then I'll make you a snack! How about my special shaved ice?! Hold on! Let me go make it right now!" You put your purse and the bunny on the sofa and darted into the kitchen.
L. Joe stared at the bunny. He hated it. It reminded him of Zelo. When you weren't looking, L. Joe punched it right in the face and the doll toppled onto the ground.
----
You and L. Joe were sitting on the couch with the bowl of shaved ice in the middle. You bit onto your spoon and waited for L. Joe to finish scooping up another bite of the yummy treat. You dipped your spoon into the shaved ice and took a big bite. "Yum! It's so good! Maybe I should open up a shaved ice shop, oppa? You could work at the cashier and I'll make the shaved ice! What do you say, partner?" You held out your hand.
L. Joe lightly slapped your hand away, "Focus on school."
You stuck your tongue out and continued to eat the shaved ice. "It's hard, huh? Your work?"
L. Joe froze. He stared at you with wide eyes. *Did she find out about my job?!*
You gazed at him, "You work so hard at the bar, oppa. You leave in the morning and don't come back until late."
L. Joe silently exhaled in relief *She doesn't know.*
"Isn't it tiring?" You asked. "It's f-fine." He stammered.
"Don't lie. I know it's hard work. Let me massage your hand." Before he could protest, you took his hand and gently kneaded it. At your contact, his heart started pumping faster and louder. The blood rushed throughout his body and his insides felt gooey and warm.
"Just wait a little more, oppa. I'll be able to help you soon. But for now, if you need me to do anything, all you have to do is ask." You offered.
L. Joe's gaze shifted to your lips. He knew what he wanted, yet he didn't have the courage to ask.
You smiled and squeezed his hand one last time before letting go. You reached for the remote control and turned the TV on.
Just like that the mood was gone.
L. Joe sighed and dropped his spoon into the bowl. Suddenly he wasn't so hungry anymore.
Time passed by without another conversation. L. Joe glanced at the clock. "Hey, it's 1, already. You should sleep-"
He stopped. You had already fallen asleep on the couch.
L. Joe softened *Babo, not here.* He turned the TV off.
L. Joe gathered in you in his arms and carried you to your bedroom. He laid you on the bed and tucked the blanket over you. L. Joe reached out and stroked your face. *You babo. All I ever wanted is you. If I ask, will you give yourself to me? Will you look at me as a man and not as a brother?*
^ Back to Top