One Condition.
Rated M
by EverlastingDream18
Tags bigbang donghae gdragon jiyong kwonjiyong you | Report Content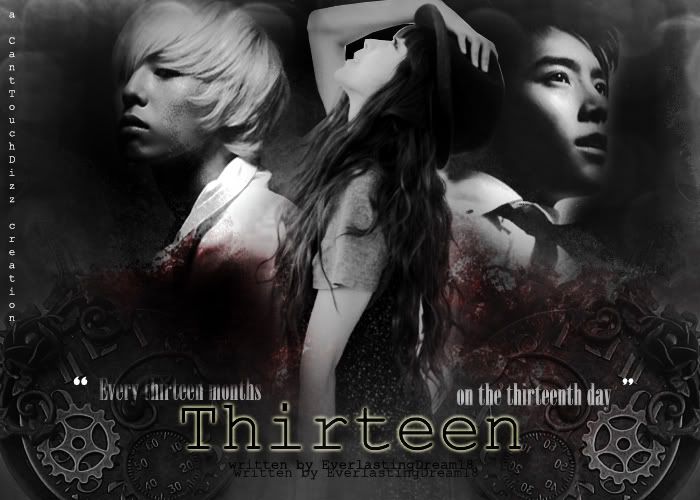 "How did you sleep?" Stretching my fully rested muscles, I tugged the warm duvet closer to my body. 
"Good. Way too good." Rising from the soft mattress, ruffling my hair as I found the source of the voice conversing with me. Elbows rested on knees, staring lovingly at me.
"Hana called your phone earlier. If you don't mind, I told her you stayed the night here."
"Oh, it's okay. Thank you for letting me stay over last night. I was a mess and I just needed a shoulder to cry on. But I must say, it was great catching up with you last night. If only things weren't as complicated like when we were younger…"
"True~Last night, I realized something which I can't bare the fact of." Taking a seat beside me, he took his hand in mine.
I know what's going to happen and after what happened with the other person last night, I'll have to be two times as strong. His touch wasn't as warm and compassionate, though the feeling was there I know things are going to be different from now on.
"Lee Jaehyun, I don't know if I've told you this but I love you. I always have and always will until the moment it's time for me to leave this world…But things aren't what they seem. I came back home thinking that I'd have the girl of my dreams waiting for me with open arms. Which did happen, but only for the wrong reasons. Jae, I'll always be here for you whenever you need me but this relationship we have is unhealthy. Not only because we're borderlining the friend and lover boundary but because the girl of my dreams is meant for someone else. The way we kissed last night just proved it all. You're meant to be happy. I'll be able to give you happiness but not the way that Jiyong can. You should've seen the look on his face. He's hurt, Jae." Tears filling both of our eyes, falling without our control. Cupping the sides of my face, looking intently into my eyes.
"Jae, I don't want you to cry. In this lifetime, I'm meant to stand beside you as a friend and support system. Maybe in the next we'll be together but in this, you're meant to be a Kwon. Jiyong will give you a lifetime of happiness, something I know I won't be able to do. Remember what the ahjumma that used to babysit us used to say?"
"There's your husband and then there's your soulmate. Two entirely different people." We both recited in unison. Gasping for air as we burst into laughter, he left the room and came back with my phone.
"Here, call him back and apologize."
"Apologize?! He was the one that wanted to become friends and when I do, he turns to someone else for comfort. Totally treating me like a piece of sh--"
"Stop. Stop being so stubborn. Do you think I want to give you up and let him love you?! If it were my choice, I'd take you and move as far as possible. Unlike you I'm not stubborn and notice what is in front of my eyes. Open your eyes, Jae! I'm practically committing suicide by letting you go, so please. Do this for me and to let me have a peace of mind!" Giving me the silent treatment, he took a seat on the chair beside me and covered his mouth. Doing this all for him, I dialed Jiyong's number.
"Hello?"
"Jiyong, it's Jaehyun."
"Jaehyun? I don't know anyone of that name."
"Stop being so stupid. Where are you?"
"Why do you care? Aren't you off making out with your boyfriend?" Cold. That's the only way to explain the entire tone of our conversation.
"Jiyong, we're going in circles here. But you know what? I'll be the mature one and apologize. I'm sorry for toying with your emotions when you're undergoing criticism and pressure from the public. I was being foolish and I know I shouldn't have done that but I did. I'm sorry. Even if you want me out of your life, please accept this apology." I put my honest sincerity into that apology and what do I get in return? A dead line.
"What an ass." I muttered to myself, flying my phone across the room.
"He hung up didn't he?" Picking up my battered phone from the corner of the room, dusting it off a bit before placing it into my bag.
"I seriously hate him. First he leaves me at the cafe then he asks for another girl knowing that I was there, pleading for him to let me in. I hate him! I hate that bastard!" Angrily getting up, I walked over to my purse about to leave.
"Oppa, thank you for everything~I'll be on my way now." 
"You're welcome. Do you want me to take you back to your apartmen-" Before he could finish his offer, his phone rang. Trying to listen to what the conversation is about, failing in the end.
"What was it about?"
"Hana's on her way to drop off your outfit for today and to take you to the office immediately. She asked that you shower before she gets here. The bathroom's around the corner~" Pointing down the hall, I nodded. As I was about to enter the bathroom, the doorbell rung.
"Where the hell is she?!" Before I knew it, I was yanked out of the dorm. Leaving behind a shocked and speechless oppa. 
My mind in a twirl, I got a good look at my 'kidnapper' once the car sped off.
"Jiyong?! What the hell? How did you find me here?" 
"Hello~I'm talking to you! What the hell are you doing here? I hate you. I hope your career goes down the drain, leaving you hopeless, you stuck up asshole!" Venting and raging all of my frustrations caused by him, catching me off guard when he intertwined his hand with mine.
"Just shut up. Shut up and leave me in charge." I can't believe this. He hung up on me and now he expects me to let him to whatever he wants. I hate him. There's no other word for it.
"I need to work today. Unlike you, I need to support myself by physically being there and to work my ass off."
"Can you just be quiet? I called hyung and he gave you and I the day off."
"Are you serious? I have meetings booked the entire day and a deadline that must be finished when I haven't even started! If I lose my job, I'm blaming this all on you." Pushing his hand to the side, so tempted to just open the door and jump out. This is torture.
"You won't lose your job. As for your apology, you shouldn't be the one saying sorry. I purposely called that girl over just to piss you off but instead I ended up being hurt. I went to chase after you when I heard you left and then I saw you with Donghae hyung…I don't want to lose you, Jae. I'll fight for you starting this very moment. My heart can't stand the sight of seeing you in the arms of another man. But if you're happy with him I guess there's nothing I can do about it…But to let you go."
"I love him, Jiyong….But that love I feel for him is different from the way I feel about you. In my head, I'll rage and rage about how much I hate you while my heart's telling me otherwise. This relationship we have is fast-paced and I know that in the end we'll either end up extremely happy or miserable." Car coming to a stop, he got out and helped me out of the car.
"But if it's you, I'm willing to take that risk." Pulling me into an embrace, leaving a soft kiss on my forehead. "Jae, stay with me for today please? I'll make everything right, like the way things should have been from the beginning." 
"We'll make things right. You and I." Correcting him, he intertwined his hand in mine, leading me up to the dorm.
"Uhm…Where's all the other members?" I asked, plopping myself to sit at the foot of the bed.
"They're all at the company. For the meeting about YG Family concert."
"What?! Then why aren't you there? Why am I not there? Jiyong, we need to go. Now! Hana unnie mentioned something about a meeting today but I didn't think it was regarding everyone. I'm fired."
"No you're not. Hyung allowed us a partial day off. The other artists are off at their schedules and won't be there until late. For now, we can do whatever we want~" As soon as he said that, I felt myself falling back. My back meeting the bed, immediately feeling awkward when I realized that he was hovered over me.
"Jiyong…I need to freshen up…I can't go to the meeting or even through the day like this..."
"Aish! Fine~While you freshen up, I'll go out and get something pretty for my baby~"
"Your baby?"
"Mhmm..Come on, go get freshened up~" Pulling me up, I made my way into the bathroom. During the entire time I couldn't help but think about how different our relationship is from others. We aren't official quite yet but I'm feeling that the wait won't be that long. The unsettled feelings between Donghae oppa and I are finally cleared. He'll always be there for me and vice versa. Eventually he'll find someone to love, someone that will love him more than I ever could. Life couldn't get any better for me right now. 
"Jae~We have six hours until meet time."
"I know, but I want to look my best. Everyone's getting together for the first time and I need to impress." Still in my bathrobe, I sat in front of the mirror, applying a bit of foundation.
"Can you do that later? I couldn't get any sleep last night all because of you~" He whispered into my ear, wrapping his arms around my waist from behind.
"Awwe~Is Jiyong-ie tired?"
"Mhmm…"
"Aigoo~Fine. But I'm not risking anything by sleeping just in this."  
"You can wear a pair of my sweats. Then you can doll yourself up with the clothes I bought." Presence escaping into the closet, soon returning with a pair of clothes. Rushing over to look for undergarments in the shopping bag, locking the bathroom door behind me.
"Jae…" Groggily asking, burying my face deeper into his chest. "Jae, I think this was a bad idea…"
"What's a bad idea?"
"Us falling asleep together, like this. You're spoiling me and I won't be able to fall asleep without your touch." 
"Aigoo~I can stay here if you want." 
"Really?" Lifting my chin to look him in the eyes, his twinkling in excitement.
"No. I don't want to get in trouble by Sajangnim. I'd offer you to stay over at my place but my unnie doesn't like you~" Scooting up to be at eye level with him, I wrapped my arms around his neck.
"Why doesn't she like me?" I could sense the sadness in his tone.
"She always had this dream of Donghae and I getting married and having babies together."
"I'll get her to like me and dream of us having babies together."
"Aish~Enough already~Let's just go to sleep, neh?" Roles reversed, he buried his face into my chest as I ran my fingers through his soft hair. I wish time could stop and we'd be able to stay like this forever. But as we all know, things can't and we must face reality which evidently means, work.
"Jiyong…Jiyong…Time to wake up…We have to be there in an hour and it takes forty-five minutes to get there without the traffic. Come on~" Trying my best to wake him up, only for his body weight to create another obstacle from getting him to wake up.
"Please wake up~"
"Not until you say the magic word~" He said, hugging me tighter. Is he serious? My job will be gone if I don't say it? Aish~If it's my job on the line, I'll do it."
"Op..Oppa~Oppa~Wake up~" Still not waking up, I ruffled my hair once I figured out what the 'magic' word is. "Baby~Wake up. Baby~Wake up. Please~" His eyes shooting open, he scooped me into his arms, and headed into the walk-in closet.
"Baby..I need to get my books from my office. You go in first, okay?" Releasing myself from our intertwined hands as we got out of the elevator, he refused to let me take a step away from him.
"How about I follow you? I haven't seen what your office looks like."
"I don't want to risk Hana unnie catching us together. It'll be really quick. Save a seat for me, okay?"
"Fine." Walking towards my office, I heard my name. Turning around I saw him running towards me. 
"Wait. I forgot a few things…" 
"Can it wait? Thankfully not everyone is here yet so we have a few more minutes." Unlocking the door to the office, welcomed by darkness. "I guess luck must be on your side today~Hurry up and get in." Pulling him into my office and locking the doors behind me.
"Jaehyun…I need to ask you a question…"
"What's wrong?" He took a seat on my computer chair, and patted his lap for me to sit in. Doing as he requested, I rested my head on his shoulder. Crossing my legs because of the skirt that I'm wearing.
"Uhm…This is always awkward for me but since it's you I'll do it…Jaehyun, will you be my girlfriend?" Shocked by his question, I looked him in the eyes and shook my head.
"That's Seunghyun oppa's line. Say it the way you did at the radio station~" Pouting my lips , a deep sigh escaping my lips.
"Jaehyun, will you be my princess?"
"Only if you'll be my prince~" Cheekily saying as both of our cheeks flushed.
"Yay! I have a girlfriend~Lee Jaehyun is my girlfriend~" Twirling me in circles, I can't help but laugh at his cuteness. My feet meeting the floor, he cupped my face and leaned in. Lips meeting mine, nothing could compare to this. It was as if fireworks exploded inside of me, butterflies fluttering in my stomach. Wrapping my arms behind his neck, I deepened the kiss. Giving him entrance, our tongues fighting for dominance. Getting carried away, I threw his blazer to somewhere in the room while his hand traveled up and down my back. Unzipping the back of my skirt, his hand about to touch my bottom when I pulled away.
"Jiyong…We can't. Not here, not now." Rezipping my skirt, I got his blazer for him. Fixing my clothing, he embraced me once again.
"Jae, I'll wait for you as long as I have to. But under one condition…
"Move in with me."
---
Keke, I made a Tabi reference~ ^__^
Speaking of our precious Tabi...His concept picture was released!!! I totally knew that someone was going to have blue hair and I'm proven correct. ^__^
I can't wait for the other members' pictures to be revealed!! Ahhh, major fangirling~
^ Back to Top