L.. IS COMING!
by achayoung
Tags comedy infinite romance sungyeol | Report Content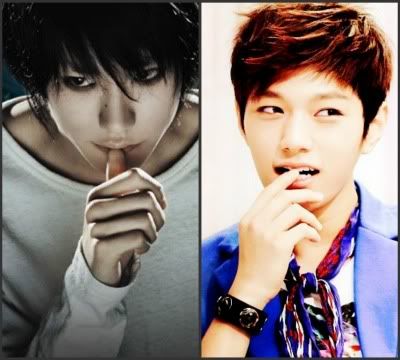 Sungyeol's POV
"lets go home," said Yoonji after paying the food.
"HUH? Go home? I want to take a walk in Tokyo!" I whined. "Okay, where do you want to go?" asked her. "lets go to the mall, and I want to buy another phone. SINCE I lost it," I said.
"Okay.. lets go," she said and guide me to shopping mall.
"Well I've been here before. I think," I said while looking around.
"that's good, so I can leave you here right?" asked her joking.
"You're joking right?" I raised my eyebrow.
She was smirking..
Hey…
That's remind me of MYUNGSOO!
"you remind me of someone," I mutterd
"who?" asked her
"my band member,"
"named?"
"Myungsoo," I said. She gave me an O face and take me to the phone store.
 I'm looking for an Iphone but since I can't speak Japanese I asked her to asked the shopwoman about the iphone.
"What?! You want to buy an Iphone? That's really expensive! Are you sure about your amount of money?" asked her really panic.
Why did this girl even care? This is my money and it's up to me how to spent it. Right?
"just asked her," I said and gave her a look.
"whatever," and she started speaking in Japanese. And yeah.. I want to tell you something.
Why did she smiled to everyone that she talked to? Like waiter, shopwoman, but not with me. She never gave me that smile! I'm pretty jealous.
Yoonji's POV "excuse me, but I think your friend look like someone that I know. May he opened her cap?" asked the shopwoman.
"Uh? Ehh?" I looked at him nerveosly. "wait a minute," I said and come to sungyeol's side
"Yah Sungyeol ah," I called. "mwo?" I asked him to lowered his head so I can whispered at him.
"you look the shopwoman there?" asked me "Hm yeah, wae?" asked him "it seems like she knows you," "what do you mean?" asked him
"I mean she's one of your fans. What should I do? She asked me to took your cap off,"  *since sungyeol used Cap for a disguise*
"just say that  have something on my head," I ordered. I walk back to the shopwoman and said.
"Sorry, but he doesn't want to take his cap off? He had shaved his head accidentally," I whispered the last one. "so.. how much the iphone cost?" I grinned at the shopwoman
--
Yoonji's POV
"it feels good!" he said. "TCH, the feeling of new iphone?" asked me, "Yeah.. hey, give me your number," he asked "Why should I?" asked me "ish.. this girl. Just give it to me, so if I get lost, I can call you," he answered. "TCH.. this XXX" *she gave him her number LOL*
"Oh yeah, anyway, where's your phone?" he looked at me and looking for my bag, "I never bring any bag. Except for class," I said. "WHAT? You never bring a bag? Why? Aren't girl's should bring a bag?"
Oh this guy.. his reaction is just too much -__-
But then after talking about his new phone, suddenly I heard girls' screaming.
"Hey what happened?" asked me. I turned around to see where the voice coming from. And saw a pack of girls. They are gather on Someone. I wonder who is it.
I approached the pack of girls and start screaming like them.
--
Sungyeol's POV
the others, she start screaming. Not just a screaming. But it's a fangirl's screaming!
"L it's L!!!! THERE'S L!" she scream at me.
L? who's L?
 L?
WHAT?! L??? Kim MYUNGSOO?
"WHAT?! L IS HERE?" I walked to the packed of girls, but I don't see L there.
"WHERE'S L? WHERE'S HE?" asked me excitedly. Finally they come to took me home!
"THAT'S L!" she pointed at someone and jumping happily. "HUH? That's not L! he is not Kim MYUNGSOO!" I whined.
"HUH? Kim Myungsoo? HE IS KENICHI MATSUYAMA! L OF THE DEATH NOTE!!!!!" she start drooling again.
-_____-
Aah~ that L ..
The Japanese L ..
I thought he was myungsoo!
-_______________________________________-
"Sungyeol ah! Looked! I got L's Signature!" she said and smile widely at me. "what's good from him?" asked me, pissed.
"he is handsome, he is cute, he is cool, he is awesome!" she said.
"I'm ten times more handsome that him!" I cried. "hmm.. I think you better watch your refelction on mirror. After we got home, IMMIDIETLY!" she hardly said the last one
--
^ Back to Top