Two Stubborn Hearts
by crusoe
Tags seohyun snsd taeny taeyeon yoona yoonhyun yulsic | Report Content


@soshi9_4ever - keke another update!
@TheSolstice23 - omo, calm down. keke XD
@NeomyRose - hehe don't kill yoojin. ><
@chyan01 - yay! thanks for reading! hope to see you more here.
an update.
Yoona's part from previous chapter  
and Seohyun's pov.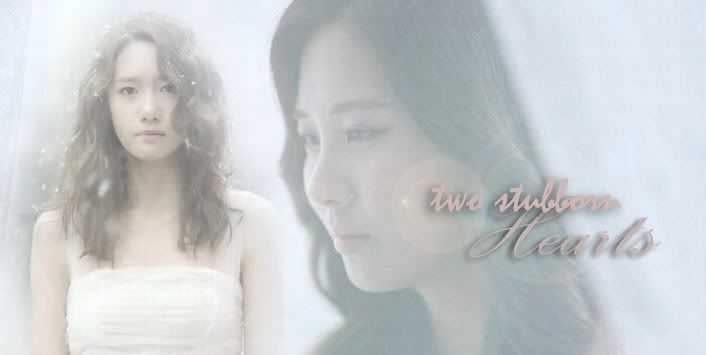 Two Stubborn Hearts
Newly painted walls, newly painted desks and newly painted furniture. The things that Hyo noticed at Kim's not so small building. It was a rented building that Taeyeon asked her to take care. She, Sooyoung and Sunny were the three who Taeyeon tasked to take care of it while she was away. It will be there permanent office for now, until they'll get the company back.
"Yah! Hyo, help us here!!!" Hyo was snap back to reality when she heard sunny's voice behind. The girl is carrying heavy boxes, inside were the equipments for the office.
Quickly, Hyo helps Sunny on carrying it and put it on the coffee table.
"Ugh, my back hurts!" Sunny bend on her waist, holding it firmly. She flopped into the couch and stared at Hyo's bothered expressions.
"Yah! what's up with you?" Sunny kick the coffee table, catching Hyo's attention.
"Sunkyu-ah! Can I ask something?" Hyo asked, with a sighed.
"Hmm? What this?" curious, Sunny leaned forward—putting her elbow to the coffee table as she waits for Hyo to continue.
"What if… your fiancé had kissed someone?" Hyo asked in a serious tone.
"Eh? What's with the serious question?" Sunny arches her eyebrows, strangely observing Hyo's behavior.
"Just answer the question." Hyo said.
"Hmmm… okay… if I have a fiancé and she kissed someone, then I saw it? I will really going to slap that girl and my fiancé. " Sunny sampled a slap action in front of Hyo, causing hyo to chuckle.
"You are so mean."
"My fiancé is much meaner. She has no right to do that, to the fact that she's mine." Sunny defended what she demonstrated earlier. "And… I will never forgive that fiancé of mine. Wait… Hyo? Did I miss something?"
Caught off guard, Hyo tried to avoid her friend's suspicious gazes and eventually stood but Sunny had pulled her down once again.
"Did you know something that I should know as well?"
With a defeated sigh, Hyo turned to face her friend and speak what she knows.
"Yoojin-sshi… before she went off earlier in the dorm, I caught her talking to herself."
"Ne? is she… some kind of… crazy?" Sunny snickered. A girl with such a beautiful face is idiot? In sunny's mind.
"She is not sunny. Silly!" Hyo chuckles.
"Then… what is she saying?" curiosity still over powers Sunny's mind.
"I thought of this as a… little creepy though. She has these… 3 missions she wanted to do before she left this Friday… and what are these?"
Sunny leaned forward, anticipates for Hyo to continue.
"1. The forgiveness and moving on speech she wanted for the both of them.
2. The skinship.
"Skinship? Is she trying to… be close with our dongseng?" Sunny abruptly stood but Hyo pulled her down immediately.
"3. The forbidden kiss… and what's the worst? She's going to do that in front of Seohyun!" Hyo ruffled her hair, going crazy with Yoojin's plan for the day.
Sunny stayed silent. Still absorbing what she just heard earlier.
"What am I going to do?" Hyo eve got louder, groaning.
"Hyo… I actually warned you on this."
Hyo sighed in frustration. She put her hands on her head and replied. "I know."
-
-
Yoona's POV
After ordering my food, I sit on one of the tables inside this fast food chain. I thought of sitting in the corner, which I can't be seen but Yoojin is already waving towards me. The seat she chooses was a bit showy to the passers outside. I wanted to complain but she had already pulled me to sit on the table she chooses.
The table is round, so you can really sit beside to your partner if you are here to eat.
"Hmmm… Yoong… can I… take a picture with you?" she suddenly asked, hugging my arm and pulling even closer to her. I was uncomfortable with our position so I decided to pushes her away gently.
"What's wrong? I just wanted a picture for the last time." She said, showing her smile that I really don't care.
"Uh, it's… I think not right. I have a fiancé Yoojin… I should remind you that." I reasoned, hoping that she understands me.
I'm seriously getting impatient with this date. I thought it's over, but she demanded earlier again for a ride. A ride? Come to think of it? I'm not her girlfriend anymore. She's just my past and I have my future now.
"I know… and I'm not breaking you guys. Just wanted a last day with you. Isn't that hard to give?" she suddenly felt odd.
"hard as difficult, it is… so hard." I bluntly said, drinking the glass of water while waiting for our orders.
I don't know what got into her, because she was silent all of a sudden, much to my relief. While waiting, I check on my phone and I saw my fiance's message. It was a message earlier. Oh shoot! I should've heard it.
Quickly, I type for a response.
To: my princess
I'm at…
I didn't finished my message when Yoojin had stole it from me. "Yah! give me that!" I tried to reach for her hand, but she was quite fast as she always moves her hand.
"Aish!" I gritted my teeth and with one last move, I successfully grab it and glared to her instantly.
What I really hate about is people stealing my things. If she's not a girl, I would've punched her earlier.
She got closer to me again, which I abruptly reacted right away by pushing her away.
"I told you… if you-"
It was fast. I widened my eyes in an instant when Yoojin crushes her lips to mine. I tried to let go from her tight hold on my waist but she was quite strong. She's pushing her lips more and more and attempted to move her lips. I keep on shutting my lips so that she can't access my mouth.
"hmmm… "
She suddenly moaned, much to my surprised. Why is she acting like I was responding.
/shriek.
I heard a shriek sound nearby, so I tried to turned but Yoojin is quick as she forcedly turned my head, deepening her kiss and she moaned again.
No this should not take any longer, I keep on trying to let go from her hold on my waist but she keeps on pushing herself further, causing me to fall on my back to the couch we are sitting.
"YOONA!"
Shoot. No way! I heard Aunt fany's voice. Out of a sudden, I can feel her pulling away from the kiss and this made give me opportunity to get up and saw Aunt fany outside, widening her eyes. Besides her is my fiancé.
"SEO-"
I called her loud enough but she quickly runs away. Quickly, I exited the restaurant and run after her but Aunt Tiffany blocks my way.
"Yah! Aunt Fany, please." I pleaded.
"Yoong, I won't allow you to hurt my daughter that much." Aunt fany said, gripping on my shoulders.
"Please… I wanted to explain. It's not what you think is aunt Fany." I pleaded more, looking down in shame.
Aunt fany didn't respond as she just look down, letting her tears drops. "I'm-I'm sorry." I said, before I slowly let go of aunt Fany's grip and run for my fiancé.
I know right at this moment, I hurt her that much. It was quick, but I saw her crying silently before she left. I don't know what to do if she decided to break up with me. I will really die if that so. Seohyun is my life and she will only be the one for me. We've pass a lot of challenges already and I won't allow this one mistake can be the reason why I can't marry her. Why I can't be with the one I treasure and love the most.
Why on earth that happened? I can't really forgive myself now. It's my entire fault. I hurt her that much.
-
-
"SEOHYUN-AH!!!!" I called and called her name, but she was not turning back. She's fast. She turned on her left, which is on the way to parking lot.
"YAH! STOP! PLEASE LET'S TALK!!!" I shouted, but it didn't stop her to enter her car. Stopping in front of her car, I called her once again.
"Baby, please… get off. Let me ex-"
/honk. Honk.
She keeps on honking her car while she's looking away to me. "No, I won't step aside not until you talk to me right now." I yelled.
She glared at me with those flowing tears, causing me to step back when I saw those pain on her eyes. Did I hurt her that much? Yoona, you're so stupid for doing this to her.
Next thing I know, she reverse the car and drove off, leaving me dumbfounded. I gritted my teeth and clenches.
Behave Yoong.
I was reminded by her words last night which I really regret of. I broke my promise. Yoona why do you have to be idiot? Why do you have to let that happened?
Why?
But no. There's no turning back, I should follow her.
-
-
With a determined mind, I quickly steps into my car and drove off.
-
-
No One's POV
She held on the steering wheel tightly, heavily breathing and tried to stops from crying. Her heart, yes her heart would shatters if her mind will flash the scene she witnessed earlier. It was a miracle that she successfully holds her anger towards the two people kissing in front of her. Maybe because she knows she'll get herself in trouble if she loose herself. And maybe because, she doesn't want to have a closer look. The person that she trusted and loves the most just broke her promises and broke her trust. It would have been so easy if that person that her fiancé is kissing is just a stranger, because she will just think that it was a forced kiss. But, the thought of her fiancé kissing her 'ex' made it more difficult for her to accept. Her fiancé's 'ex' that somehow made a special place to her fiancé's heart.
For as long as you… and Yoona love each other…
With a shake of her head, she abruptly increases the speed more. She needed to release it, but where? And to whom?
"I HATE YOU!!!" she screamed out of her lungs and breathed heavily after she screamed. "YOU!!!" the poor steering wheel screehes when she held it more tightly.
"YAH! STOP THE CAR!" she suddenly heard a loud voice on her left. Recognizing it too well, she increases more the speed, albeit to the other cars in the corner.
"KIM SEOHYUN! JUST STOP THE CAR!!! And let's talk." Her fiancé still insists.
And without anymore thinking, she turned the steering wheel towards her fiancé's car, creating a thud sound when it hit Yoona's car. When she successfully made her fiancé stops the car, she speed off, leaving her fiancé in the road.
-
-
"Ugh." Yoona groaned in pain. The moment Seohyun's car bumps into her car, she was thrown a little on her left side, made her lost the steering wheel and stops the car forcedly.
Her car was totally damaged.
Stepping out from the car, Yoona is clutching on her left arm and escape a long deep sighed, watching how badly damage her car is. 
"She's mad." She muttered, watching Seohyun's car speeding off carelessly.
Her tears drop unconsciously as she instantly wipes it off. "I'm sorry... but I won't give up until you forgive me" she added, determined to bring her fiancé to her arms again. But, she needed to cool that girl first before she plans for her next move.
"That Yoojin." Yoona muttered, gritting on her teeth when she was reminded by a forced kiss earlier.
-
-
Seohyun's POV
Why on earth I should witness Yoong kissing that girl? Does she really plan this? or what? Where's her promises? Her undying love for me. That no matter what, she and I will pass all the circumstances. Does kissing someone is part of this? but no matter how I tried to not even care of the scene earlier, I can't help but to cry in pain. It's unbearable, it's unexplainable and it's indescribable what I am feeling right now. If I can just sleep this and wake up without thinking on what I witnessed, but I know it's won't be like that. Even until now, I can still see her kissing my fiancé. I can still hear her moan in my ears and I can still see how she and my fiancé were enjoying what they're doing.
Letting my tears flows didn't stops what I am feeling, it adds more difficulties on how I can handle this pain. This pain that I unexpected to experience. it's hard, no matter how I think that it will be okay, that it's okay, that it will just pass. What am I going to do? I don't know how long will these takes.
Crying my heart out in my car, I let all the recent memories I had with Yoong rushing to my mind. It's still a miracle that I can still smiled just by thinking from our memories in the beach, the piano that she gives and most especially, how she proposed to me. All of these were so painful to think where we are now. Yoong, why do you have to do this to me? Are you already forgetting all our memories that easily? Does your heart suddenly changes when you saw your ex? Does she still have a place in your heart?
Don't worry Mrs Kim. It's not happening. I won't hurt your daughter.
Yoong, you promised to my umma. Why did you broke it? But no, I won't let umma know this. I really can't afford to see you suffer. It's better if it's me who will suffer this time.
-
-
With a deep breath, I steps out from the car and forced a smile to the city of Seoul. Standing on this cliff while feeling the wind brushes my face somehow calms me. But after the wind, my body warms and only my aching heart can be heard.
I clutch on my chest, closing my eyes as I muttered. "It'll be okay. you will be okay. Seohyun-ah… don't let this pain over powered you."
But muttering those words contradicts what i am feeling. Why is this so hard? 
Yoong I'm sorry, but i don't think it's easy to forgive you.
-
-
Normal POV
Silence.
Kim's office was silent after Hyo had told the gang about Yoojin's mission and heard Fany's sad news to them. Hyo covered herself from the magazines, Sunny played with her juice, Yuri was looking outside, Jessica was dozing off, and Sooyoung was staring at her food gloomy.
My daughter is seriously mad to Yoona. The reason… Yoojin.
Fany's voice still running through Hyo's mind. If she should've done something to prevent it from happening, Seohyun wouldn't be reacting like that. Their dongseng that she care so much is suffering from Yoojin's evil plan.
"This is my fault." Hyo suddenly said, catching all the attention from the people around her. She throw the magazine and stood.
"Yah! what are you going to do?" Yuri asked, turning her body to face her friend.
"I'll make that Yoojin sing on her evil plan." Hyo determinedly said.
"No, unnie, there's no need."
All heads turn when they heard Yoona's voice at the door. Yoona is smiling to them, her hair is mess and her left arm had bandages.
Quickly, Jessica rush towards her daughter and hugs her.
"Mom… it's okay." Yoona chuckled bitterly.
"Yoong… your arm. What happened?" curious, Yuri also approaches her eldest, worried to her daughter's lifeless body.
"It's nothing… my fiancé, she just simply… bump into me."
"EH?" all gasped in surprised.
"What do you mean bump? Like she bump to you intentionally?" Jessica asked, worried to her eldest safety.
"Yup! But not using her body… instead? Her car." Yoona's tears suddenly drops again and seconds after, she quietly sobs. "I didn't know that she was there… witnessing the heartbreaking scene. Mom, I'm so stupid. So stupid for letting Yoojin do that to me." she continues to sob.
Jessica quickly pulled her eldest for a warm hug, to ease her daughter's pain. Comforting her is the best she can do. "It'll be okay… don't worry. We know Seohyun, she doesn't hold grudges."
"Mom, I can't take this. She's hurting so much, and this is because of me. this is becau-"
"NO YOONG! IT'S ME." Hyo suddenly interrupted. "If I should've told you about Yoojin's plan."
Yoona looked up to her best friend, staring in disbelief. "YOU KNOW?" she yelled, causing everyone to jumps on their feet.
"Oh my God. Guys, it's-"
Sunny didn't finish her sentence when Yoona rush towards Hyo and knocks her on the floor. Quickly, they hold Yoona, preventing her to do more punches.
"WHY YOU DIDN'T TOLD ME? I WOULD'VE DECLINED TO HER OFFER. TO HER FAVORS." Yoona roared, struggling on her parent's tight grasps on her arms.
"Yoong stop." Jessica and Yuri said unison.
"TELL ME WHY?"
Slowly, Hyo raised and looks down. She fiddled with her fingers and speaks for what's on her mind. "I-I… just thought… the… that's it's nothing."
Yoona abruptly let go of her parent's grasp and successfully pulled Hyo up on her collar. "Tell me how can I get my fiancé back, and I will forgive you." She said bitterly, before letting go of her collar and left the building.
"Tch… Hyo.. I told you not to give that Yoojin a chance, look at what's happening now?" Sunny reminds again.
"I KNOW… IT'S MY FAULT." Hyo burst out.
"Yah! will you guys calm down?" Sooyoung finally voiced out, catching the eyes of everybody.
Jessica flops back to the couch and massages her temples. "I don't know what do. Taeyeon will surely violently react, once she know this."
All eyes were now in Jessica, realizing Taeyeon's absence.
-          To be continued.
I'm really not good in writing povs. ><
anyway, thanks for the comments! ^^
until then~^^ maybe tomorrow again. keke
^ Back to Top