98

Saying I Love You Twice

★

Completed!

by Meili5
3471 subscribers | 111303 views | Updated | Created
Tags comedy dbsk infinite jaejoong korean myungsoo romance | Report Content

Characters
Myungsoo (L), YOU (Reader), and Jaejoong
Description
Everyone has had that dream: the dream where they'd marry their bias. You'd had that dream about Hero Jaejoong just, oh, about a million times. But what happens when you're forced to date INFINITE's L just for a popularity boost? What will happen to your feelings then? Will you still be faithful to Jaejoong? Or will you realize your infatuated feelings and fall for the mysterious Myungsoo?
Foreword
©  Meili 2010. All rights reserved. Distribution of any kind is prohibited without the written consent of Meili.
May I hold you
As you fall to sleep
When the world is closing in
And you can't breathe
May I love you
May I be your shield
When no one can be found
May I lay you down
Summary
        You (Lee ______) are a popular female idol singer (someone similar to IU or G.NA) who is the biggest fan of Hero Jaejoong (let's just pretend that the lawsuit never happened and that DBSK is still together as 5 at this time). Actually, he was the reason why you wanted to become a singer. He motivated you to achieve what you have accomplished today. You were his biggest fan and he was your biggest influence. One day, you hoped to win his heart and marry him; if that will ever happen. He barely knows you. But you could never imagine anyone else with you except him.
          Your hopes of winning Jaejoong's heart is crushed when your company announces that you will be participating in a fake relationship with another idol as a way to boost your popularity, as if you weren't popular enough. You had no choice but to comply; it was your company's words against yours and you had no strength to argue against the scary CEO. As much as it disappointed you to give Jaejoong the idea that you were interested in someone else, you reminded yourself that the relationship was only going to be for a few months. After your company gets the popularity they want and announces the break up, then you can finally make a move to make Jaejoong yours.
          However, things take for a wrong turn when you find out who your fake boyfriend for the time being is: INFINITE's one and only L.
          Kim Myungsoo.
          That quiet, weird guy in the rising idol group INFINITE whom is nothing compared to your one and only love, Kim Jaejoong. Every minute with him is torturous, especially since you yearn to do the lovey dovey things that you do with Myungsoo for publicity with Jaejoong. Myungsoo's aware of this, of course. But it's not like he enjoys your company much either. Or so he says.
          But as time passes by and you start to realize how special of a guy Myungsoo really is, feelings change. People change. And you start to realize the difference between infatuation and true love. But what happens when your "fake" relationship with Myungsoo is cut short? What happens when you find out that the so called "love" that you had for Jaejoong before, no longer exists? Not only that, but that your heart now belongs to someone else?
Main Characters
YOU (Lee ______)
-20 years old
-Can be snobby and arrogant at times
-DBSK fan throughout high school
-debuted under Entrust Entertainment in 2009 (you're L's sunbae)
-hangs out with other boy group members just to piss L off
Kim Myungsoo (L)
-19 years old
-you're his noona
-debuted under Woolim Entertainment in 2010 (of course haha)
- knows that you're in love with Jaejoong.
Kim Jaejoong (Hero)
-25 years old
-in Asia's best group: Dong Bang Shin Ki under SM Ent.
-secretly admires you
-humble and is loved by all~ 
Fan Posters! :D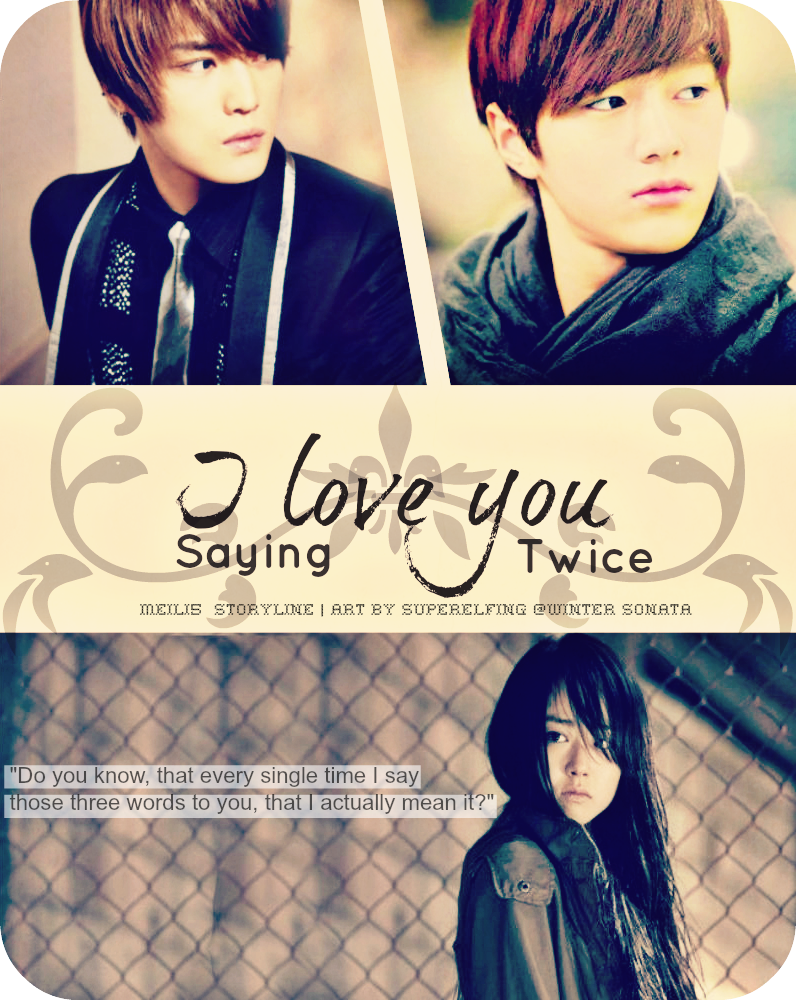 special thank you to superelfing and aidaeyda! :)
Author's Note:
Hehe Merry Christmas everybody! I've been busily working on this story in addition to 'This Love is Infininite'. Don't worry I doubt that my other story is going to end soon LOL but honestly, I wanted to post this as soon as possible because it has so many corresponding feelings to my actual life haha! I might not be able to update until I finish my other story ends but idk that might change if this gets a good response hehe ^^ omg the poster took me FOREVER to figure out. I had trouble on what pictures to use and idk...i'm still not satisfied with it. that might change too LOL xD depends on if i find better pictures...cuz i wanted L and Jaejoong to look a bit similiar to each other haha. Anyways, imma post the first chapter soon tho. I hope you guys like it! :)
Tweet
^ Back to Top