4

You're Jung Jin- NO WAY!?

Completed!

by LucianeLucifer
143 subscribers | 6884 views | Updated | Created
Tags b1a4 jinyoung marriedlife love arrangemarriage jinyoungandoc pregnancyandkids | Report Content

Characters
Lee Riu | Jung Jinyoung
Description
Jinyoung's lips twitched in irritance once he saw his shirt being stained by a girl. The girl is brave enough to face him and didnt even step back nor show any sign of fear. Jinyoung smirked in interest and grabbed her collar harshly ''Do you know what you did to my shirt?' 
''Its stained, so what? Go and wash it up!'' She replied without any sign of nervousness on her voice. Probably because she's experiencing the worse state she's in now so she don't have to be scared over him.
Jinyoung grinned and let go of her collar, grinning in interest. ''Do you even know me?'' 
She looked into his eyes with her black orbs, the words that slipped on her mouth were spicy, adding on Jinyoung's furious state. ''Who are you anyways? You're probably a commoner here right?'' The crowd around them gasped loudly also his other friends.
Jinyoung smirked. The girl in her left whispered his name and her eyes widened 
Oh hell no,
''YOU'RE JUNG JIN- NO WAY!?''
_______
Lee Riu is a daughter of one of the richest families in the country. She depends her mood depending on the person she's with. She has this fetish with the colors red and black and quite picky with her friends.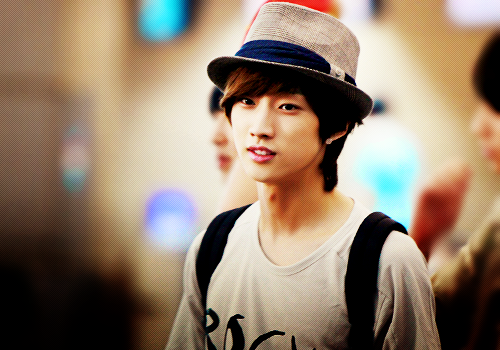 Jung Jinyoung, the leader of a so-called group B1A4. Girls swoon over his wealth and good-looking features. He is only close with his friends and known as a cold and arrogant jerk to those he don't like.
Foreword
No foreword posted.
Tweet
^ Back to Top