Being Your Loving Enemy
by IiMeltingSnow
97 subscribers | 3642 views | Updated | Created
Tags fxband snsd soosica taesun yoonyul hyoseo jungli | Report Content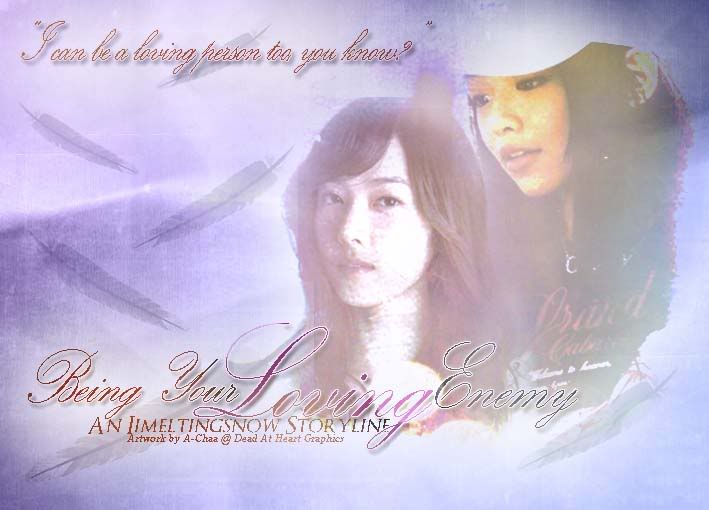 Description
PROLOGUE
"Yah. Wake up. You're going to be late for school."
"Mmmnnnn… 5 more minutes Krystal. Go away."
"Krystal?" The girl chuckled. "I'm disappointed in you Jung Jessica, I thought you'd recognize my voice." Jessica couldn't care less about waking up at the moment. Monday had always been her second worst enemy, or you could also count anything related to "Not Sleeping" as well. Her worst enemy? Well it had to be the one person she despised most, the girl who sounded oddly familiar to the one waking her up right now. Her name is actually Choi Soo— Wait…
"AAAAHHHHHH!!!!!!" The girl got up viciously but immediately yelped in pain when she hit her head on the heardboard, hard.
"Holy damn cow, what are you freaking doing in my room!?" The girl tried hard to shake away the dizziness of her sudden wake up. Though her attempt obviously failed, seeing as how there is now a small bump forming on her head and it keeps pounding against her skull, spinning the world around.
Sooyoung looked at her head with a small amount of pity, but she soon laughed at the cute sight of Jessica almost crying. Jessica glared right after.
'Clearly, my pain is her amusement'. She thought to herself.
"What? Am I not allowed to wake you up now?"
"Oh, no, no, that is perfectly fine, Choi. But what's unacceptable is that you are actually standing in my apartment, in my room, and definitely disturbing MY slumber! How in the world did you got in here anyway!? Who led you in!? Wait— Is that my hat? Who told you you could touch my things!?" Jessica shrieked at the top of her lungs.
"Whoa, whoa! Chillax, dude! I didn't even want to see your ugly face anyway. Krystal let me in!" Sooyoung was making her way to walk out of the spacious room. "And for the record, this is mine!" She tipped her hat with a smirk.
"GET OUT!!!" Jessica threw her pillow at the door. Thankfully it had shut first. Jessica sighed heavily.
"Just when I thought Mondays couldn't get any worse."
Foreword
Hello. This is my first attempt on writing an on-going. Truth be told, I have a raw idea how this story will go, but if you have any requests, any dramatic scenes, any pairings that you have in mind, I would gladly take it to consideration. All constructive criticisms are welcomed openheartedly, so please don't hold back any insults and just lash me out all you've got. Lol. There's always room for improvement. (A vivid plot would've been nice -_-; asdfghjkl)
Just a slight note, so let's keep it simple. Anyone caught plagiarising, and I won't hesitate to report you. I'm the type who doesn't warn, so, just be aware of the risk you're taking.
Subscribe, if you wish, and comment, if you want me to update faster :] I'll try and keep it at a steady— if not, fast pace. Greetings. –IiMeltingSnow
Tweet
^ Back to Top