1

I'm Yours

by MissTangerine
| Updated | Created
Tags 2ne1 2pm bigbang dara daragon darakhun woodara | Report Content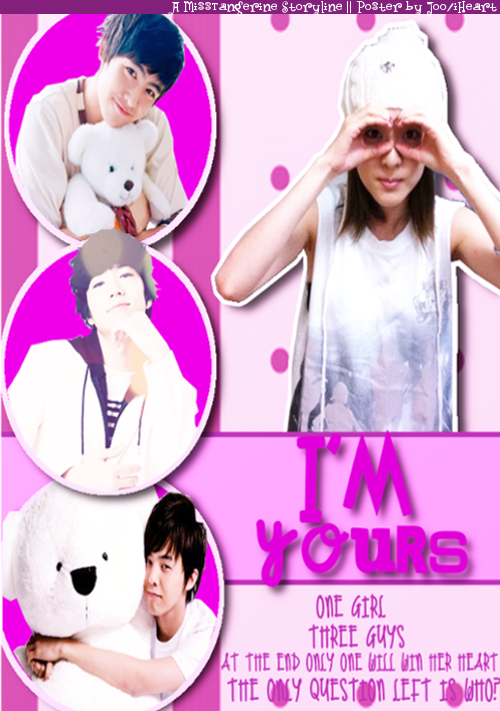 Characters
(Main) Dara Park, Kwon Jiyong, Jang Wooyoung, Nichkhun Horvejkul
Description
It never occured to her
that choosing would be that hard
Unpredictable
Compatible
Soulmate
Who would hear her say "I'm Yours"?
---
Additional Characters:
YG Family, 2PM, MBLAQ, Goo Hye Sun, Kim Hyun Joong, etc.
---
This story has an open ending, meaning I'll let you choose who you want Dara to end up with. Poll's below and please cast your vote for your fave pairing. Not trying to start a fan war here though.
Suggestions and comments are more than welcome.
My other fics!
Lost and Found          Oneshot Collection              Bad Boy Blues
Foreword
"Living with you doesn't make me love her less and certainly not enough to make my feelings vanish. Me, lying about my feelings for her, hurt her and killed me. Now you tell me I'm the selfish one?"
"I'll respect and honor whoever you'll choose. I just hope it's me."
"At first, it was just your eyes. Then gradually, I came to like everything about you. Even that dorky laugh you do."
One girl. Three guys. At the end only one will win her heart. The only question left is who.
---
Special Thanks to (Please support these artists, their artworks/reviews and their stores!)
Syeera_Sungmin of IHeartProductions                                                                                                                           - Poster
Tweet
^ Back to Top