The Start of Something Beautiful (and Possibly Life-Damaging)
by Chareeex and jennyhearts |
4 subscribers | 163 views | Updated | Created
Tags crackfic gdragon myungsoo random woohyun junsu2pm | Report Content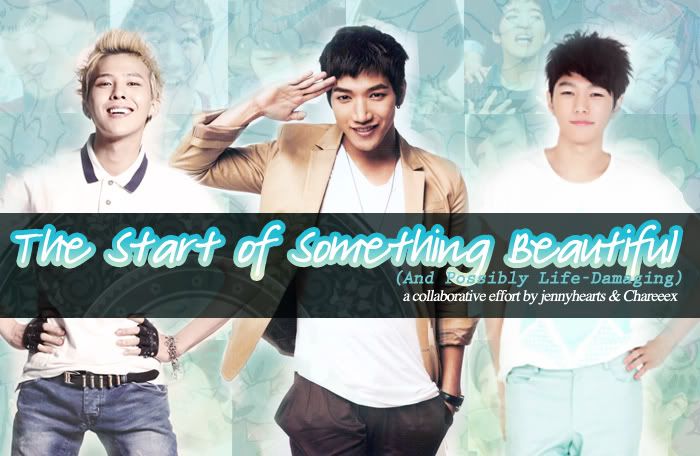 Characters
Jennys || Rees || Pandas || Trees || Lady Dragons || Myungmyungs
Description
We are writing a fic. That is all. 
Foreword
HIIIIII :D
RUINING WHITENESS
REE! NOW WE CAN'T TAKE THAT OFF THE DOC!
Take what off? OH RIGHT! OOOOOOPS!
NO BACKSPACE RULE REMEMBER
!? Great job Ree. Forever ruined lol.
LOLOL I KNOW! I AM SO WONDERFULLY FAIL.
It's okay, we shall have the most epic foreword in the history of forewords HAHA.
Okay so uhm hi. This is jennyhearts.
THIS IS REE!
And we have come together for the start of something beautiful (and possibly life-damaging on my end anyway)
YAY! BULLYING JENNY! FUN FUN FUN! (Jenny, should I stop shouting?) BUT YES! This is the start of something so unbelievable, something so beautiful, I can hardly breathe (Craig David ftw)
LOL WHEN DID THIS BECOME A BULLYING FIC?! (and it's okay shout all you want bb.) I almost thought it was Shayne Ward's Breathless tbh.
JENNY I FAILED THE LYRICS! I AM SUCH A DISGRACE! ehem, but since no backspace. "It's so unbelievable, and I don't want to let it go. Something so beautiful, flowing down like a waterfall. feel like you'll always be. FOREVER A PART OF ME!" JENNY I LOVE YOU <333
Wow you did fail the lyrics lol.And cheesy lyrics be chessy. I spelled chessy wrong. I DID IT AGAIN. OH GDI. Love you too Ree <3
LOLOLOLOL *dies laughing* UGH DAMNIT! GOTTA STOP THAT FOURTH FINGER JABBING THE BACKSCAPACE BUTTON! yesh...bascksapcaioebvipabec...T.T backspace*
Chessy lyrics ftw. I SEE THE WORDS VIP IN YOUR SPAZZ REE. WE ARE VIP! WE ARE VIPPPPPPPPPPP. Yes I am a huge Bigbang stan <3 AND KWONJIYONG IS MINE. MINEEEEEEEEEEEEEE <33333333333
OMG LOLOLOLOL <333 UNTIL WHENEVER XDD ….Genie is OTP...so is Hyesoo. JENNY LOVES MYUNGSOO EVERYBODY! Just thought I'd let you all know :D *gets bashed*
KILL YOU. Don't listen to her eberyone, I LVOE, I mean I LOVE KWON JIYONG THE MOSTTT <3 (why eveytime we talk, the topic of Hyesoo ocomes up Ree?)
TROLOLOLOLOLOLOL i love the typos. Hi, eberyone. :D (because I love Hyesoo too much, Jenny. I can't control my fangirliness...just like how you can't control yours over Myungsoo. THOSE FEELINGS!)
OKAY OKAY OKAY! SO! Back onto what we were talking about before we started arguing XD
My typoes are horrendous. Dear lawd.
ahhahahahah Forgive us, dear people for our horrible writing XD You see, we decided to create a little fic with a NO BACKSPACE RULE, so bascically, whatever idea we put down, stays there. Are ytyops too...ehem, typos too annoying? Jenny, who ...what do you think? Because I'm gonna die with all these errors. You know i don't think before i write XDDD
LOL. For the sa, I mean preservation of our reader's a..sanity, backspace is only allowed when we're typiung the fic later. Because I'm sure some people will go insane trying to read between the infinite amount of typoes coming on later on LOL. BUT STRICTLY NO BACKSPACING FOR IDEAS MUAHAHAHAHAHAHA.
"infinite amount of typoes" OICWUDT!!!
OKAY, JENNY! ARE YOU READY!?
NO.
(you're meant to say yes)
But I don't roll that way. So Imma say no.
what are you? Venus? I LEARNT THAT IN ASTRONOMY! XD Venus is the rebel planet that 'rolls' the other way XDD SO you wanna roll THIS way? okay okay. I'm not ready either. Let's just post this up and then yeah...
Venus is also the planet of LOOOOOOOOOVE.
And Mars is the planet of WAAAAAAAAAAAAAAAAAAAAAAAR >:DDDDD
Why you so violent Ree.
because I learn from my elders XDD
LOL okay. Let's do this! HWAAAAAAAAAAAAAAAAAYA!
the heck is that? O.O
It's my kunghu...KUNFU...KUNG.FU.WAR.CRY.
LOLOL KUNGFU PANDAAAAAAAAAAAAAAAAAA
I know you're thinking of a completely different panda. SHOUTTOUT TO RR...REEKAY. REEH..........REEKAY OTP!
LOL YOU KNOW ME TOO WELL XDDD My panda is <33333333 Mine, people. MINE.
Becaue my panda sesne...senses were tingling.
XDDDD OKay enough talking. LET'S START!...wait....what are we starting O.O
I on..di.................don't even know.
Let's just say, this fic will contain lots of.
Spazzing
Randomness
Bickering
Myungsoo
(WHAT IS WITH THIS ADDITION OF MYUNGSOO HERE?@) (WEHEHEHEHHEHE)
Pandas
Dragons. A SPECIFIC ONE. Which from now on I shall refer to as lady...I em, mean Lady Dragon. I mean seriously guys, have you seen his pictures from the YG Family Concert shoot. He looks like a freaking ahjumma with his hat and those goddamned riffles. I mmean riffles. I MEAN. RIFFLE. You nknow what, just forget it. RUFFLES.
*rolling on floor suffocating from laughter of an ajumma holding rifles* A very beautiful ahjumma in fact. Lady Dragon <3
OHMAGAWD I CAN'T BREATHE! But hey, I see Jenny and a dragon and an intruiguing one. OH DEAR. TRIANGLE ALERT!!! MUAHAHAHHAH <]>>>>>:}DDDDDDD|-----< Mr. Evulman has appeared
IT'S MR EVULMAN! HE HAS COME TO TAKE OVER THE WORLD! I E, MEAN...UH, YEAH. A wilf Mr Evulaman has appeared.
I can't even understand you an your typos anymore LOLOLOLOLOLOL
Wilf eMR Evulaman. I am so funny. HAHAHA.
I DON'T GET IT! WHAT'S "wilf eMR Evulaman" WWHAT'S WILF!!??!?!?!?
It;s supposed to be wild but yeah. No bacspace rule ftw
OKAY JENNY! SHUT UP! *disrespectful maknae muahahahha*
oh you really did shut up. Uhmmm TALK@!!!!
LOLK. Ll:. I can't even express myself properly anymre. Crying.
LOL WE'VE GOT LIKE 900 WORDS NOW! XDDD Okay this is a really long foreword. BACK TO THE MAIN uhhh BIT! ...should be...should we just end this?
THE REAL REASON WHY WE'RE DOING THIS.
IS BECAUSE JENNY LOVES MYUNGSOO AsadfasfasdasasasfjaifjijfafjaasdND WANTES ME TO WRITE ABOUT gseks;kf;lsfs,f;'HIM FOR HER!
HEY DON'T GO APIbvaipbvpabep THROUGH MY WRODS! WORDS! I DONT...DIUD...DIDN'T DO THAT TO YOU!!
But I;m th one getting attacked here! AND YOU WANTED TO WRITE THAT ON YOUR OWN ACCORD. AND IT WAS SUPPOSED TO BE ANOT, ABOUT JI NOT MYUNGSOO.
LOLOLOL my Myungsoo senses pricked up. I knew what you meant by "REAL REASON" MUAHAHHAHAHAHAHAHHAHAHAHAH
ANYWAYS. The REAL reason (Ree: besides Myungsoo) why we're writing this. it's because we're too brilliant (Ree: psssh speak for yourself) (Jenny: Shut up Ree. HAH.) and we have spare time and we just like to sa..spazz/ (Ree. YAAAAAAAAAAAAAAAA)
HI! :D (no i didn't just suffer from short temr memory loss...or like a blow to the head with am iilion fbrincks frlom ajenny....oh crap that 's really bad. EHEM I mean I didn't get a million bricke rainign OMFG FAIL! *dies*
Your typoes be epic bb <3 It's okay, I still love you, even though tyou are typo prined, prone.
X____________X I am dead. I can't even think straight anymore LOL WOOT NO TYPOS!!! I AM ALIVE AGAIN! I'M FEELING TO ALICE......*dead*
You're feeling...too alice. Okay.
ANYWAY. We are writing a fic. And that is all.
I like that. :D Five word summary of what all of this is about. WHY YOU SO SMART!!! *bows down to great Jennyhearts* oh...you said 'that is all' RIGHT!
CYA PEOPLE!
Watch out for us. For WE ARE HERE TO CONQUESR. I MEAN CONQUER ALL OF YOU.
K bye.
LOVE FRO!M!
REE & jenny <2
DAMN IT.
DO IT AGAIN! DO IT AGAIN!
LOVE FROM!
REE & jenny <3
(oh bum..lower case. Jenny does that to hy...hide that she wants to add Myungsoo feelings :P Okay okay enough with the Myungsoo jokes XDDD BYE!)
(Shut up Ree. See you soon :D)
(was that too many Myungsoo jokes?)
(I can only imagine the hell I'm gonna go through while we write the ACTUAL fic.)
(OH THE FUN! XDD)
-END- 1261 words -
(Longest foreword evar.)
(do we get a prize?)
Tweet
^ Back to Top