SeoKyu's date!
by lollylollylollypop
Tags kyuhyun leeteuk seohyun siwon supergeneration taeyeon yoona | Report Content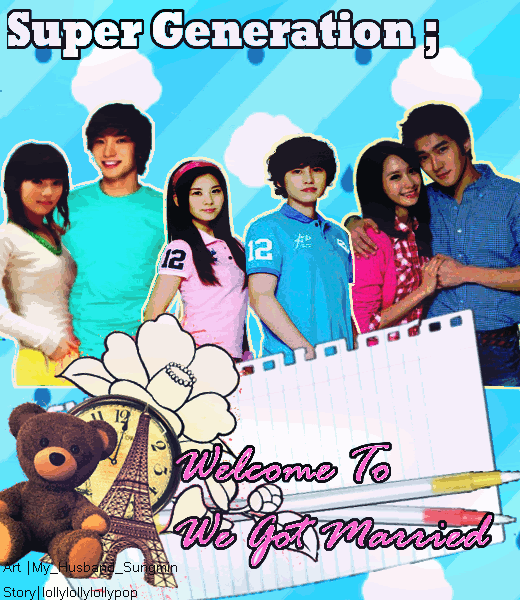 Seohyun woke up extremely early the next morning to prepare for the date. She grabbed a towel and rushed to the bathroom to shampoo, condition and shampoo her hair again to ensure that it smelt nice and was smooth. Finally, she stepped out of the toilet to get changed. Yet another problem. Hurriedly, she opened her cupboard and raided it. She huffed in fustration and went to wake up her unnie.
"Yoona unnie!" she knocked on the door.
Yoona groggily opened the door and when she saw the cameras, tried to hide her no-makeup face with her pillow.
"Unnie, you don't need to hide your face, you look pretty," Seohyun mumbled.
Hearing that, Yoona straightened her hair with her fingers and removed the pillow from her face, "What do you need?" she asked, yawning.
"Clothes!" Seohyun almost yelled.
"Shut up, you're going to wake everyone!" Yoona covered the maknae's mouth hurriedly.
Yoona walked over to her cupboard and pulled out a black and white shirt.
"Black and white are his favourite colours," Seohyun stated and then covered her face in embarrassment for giving too much information.
She took the shirt and matched it with a pair of jeans-material shorts.
"Perfect," she said as she looked in the mirror.
Excitedly, she skipped towards the door, handbag in hand.
She had made sure that she had brought extra clothing, knowing that they were going swimming at Carribean Bay. She opened the door to see Kyuhyuns standing in front of her, about to knock on the door.
"Oh, ah, annyeonghaseyo," she bowed awkwardly.
"Annyeonghaseyo," Kyuhyun smiled.
They stood there in awkward silence for a few moments.
"Shall we?" Kyuhyun asked and pointed to the van, where his manager was waiting to drive them to their destination.
Seohyun nodded and both of them entered the van. Knowing that Seohyun would ask him to put on his seatbelt, Kyuhyun took the initiative to put on the seatbelt before she told him to. Seohyun looked really pleased and smiled.
As the van cruised onto the road, Kyuhyun tried starting a conversation.
"So, what do you want to do there?"
Seohyun looked at him, confused.
"Swimming!" she said, as if the answer was really obvious.
"Oh yah. I'm such a babo," Kyuhyun chuckled and smacked his forehead.
They continued their conversation, laughing occassionally and finally, they reached the water park. It was noisy and filled with acitivity. Kyuhyun got their enterance tickets and they walked in. The first thing that greeted them was the huge poster of Seohyun, Yoona, Yuri, Chansung, Nickhun and Taecyeon. Seohyun blushed as she saw herself on the poster.
"Yah, who is this?" Kyuhyun pointed at Chansung jokingly.
"Chansung-ssi, from 2PM," Seohyun answered, blinking.
"That punk," Kyuhyun joked.
Seohyun giggled at his joke.
"Alright, let's go!" they put down their bags, slapped on some sunscreen and ran towards the water.
They jumped in and started splashing around.
"Kyuhyun!" Seohyun called him.
"Ne?" he turned to face her.
He was greeted by the water hitting his face. Seohyun had splashed water on him!
"Yahh!" he chased her and grabbed her from behind.
Seohyun laughed out loud as Kyuhyun splashed her back. Pretty soon they were wet from head to toe, both having an awesome time.
"Let's have a race, who can reach the end faster gets a wish," Kyuhyun suggested as he floated on his back.
"Okay! One.. Two.. Three!" Seohyun giggled and they both started swimming.
Seohyun started swimming as fast as she could. Kyuhyun, however, barely even tried because he was giving Seohyun a chance. However, when Kyuhyun stopped swimming at the finish line, he realised that Seohyun was still only half-way through. He waited, a smirk on his face.
Seohyun emerged from the water and wiped the water off her face.
"You swim so fast," she pouted.
"I'm not fast, you're slow," Kyuhyun joked and stuck his tongue out at her.
"Okay fine, tell me your wish," Seohyun said, crossing her arms.
"I want a really meaningful wish... I'll tell you later," Kyuhyun said.
Seohyun nodded.
"Let's play!" Kyuhyun grabbed her hand and ran towards the slides.
Seohyun bit her lip as the went up the stairs to the humongous slide. Honestly, she was afraid of going down the slide.
"Can we go back down?" Seohyun asked, her knees close to giving way.
"Come on, it's going to be okay, we'll go down at the same time okay?" Kyuhyun pointed towards the slide where there were two slides side by side.
Seohyun nodded as they sat down at the top of the slide. She reached out to Kyuhyun and grabbed his hand.
"One..Two... Three!" Kyuhyun yelled and both of them slid down.
Seohyun grabbed onto his hand and squeezed it tightly as the two of them slid down at a fast speed. Once they reached the end and splashed into the water, Seohyun stood up and wiped the water from her face.
"Again!" she squealed excitedly.
A/N: Sorry I haven't updated in a long time ;~; I hope this chapter was okay. Wait for Yoona and Siwon's date, okay ^_^
^ Back to Top