The Way To Happiness
Completed!
by FlamingFrog
44 subscribers | 4087 views | Updated | Created
Tags aaronyan georgehu guigui guilun romance | Report Content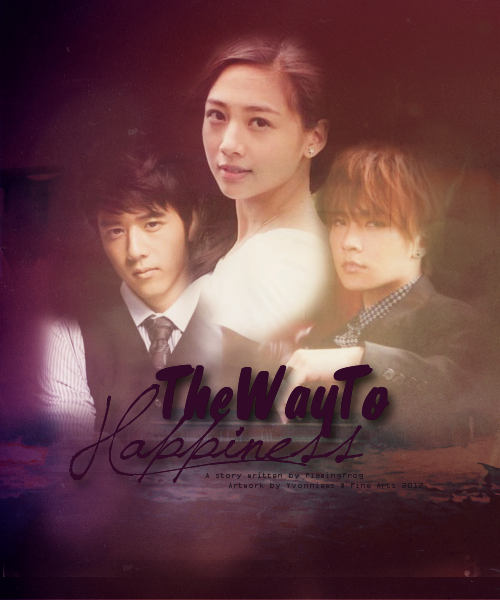 Characters
Aaron Yan ll GuiGui ll George Hu ll Others...
Description
A sweet relationship ended without a reason, A disappearance in mystery, A sudden reappearance, What will exactly happen at the end? Will they ever find their way to happiness?
Foreword
Aaron and GuiGui were once the super sweethearts couple back in high school.
 But what if one day Gui decided to broke it off? And she suddenly disappeared?
 Why? That's still a mystery to everyone including Aaron.
Four years later, she reappeared again...but she's not alone....
They finally met again after four years of separation.
But, what if one of them is not quite yet moved on?
Will they ever be able to be together again? Will they ever find their way to happiness?
Well, stay tune because it's all happens in
The Way To Happiness.
***
"Aaron...I think we should break up" GuiGui said not daring to look at Aaron in the eyes.
"W-What?" he asked shocked.
"I-I- think that we should break up"
"Gui! Stop joking around! This is not funny!"  
 ***
"Gui? Are you ok?" he asked looking at where she's staring at.
 "What's wrong? Who are those people? You know them?" he asked shaking her hand. Still in shocked, Gui loosen her grip of the spoon in her hand and it dropped onto the floor with a loud thud. Catching the attention of people in the shop including the ones who just got in.
"G-Gui?" the girl with curly red hair stuttered.
"Y-Yatou...." Gui whispered.  
 ***
"D-Do you think that's really Gui?" Aaron asked.
 "I-I-don't know~" the rest said with a big sigh.      
***
  As I look up to see the person I just bumped into. I froze, I felt like the whole world also froze. Standing there with an annoyance face is none other than...than A-Aaron. Oh-No~!!! Don't tell me Aaron also go to this school. Mom, you gotta be kidding me right? You registered me into the same school as my ex-boyfriend?!  
_________________________________
__________________________________
Poster & BG credit: Yvonniees @ Fine Arts
Tweet
^ Back to Top