Why Don't U-KISS Me? [PG-15]
by Lolllipopkiss
33 subscribers | 2047 views | Updated | Created
Tags alexander comedy dongho eli kevinwoo romance ukiss | Report Content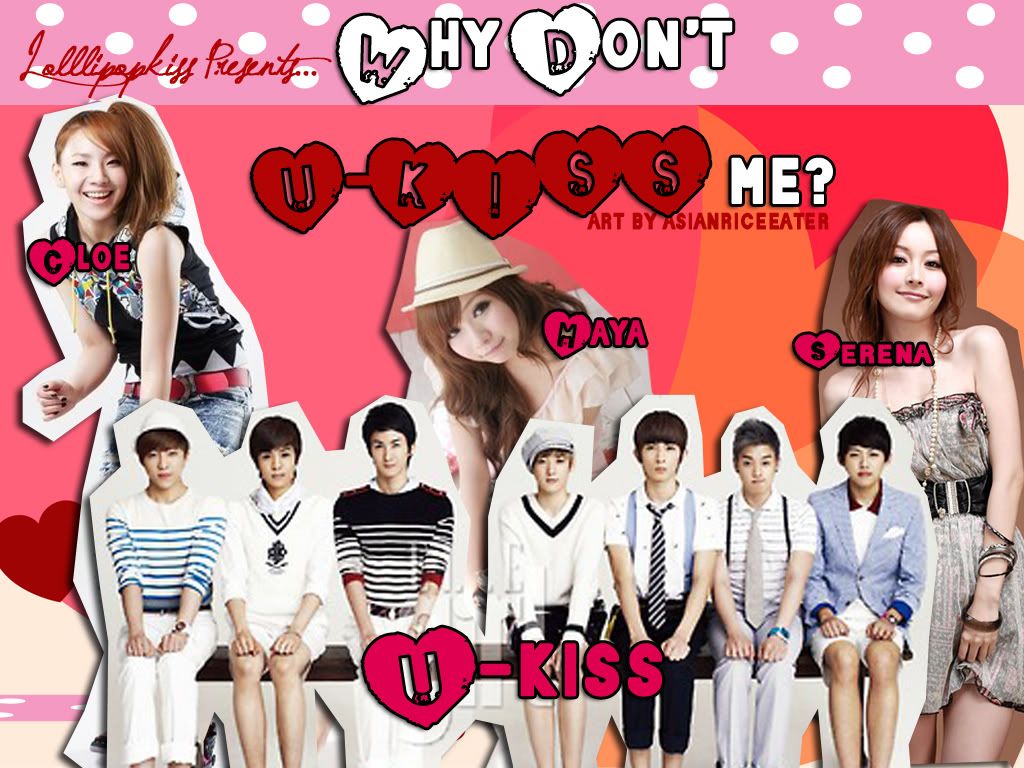 Characters
U-KISS, Maya (fictional). Serena (fictional), Cloe (fictional)
Description
Maya Chen is a sixteen year old girl from Canada. She was popular and was in every club, spots team and after school activity possible. She was the top of her high school food chain and everyone loved her. Until the day her father's job suddenly moved overseas forcing her family to move to South Korea.  At her new school all she's known as is 'the new kid' and no one talks to her. But then she finds herself falling for a sweet heart name Kevin who is part of clique of boys that go by the name of U-KISS. And what she learns that he and 4 of the other U-KISS members like her she creates a secret contest to see who can get her first.
Foreword
The plane eventually landed after what seemed like years of flying. We finally made it to Korea. Where we would have to live for who knows how long.  My family and I got off the plane and walked into the airport.   
"annyeonghaseyo"  The people at customs greeted.
"Annyong!~" I greeted back.
Then I received a slap from behind me. "Why are you being so informal to strangers" Serena scolded me. That's my older sister, Serena. She thinks she's better than me. Mainly because she's prettier, smarter and more popular than I am. But when it came down to it she was always there for me which is what I love about her.  
"Ah, I forgot about formal and informal language!" I gave myself my own slap in the head.
A laugh came from behind me. "It's the first time you're putting you Korean to any use it's okay silly." The voice came ruffling my hair. That was my mom. She's really cool most of the time. But she's waaaaaay too childish sometimes especially when my friends are around that's when she tends to embarrass me the most.
After walking for just about a life time we finally got out of the airport and into our rental car. We have to rent cars until we can buy our own. This is the most stressful thing ever since my parents would never let me drive a rental car (if it's even legal for me to drive at all).
 We arrived at our new house after driving for another hour. Who knew it took this long to move to another country I thought to myself. Serena and I raced up the stairs to see who got the better bedroom. And for once I was faster than her and got the bigger one.
"No fair!!!" Serena whined.
"I beat you fair and square now leave!" I said victoriously.
"But I'm older than you! I should get a better room than you!" Serena said still whining.
"NO! this room is mine!!" I argued back.
"Girl's stop fighting" my father's voice came from the end of the hall. My dad didn't talk on a regular basis unless it's necessary, like he has a business meeting or something. He's pretty calm and collected most of the time. He doesn't usually get angry most of the time.
Finally Serena gave up and left me alone. I unpacked my things and spread a blanket out on the floor to sleep on. I don't get a bed for at least another week. Moving is officially a pain in my ass.
"Delivery~"  my mother chirped happily.
"What is it now?" I sighed.
"You school uniform isn't it soooo cute! You start school next Monday I'm so excited!" she jumped up and down.
"UGGGGH!!!" I groaned. I forgot about school completely. I better not end up being a loner or I swear I just might die.     
Tweet
^ Back to Top