5

Written Song

by 121121
83 subscribers | Updated | Created
Tags fxband krystal minho minstal shinee shineeeffects | Report Content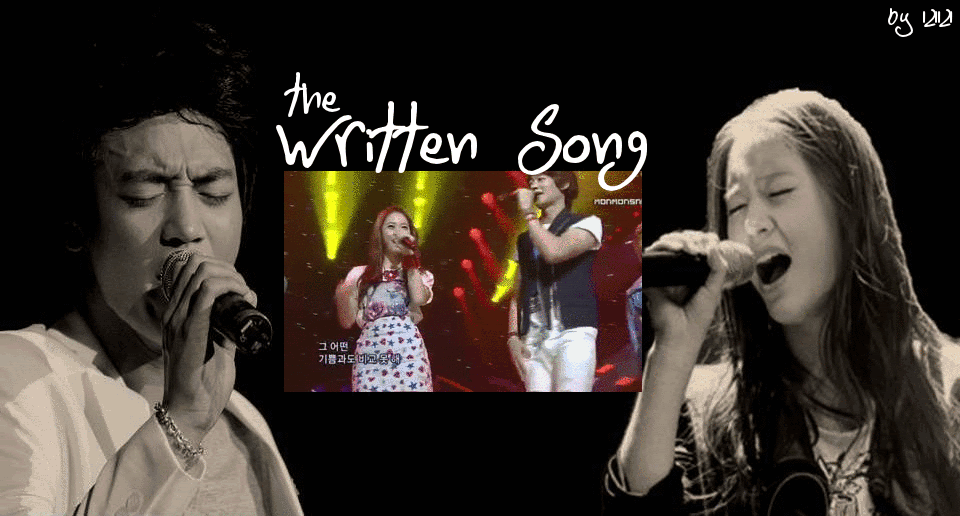 Characters
Choi Minho, Jung Krystal
Description
A collection of stories inspired by different songs.
Each story is different from the others --unless it's stated.
Each story will be short. [one, two or three shot/s]
Story List:
CHAPTER 1: BOYFRIEND /girls' generation
                    A story about the most popular girl in school and her crush, the cold hearted nerd.
CHAPTER 2: BE MY BABY /wonder girls
                    A story about a coffee shop owner and his incessant customer.
CHAPTER 3: HOLD MY HAND /iu
                    The side of the incessant customer. [companion fic of be my baby]
CHAPTER 4: LOVE RAIN /kim tae woo
                    A story about the ladies' noona's man and the hoobae who won his heart.
CHAPTER 5: BECAUSE OF YOU /b2st
                    The continuation of Boyfriend.
                    CHAPTER 6: A short and WAFF epilogue. [song will be revealed on the chapter..haha]
CHAPTER 7: TIME FOR LOVE /lee seung gi
CHAPTER 8: NAENGMYEON /myeongca drive
CHAPTER 9-12: CAN'T I LOVE YOU? /2am: jinwoon&changmin
CHAPTER 13: NO OTHER /super junior
                       Minho's failed attempts.
CHAPTER 14: JULIETTE /shinee
CHAPTER 15: LOLLIPOP /f(x) feat. shinee
CHAPTER 16: DESTINY /j.lim and k.will
                      CHAPTER 17: DESTINY II
CHAPTER 18: BEAUTIFUL STRANGER /f(x)
CHAPTER 19: I CONFESS /f.t. island
CHAPTER 20: IT'S YOU /super junior
                 CHAPTER 21: ANGEL /exo
CHAPTER 22: BEEP BEEP /girls' generation
Foreword
Disclaimer: All characters, settings and etc. are the property of their creators. Only the plot belongs to the author. If ever there's another story that resembles this one, the author did not copy that. It is purely coincidental.If ever there's a character who appears to be bad in this story and he/she is your bias, please do not get mad. It's just a fan fiction and the author doesn't hold any personal grudge against them.
** because this is a collection of stories that were inspired by songs....resemblance from other stories can't be avoided....but i promise you that i did not/will not plagiarize any other author's story.
I hope you would enjoy reading each story.
THANK YOU!!! I hope to see your comments. Any kind of comment --bad or good-- is highly appreciated.
Tweet
^ Back to Top