The Kingka's Crush
by pxahyoo
Tags kpop oneshot sihan topri yaoi yoosu yunjae | Report Content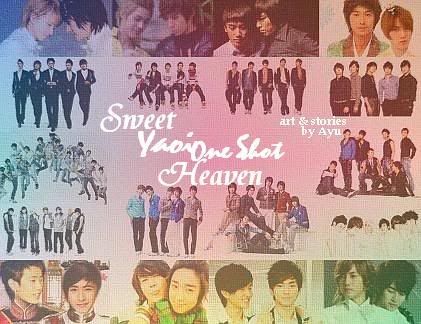 The Kingka's Crush
Pairing:YooSu
This is for my dongsaeng Bubbl3s321! Enjoy your surprise hehe :D
~~~~~~~~~~~~~~~~~~~~~~~~~~~
A unique laughter could be heard throughout the whole canteen and everyone grinned knowingly,recognizing the laughter's owner immediately.
It was Kim Junsu,one of the most adorable boys existing on Seoul High School and despite not belonging to the group of Kingkas and Queenkas,he was quite popular and well-liked by many people because of his cuteness and his good heart.He was a good student,not genius-like good,but quite impressively good and he was the captain of the school's senior soccer team.So he was neither considered a nerd nor a jock.
If you would've asked him what he would call himself,he would've probably answered that he was just an average boy who just happened to be lucky enough to have many friends.
But his schoolmates were of a different opinion.
Many girls were at the verge of fainting out of joy whenever he was showing off his masculinity during the many soccer games or during the PE lessons.Another chance for them to fangirl over him was whenever he was smiling or laughing,looking overly adorable while doing so.
These features and also his good heart brought him many admirers,girls and boys alike.
However,Junsu himself was utterly unaware of his own popularity and didn't notice how one of the Kingkas of the school has fallen in love with him a long time ago,always growling possessively whenever he saw Junsu chatting with girls or guys he himself didn't know or whenever someone was confessing to Junsu...which happened on a daily basis.
That Kingka was none other than Park Yoochun.
"Awww look at the predatory stare Yoochun is giving his lovely baby." Hyun Joong teased as he was giving Yoochun his usual icy yet charming smile,causing the other Kngkas and the Queenkas sitting at their table to laugh softly.
Yoochun growled before he took a short glance at Junsu again.
"You should just go and confess." Seunghyun said with his deep,husky voice before taking a bite from his lunch,his eyes stubbornly focused on Yoochun.
"I will...but not now."
"If not now then when?" Yunho then asked while having his right arm wrapped around Jaejoong's slim waist as the beautiful male leaned against Yunho.
"Dude...you are in love with him since what?3 years?When are you finally going to tell him how you feel?" The tallest among them then continued,feeding his beautiful boyfriend some strawberry with a smile.
"Yunho oppa is right...you should confess." Taeyeon agreed before taking a sip from her orange juice.
"He won't be single forever." Yuri added,having her arms crossed as she leaned back in her chair.
"And the number of your rivals is increasing steadily also." Ye Eun commented matter-of-factly as she took a look around the canteen,seeing how many people were actually staring at Junsu while the object of their desire was joking around,laughing oh so carefreely with his friends,not having the slightest idea of what he did to many people's heart by being so damn cute without even wanting to be.
"I just need some more time to think of a perfect way of confessing to him." Yoochun then spoke after noticing that his friends finally stopped talking to let him say something to this matter as well.
"Then you should hurry...cause it looks like your number one rival is about to make a move."
Sunye pointed to where Junsu was sitting and caused her friends to follow her gaze.
Yoochun clenched his fists and a deep frown got apparent on his face as he watched how Eunhyuk was talking to Junsu,holding out one rose for him to accept.It made Yoochun's heart ache and burn when he saw Junsu taking the rose,nodding in response with a soft giggle.
"You got a big problem right there,bro." Yunho uttered and caused Yoochun to frown at him.
"Really,Captain Obvious?" The younger Kingka hissed and Yunho simply shrugged before busying himself again by feeding Jaejoong.
The beautiful male smiled gently before looking straight at Yoochun.
"There is no time for you to wait anymore.If you don't do something now,you will lose him." Jaejoong said with a serious gaze,causing Yoochun to sigh a little.
"I know...but what am I supposed to do?Eunhyuk isn't like Junsu's other admirers.He won't back off like the others did after I have 'talked' to them."
"More like threatened." Yunho interrupted in a mere whisper which earned him a playful glare from Yoochun before the younger Kingka continued talking,ignoring the soft giggles from his friends.
"Eunhyuk is very popular himself and is famous for not giving up easily on the person he likes."
"Yeah if that person is NOT taken yet.He would never try to snatch anyone's lover away.So you just have to make sure to make Junsu yours in order to force Eunhyuk to give up on him." Jaejoong spoke gently.
"Well...then...help me please?" Yoochun uttered as he was looking at his friends pleadingly.
The other Kingkas and the Queenkas looked at each other shortly before smirking at him.
"Sure."
After lunch,Taeyeon and Sunye made sure to find out where and when Eunhyuk would have his date with Junsu and it turned out to be rather easy to do so because Donghae,Eunhyuk's best friend,was a blabbermouth and willingly told them everything they wanted to know without suspecting anything...well the fact that he was crushing on Taeyeon also helped making him spill the beans.
Once they had the needed information,the group of Kingkas and Queenkas started to work on their plan thoroughly.
~4 days later,Saturday,4 pm~
Eunhyuk smiled when he could see Junsu waiting for him on a bench,dressed in a white shirt and tight dark blue jeans which made it even more obvious what a nice body the cute male possessed.
"JUNS-UGH!" Before Eunhyuk could get Junsu's attention,someone pulled him right into the bushes and the next thing he knew,he was being pinned onto the ground by four girls he knew all too well.
Sunye and Ye Eun were holding onto his legs while Yuri was holding onto his arms.Taeyeon was meanwhile busy muffling Eunhyuk's protests with her hands,effectively silencing him.
"Aish just hold still or I'll go all Bruce Lee on you!" Yuri hissed as the boy didn't stop squirming,making it hard for her to hold him.
"Be a good boy,oppa.We'll make it up to you later on,but for now...just hold still.Junsu oppa is about to have the time of his life." Taeyeon added with a smile and a muffled groan could be heard from Eunhyuk before he just gave in and stopped wriggling in the girls' grasps.
'What is this?I'm being manhandled by four GIRLS!' Eunhyuk mentally screamed in embarrassment.But oh well...the Queenkas weren't 'normal' girls to begin with,so he assumed that it was rather okay afterall that he wasn't able to fight them off.
If anyone would ask why he wasn't able to free himself from the girls' grasps,he'd just answer that two of them were experienced martial arts fighters after all.Which was true...Yuri had the black belt in karate and Ye Eun had the 4th degree black belt in hapkido.
Since he was too busy thinking about the things which were currently happening to him,Eunhyuk didn't even notice how Sunye was making a call to someone.
"Everything's settled."
"Okay.Thanks,girls."
After getting the call from Sunye,Yoochun put his cellphone back into his trouser pocket,taking a deep breath afterwards.
"It's now or never." The Kingka muttered and gulped before he looked over to Yunho,who was crouching next to him.
The older Kingka nodded and Yoochun nodded back before they both appeared from behind the bushes not far away from Junsu.Before the poor boy had the time to comprehend what was going on,he already found himself being carried by the two Kingkas,Yoochun's arms wrapped around his torso while Yunho was holding onto his legs.
"H-Hey!What the-!Who are you?Let go!" Junsu protested and squirmed in the older boys' grasps,but it was useless.Yoochun and Yunho were too strong.
Within a few minutes,Junsu got dragged into a black mercedes,still being firmly held by the two Kingkas as he tried to catch a glimpse at the driver,only to be greeted by the sight of Choi Seunghyun smirking at him through the rear-view mirror.
Only then Junsu took a closer look at the persons who were holding him,gasping in shock when he saw his captures' faces clearly.
"Park Yoochun and Jung Yunho?" Junsu squealed and caused the other boys in the car to cringe a little.Junsu's high pitch squeal was no joke.
"Hi?" Yunho offered awkwardly with a weak smile,causing Yoochun and Seunghyun to roll their eyes at him before Seunghyun started the engine and drove off.
"W-where are you guys taking me?" Junsu asked and looked up at Yoochun,his head on the older boy's lap.
"To a special place."
"Huh?But you can't just drag me there!I have a date with Eunhyuk!"
"Eunhyuk is a little preoccupied right now.He won't come." Yoochun assured and caused Junsu to gasp when the shorter male saw the smirk on the Kingka's face.
"What have you guys done to him?" Junsu asked,visibly panicking and causing the Kingkas to laugh at his cuteness.
"Are we the mafia or what?Don't worry,he's still alive and is probably having a rather nice time right now.And the two of us..." Yoochun halted to point at Junsu and himself in turns."...will have a very good time together."
"B-but..." Junsu bit onto his bottom lip gently before pouting adorably.
He wanted to protest,but seeing that he was stuck with the three utterly strong Kingkas,he knew that he didn't have any choice but to give in.
Meanwhile,Eunhyuk was stuck with the four Queenkas in a small coffee shop near the park.
"Seriously...why am I here with you again?"
"Because we can't risk to have you go and call Junsu oppa or even find him and ruin his sweet time with Yoochun oppa in the process." Taeyeon answered before taking another bite from her piece of chocolate cake.
"So Yoochun is really interested in Junsu,huh?" Eunhyuk asked and caused the Queenkas to nod in response.
"That bastard is playing dirty." The orange-haired boy then uttered and ended up being kicked by Ye Eun,yelping in pain afterwards as he rubbed his abused leg gently.
"Don't call any of my friends like that or I'm seriously gonna hurt you." Ye Eun warned before taking a sip from her coffee.
"Besides...everything's allowed in love...as long as the person you fight for isn't taken already that is." Sunye spoke and caused Eunhyuk to sigh.
"I was about to make him mine though!" Eunhyuk whined,making the girls shrug in response.
"Too bad it didn't work out,huh?" Yuri asked teasingly.
"And whose fault is that?" The soccer player scoffed.
"Ours." The Queenkas replied in unison,having proud smiles on their beautiful faces.Eunhyuk groaned before pouting at them."So unfair."
~Movie Palace,4.30 pm~
When the car came to an halt infront of the cinema,Yoochun got out and dragged Junsu along with him gently.
"Have fun,guys.See you later." Yunho said and waved at his friend and the soccer player from inside the car,closing the door afterwards.
"A-Are they going to wait here for us?" Junsu asked as he noticed that Seunghyun and Yunho didn't seem like they would leave with the car anytime soon.
"Yup.They still have to bring us to some other place after this." Yoochun replied,his grip on Junsu's left hand tightening a little more.
When Junsu noticed the people around them staring,his cheeks started to glow in a soft pink as he tried to free his hand,but Yoochun made sure to hold onto him even tighter.
"Let them stare.Most of them are just jealous anyway." The Kingka said with a smile as he led Junsu into the cinema,his smile getting a little wider when he spotted Hyun Joong.
"Hey buddy." Yoochun greeted the other Kingka,who was smiling charmingly at him and Junsu.
"Hey Yoochun...and hello to you too,Junsu." Hyun Joong replied and Junsu bowed to greet him properly.
"Hello." The cute male then said,making Hyun Joong smile at him before the strawberry-blonde Kingka looked back at Yoochun.
"Eveything's settled.I'll lead you to the hall."
"Thanks,Hyun Joong." Yoochun spoke and Hyun Joong winked at him.
"Anything for my friends' lovelives." And with that,Hyun Joong turned around and walked towards the cinema halls,Yoochun and Junsu following suite.
The shorter male looked around in the cinema and gasped in awe when he saw a poster of Hyun Joong in a suit hanging at a red-painted wall,along with many other posters.
"Hyun Joong's family owns this cinema and those are his relatives." Yoochun explained and chuckled when Junsu's adorable lips formed a cute 'O'.
When they were inside the cinema hall,Junsu noticed that there was no one else beside them.When he looked at Yoochun questioningly,the Kingka simply smiled at him before leading him to one of the upper rows,sitting down with him at the centre of the row as Hyun Joong left them alone.
"What movie are we watching?" The cute boy then asked.
"A movie about the very cute crush of mine." Yoochun replied and caused Junsu to look at him in utter confusion.
But when the movie was played,he just puffed his cheeks and fixated his eyes on the screen.When he felt Yoochun's thumb brushing the back of his hand,his face flushed and he felt a small tingle in his stomach.
Seconds after the movie has started,Junsu felt like his eyes were about to pop out of his head when he could read the movie's title to be 'My lovely Kim Junsu'.
He turned his head to look at Yoochun,hoping to find some answers from him,but Yoochun simply motioned for him to continue watching the movie.Junsu pouted,but still did as he was told to.His blush got more evident as he saw a clip of himself being played and it wasn't a clip of his current self but a clip of himself as a toddler.
The little Junsu in the clip was running around,getting all naked on the way while being chased by his laughing parents.And when teenage Junsu saw it,he made sure to cover his eyes with his free hand,somehow wishing to just vanish from this world at that very moment.
"Don't be embarrassed,I find it cute." Yoochun whispered and chuckled soflty when he could hear Junsu groan in response.
"From now on you're dressed in every clip." Yoochun assured and Junsu removed his hand from over his eyes slowly,looking at Yoochun in surprise after he realized something.
"This voice...is Jaejoong sunbae singing the song in the background?" Junsu asked in awe and Yoochun nodded with a smile.
"And Taeyeon,Sunye and Ye Eun are singing the other three songs in the movie." The Kingka replied gently.
"Woah..." Junsu uttered as he continued to watch the movie about himself and Yoochun could've died right there because of the cute sound his crush made.
The other clips which were shown were also all about him.
They were clips of Junsu laughing,joking around...simply being himself and Junsu couldn't help but smile at the many memories.He was so absorbed in them that he didn't even notice that Yoochun was staring at him the whole time,not paying attention on the movie one bit and it wasn't neccessary anyway.
He knew what was being shown and when.He was the one putting the clips together afterall.The last clip showed Junsu during the latest soccer match.Junsu was jumping around happily after scoring for his team for the fourth time.
"I was the one filming it.I watched every match of yours...even the ones in other cities." The Kingka spoke once the clip has ended.
"Did you like it?" He then continued and was more than relieved when Junsu was nodding in response.
"It's a little embarrassing to watch myself like that,but it was beautifully done.It was really touching...thank you." Junsu replied sincerely,a sweet smile gracing his lips as his cheeks reddened some more.
"I'm glad you liked it.Let's continue this somewhere else,shall we?" The soccer nodded in response and the two of them got up together before heading out of the cinema,not forgetting to thank Hyun Joong on their way.
When they were back in the car,Yunho moved to sit on the passenger seat with Seunghyun while Yoochun and Junsu had the backseats all for themselves.
"Where are we heading to?"
"To a wonderful place.I'm sure you're going to love it." Yoochun replied and Junsu smiled in response.He then heard how Yunho was talking to someone on the phone and it didn't take long for him to figure out who the person on the other line was.
"Hey beauty,we'll be there in less than 10 minutes.Alright.Love you,baby." Yunho spoke sweetly before hanging up,ignoring Seunghyun's fake gagging sounds.
"You two are too much." Seunghyun complained and got whacked by Yunho in the process.
"Ouch hyung!I'm driving here!" The younger Kingka reminded the attacker,who simply stuck his tongue out at him.Junsu and Yoochun looked at each other with small grins on their faces.
Their second destination turned out to be a very exclusive restaurant and Junsu smiled brightly when he saw Yunho waving enthusiastically at Jaejoong,who was waiting for them infront of the restaurant.Jaejoong waved back at his boyfriend with a sweet smile and gasped gently when Yunho stormed out of the parked car to hug Jaejoong tightly.
"Yunnie~" Jaejoong whined cutely before pecking his boyfriend's lips.
"Let me take care of Yoochun and Junsu first,yeah?" The beauty pleaded and Yunho pouted,letting go of his boyfriend nevertheless.
"Please follow me,you two." Jaejoong said to Yoochun and Junsu when the two of them got out of the mercedes together,hands still intertwined.
The Kingka and the soccer player then followed the beauty inside the restaurant as Jaejoong led them to the VIP area with its 5 nicely decorated rooms.
The one they headed to had been decorated by Jaejoong himself.Exactly 100 candles on the ground and several pink roses decorated the room,making it shine beautifully.Only the table at the centre of the room was well-laid.Yoochun let go of Junsu's hand to pull the chair back for him,smiling gently when Junsu sat down and thanked him timidly before sitting down across from his date.
"What would you like to drink?" Jaejoong asked and looked at Junsu first.
"Uhm...orange juice for me please." The younger boy replied and Jaejoong nodded with a smile before he looked at Yoochun.
"Orange juice for me as well." Yoochun said and the beauty nodded once again before excusing himself.
"This restaurant..."
"Jaejoong hyung's family owns it." Junsu's jaw almost dropped at the statement.
"The family background of your friends is really impressive." The soccer player uttered in awe and Yoochun laughed softly.
"Yeah...but my friends and I don't find it important what family background someone has.It's not important to us who your family is and what your family owns.It's only important who you are and what kind of heart you possess.People who don't know us tend to think that we are stuck up and very materialistic,but that's not true." Yoochun assured,making Junsu nod in response.
"I can tell.All of you seem really nice and down-to-earth to me."
"I'm glad you think that." The Kingka said.
"Oh and I hope you don't mind that I have set the menu for us beforehand.I ensure you that the food we'll be served today will be to your liking since they are your favorites." Yoochun continued with a grin.
"How do you know what my favorite dishes are?" Junsu wondered aloud.
"Let's just say that I have my ways finding something like that out." The taller male replied smugly.
Junsu simply laughed softly at that.
Seconds later,Jaejoong was back with their drinks and two waiters followed him with the food for Yoochun and Junsu.
"Enjoy your meal,if there is anything you need,please don't hesitate to tell one of the waiters who will be serving you today." Jaejoong spoke before excusing himself while the two waiters went to stand near the door.
"Did I promise too much?" Yoochun asked and Junsu shook his head in response.
"Not at all.These are really my favorites." Junsu replied and couldn't help but to feel touched at the thought of Yoochun making the effort to find out what his favorite dishes were in order to please him.
He then looked around in the big room and smiled gently afterwards.
"Do we have this room for us alone?" The soccer player asked.
"Yes.I didn't want anyone to disturb us...just like in the cinema."
Junsu nodded at the Kingka's words and smiled gently before they started to eat.
"Are you enjoying our date,Junsu?" The Kingka then asked and caused Junsu to blush.
"Yes...I enjoy it very much,thank you for everything you have prepared today." Junsu spoke sincerely,his eyes locking with Yoochun's as the words escaped his lips.
"Would you like to go on more dates with me from now on?Please let me claim you as mine,Junsu.I know that it's probably still too early for you to love me back,but please give me a chance to prove myself worthy of your love." Yoochun pleaded and looked directly into Junsu's dark orbs,his smile growing further when he could see his crush blushing so beautifully while the shorter male's lips curved up into a shy smile.
"I would love to." Junsu replied timidly,feeling his heart flutter at the sight of the Kingka's breathtakingly radiant smile being directed at him.
Several pleasant emotions shot through his body when Yoochun grabbed his hands,leading them to his mouth before giving each of them a soft kiss.
"Thank you for the chance."
"No...thank YOU for wanting one." The soccer replied and Yoochun once again found himself turning into a puddle of goo.
^ Back to Top