Ji-Dragon
Aug 18 (24 yrs old)
Korea, Republic of
Joined on Dec 27, 2011
Last login on Feb 16, 2013

"oh god, i fucking miss this already."
Personal Message
Wassup swaggah.
G-Dragon in da house.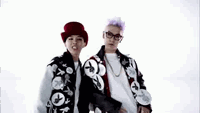 Leader of Big Bang.
The group that will  bring you to your knees.
---
I'm a 
bad boy
but I'm nice.
Mess with the important people in my life?
You're going down bitch.
---
 ☑ B I S E X U A L
☐ single ☐ waiting ☑ taken by TOP.
This sexy dork up there is the property of Kwon Jiyong. 
Choi Seunghyun. You make me feel like . . . a girl. It's like living in the wildest dream.
Without you, I might still be wandering around, lost and confused.
But now that I've found you, I don't think I'll be letting go. 
You're the stars to my sky, the petals to my rose, the lyrics to my songs.
You're the breath to my lungs , the voice to my heart.
You're the meaning to my life.
. . .
And fuck yeah. Our swag has no bounds.
---
❖   S  p e c i a l  P e o p l e    ❖


who's this pretty baby here? none other than my sexy fellow admin, sooyoungie. ;)        

weird lil' brother I have here. evil, mean, nice, popular ass. he's not that bipolar that I made him seem...
but. whatever. I love him. 



my little principessa.
to me, she'll always be the cute, caring daughter that makes her appa happy. 
you hurt her in any way and you deal with my fist. appa loves you.
the 'other' daughter xD
well somehow she became related after I said I'd give her swag. but I'm keeping
this swag to myself. she's weird. perverted. a unique species. yeah.
---
Hurt anyone listed in my special list?
I'll have your ashes delivered to your parents' door on Fast Express by morning.
---
           Big Bang.          
d a e s u n g  // t o p //  t a e y a n g  //  g - d r a g o n  // s e u n g r i
  family is complete.  
About Me
G-Dragon (G-드래곤)

Postion: Leader / Main Rapper
Real Name: Kwon Ji Yong (권지용)
Date of Birth: August,18,1988
Height: 177 cm
Weight: 58 kg
Blood Type: A
Education: Seoul Korean Traditional Arts Middle & High School
Skills: Rapping, Dancing, Beat Boxing, Composing, Singing, and Languages (Chinese, English)
Hobbies: Drawing pictures and listening to music
Likes: Fashion, Acting, Cooking, Crispy Donuts, Dogs, Cars, The Drawing 'Is it like stars or skeleton', books (poems, mangas, and magazines), watching cartoons, and himself
Religion: Christian

I am an epic person rp-ing at 
( Head Admin )
;)
^ Back to Top