LokiCraze123
Personal Message
About Me
  I can probably be the most dorkiest girl you would know IF you are really close to me, if not, I'm pretty much calm and normal. :D I don't bite so come friend and talk to me.
Favorite Kpop Groups in no Particular Order (Biases):
Teen Top (Chunji and Changjo)
Beast/B2st (Junhyung and Dongwoon)
Infinite (Sungyeol and Myungsoo/L)
B.A.P (All)
Exo (Xiumin, Luhan, Chen, Lay, Tao, Kris, basically Exo-M members)
C-Clown (T.K., Ray, Kangjun, and Rome)
UKiss (Dongho, Hoon, and AJ)
Big Bang (G-Dragon)
MBLAQ (Seungho, Mir, and Thunder)
And More... XP Yeah... I'm not much of a girl group lover, but I'll listen once in a while Cx
Couples I Ship:
Myungyeol (Myungsoo/L and Sungyeol)
*Chunjoe (Chunji and L. Joe)
*DaeJae (Daehyun and Youngjae)
Xiuhan (Xiumin and Luhan)
Xiuchen (Xiumin and Chen)
RayJun (Ray and Kang Jun)
SooHoon (Soohyun and Hoon)
BangHin (Yong Guk and Himchanieee)
JongLo (Jongup and Zelo)
Ultimate Group Fav:
B.A.P!
(I just realized Yong Guk doesn't do the spray can part O.o)
Favorite GIFs:
 Oh Chunji... XP
 LOL Himchan's face!
 These cute maknaes
 Kang Jun's Giraffe Dance! :D
T.K. is just... ;)
 Even without a lot of make-up, they're still handsome~
 OMG! What is this lol >.< Don't worry Luhan, Xiumin loves you~ O.o BUT THAT EXPRESSION!
  Xiumin, WHY ARE YOU SOOOO CUTE?!?!?!?!??!?! *RAGE* I MUST FIND SOMEONE LIKE YOU!
 Lol JongLo messing up >.<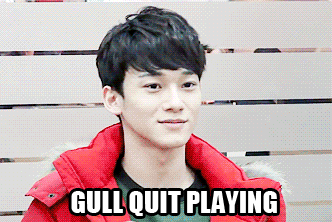 XiuChen and their hysterical laughing XD 
 This GIF >.< 
[Under Construction]